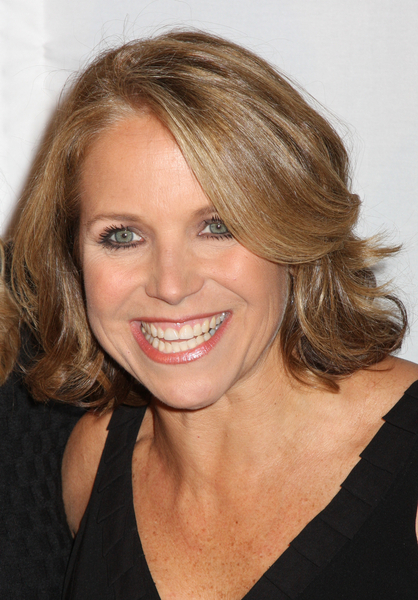 Remember when that story came out that there were nude pictures of Demi Moore being held for ransom by a Parisian cab driver after Ashton Kutcher supposedly left his cell phone in a cab? We never saw those photos, so maybe that story was bullshit, or perhaps Ashton payed dearly to protect his wife's image. (snicker)
The latest issue of our favorite tabloid, The National Enquirer, has a story claiming that there are even more cringe-worthy photos possibly coming. 50 year-old gummy-grinning newscaster Katie Couric is being blackmailed for $1 million over photos that her 33 year-old boytoy, Brooks Perlin, left at a party. Katie's camp claims they're just friendly vacation snaps, but why would someone try to extort a million bucks out of Katie for some tame personal pictures?
"Intimate" snapshots of Katie Couric romping with her hot young sweetie Brooks Perlin have been discovered in a camera that Katie left behind at a party, insiders say.

Now sources say the pictures are in the hands of a person who's demanding a whopping $1 million to return them… !

"The personal photos have been described as 'intimate' – and Katie obviously never wants them to be made public," a source told The Enqurier.

"While there are no nude photos of Katie, she looks anything but the anchor of a network newscast in them. They're candid pictures taken on trips and dates with Brooks.

"If these photos make their way to web sites and blogs, it could be very embarrassing."
[From The National Enquirer, print edition, December 3, 2007]
So is Katie wasted in these pictures? Is she wearing lingerie or posing seductively or something? I want to know!
The Enquirer broke the story of the Vanessa Hudgens nude pictures before they got out, so they could be on the money with this one.
Katie has been dating triathlete Brooks Perlin for a little over a year. He has his own business selling green materials to construction companies and lives in Connecticut. The NY Post called him a "serial dater of older women" and claim he's a creep who checks out every woman who walks by.
Katie has said to have had rage problems in her post at CBS, and she's said to go off on her co-workers and staff. An article this spring suggested she was boozing to cope with stress.
I hope this story is true and that these photos come out soon. It's about time Katie Couric had a scandal.
Katie is shown on 10/16/07 at a Project ALS event, thanks to PRPhotos.