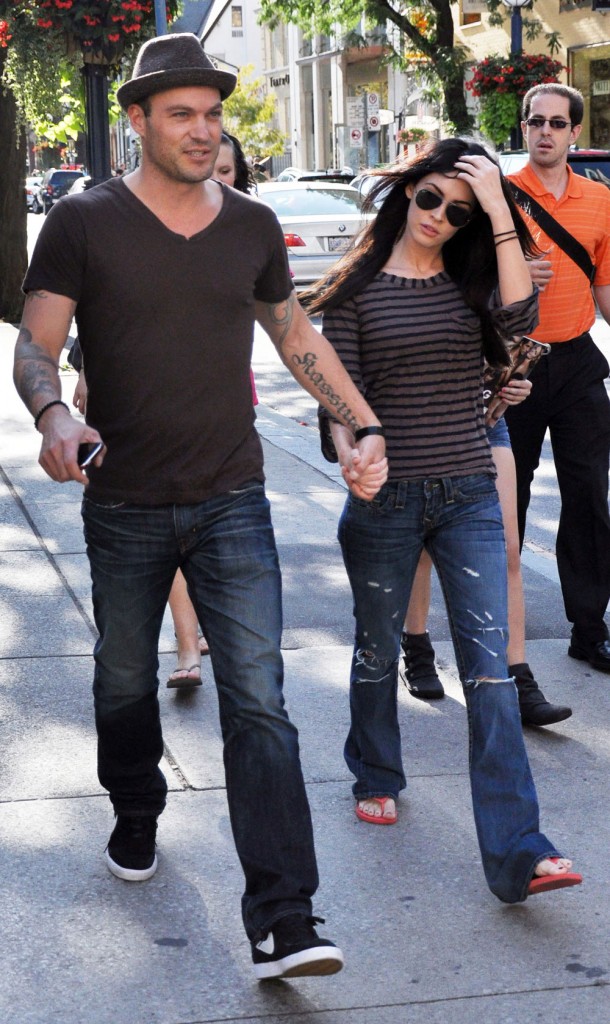 It's been a little while since we've had a Megan Fox post, so we're due, right? There's something so deliciously trashy about covering Megan. I get so much pleasure from yelling at her (in my mind). So, with that in mind, I bring you two new Megan interviews. You may ask yourself, as I did, why Megan is giving any interviews, since someone needs to tell that girl to stop opening her mouth when she's within a mile of anyone with a tape recorder. These interviews come courtesy of the British media – Jennifer's Body is opening in the UK, so Megan gave some of her classically so-dumb-she's-funny interviews.
First up: Megan tells The Daily Star that she feels her "purpose in life" is to do charity work, and do something involving "helping children". But she will only get involved in charity work if and when she "gains the status that will enable me to be truly and legitimately helpful to people". Seriously.
MEGAN FOX is already eyeing a career out of the spotlight – she wants to devote her life to helping the less fortunate.

The sexy actress has skyrocketed to fame starring in hit blockbusters including the Transformers franchise, but insists she won't feel fulfilled until she uses her high-profile to better the lives of others.

She says, "Overall, in terms of this business, I hope to gain the status that will enable me to be truly and legitimately helpful to people."

"I feel like that's my purpose in life, to do charity work and help people around the world on a global level. Being part of this business, you have so much influence and you can really make a difference. I'm drawn towards the idea of somehow helping children."
[From The Daily Star]
Yes, that's why so many people don't do something for charity right now, because they don't have the status to really do anything, right? Next up, Megan will tell us that she wants to be a UN goodwill ambassador for "Doin' Stuff For Chilluns, or Whatev". And then she'll probably adopt some gossipy gerbils. So…do I even need to bring up Megan Fox's budget path to becoming Angelina Jolie? Oh, never mind about that. Because Angelina gets mentioned in this next interview that Megan did with Metro. Megan also talks about how girls can't be really be friends, because every girl has daddy issues. Or something:
The film [Jennifer's Body] centres on two best friends who are frenemies. Are teenage girls really like that?
Yes, girls are awful. But, in their defence, girls are awful because of the way society is set up – we're constantly in competition for male attention. Our fathers raise us wrong and we spend the rest of our lives searching for boys to pay attention to us, which validates us. So no girl can really be your friend, because if she takes attention from you, your daddy doesn't love you.

But Jennifer's Body is all about female empowerment.
But with my character, there is no father figure. You see her mother for literally seconds. So it all starts from that sort of sad, tragic place. But the characters do become empowered.

Will Jennifer's Body change the way girls are portrayed on screen?
Well, I'm very sexualised in this movie but, sadly, I don't think it will change the way that women are portrayed. It's not changing, I don't think. Ever.

You and actor Brian Austin Green are on again, off again. Are you currently dating?
Yes, I'm dating him.

So you like being in a relationship?
Oh, I love it. I hate being single. It's uncomfortable.

You always come across so confident…
I'm not always. I have a fear of public speaking. Every time I have to be on stage I get petrified.

The media seems to want to pit you against Angelina Jolie. Why?
It is a lack of creativity. The media has to package you so everybody has to be 'the new' or 'the next' someone. They latched on to this because I have a lot of tattoos. It was a way to market me to sell their magazines or get hits on their blogs – it makes people uncomfortable if they are unable to put you in a box.
[From Metro]
Megan put herself in that "box" when she began copying everything about Angelina. And when people call her on it, she bitches and moans about people lacking imagination. Oh, and she "hates" being single. Of course. Because if she had to sit alone with her own thoughts for two seconds, she would claw her own eyes out. As far as the daddy issue stuff… God, I don't even know where to start. Does she really think that or was just being her normal dumb self? Does Megan think every girl has what I can only think of now as her own massive daddy complex? That might explain a lot, actually.
Megan Fox and Brian Austin Green are shown out on 9/5, 9/6. Credit: WENN.com