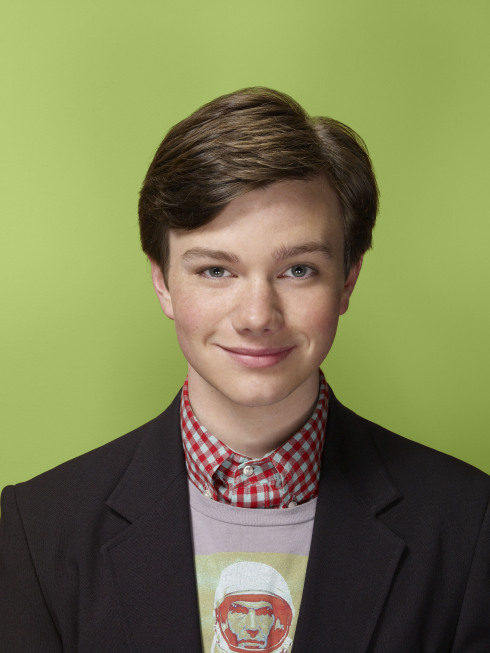 Chris Colfer plays gay high school student Kurt Hummel on the popular Fox comedy "Glee". Colfer is also out and proud and has been open about it to the press, including in a recent interview with gay magazine The Advocate. He talked about being gay in matter-of-fact way, and apparently that freaked out Fox executives. The National Enquirer reports that Fox officials asked The Advocate to remove part of an interview with Colfer on their website in which he made a reference to being gay.
"Glee" star Chris Colfer's slip of the lip during a recent interview sent show execs into a panic.

The 19-year-old actor… seemed to accidentally reveal his own sexual orientation while talking about the show in an interview.

When Chris was asked if he was "out" during his own high school years, he replied: "Oh, no. People are killed in my hometown for that!"

And while the disclosure – to "The Advocate," a gay magazine – was no big deal for Chris, who was raised in Clovis, Calif., it was HUGE for studio execs.

"Fox wasn't pleased," an insider told The Enquirer. "They're very protective of their young stars. And while the studio is pro-gay, they didn't want Chris stamped with a 'gay actor' label so early in his career.

"They want him to be known simply as an 'actor.'"

A rep from the studio asked the magazine to remove that part of the interview from the Advocate.com web site.

"The gay thing is not an issue for Chris at all," the insider maintained.

"He hopes his character is an inspiration for gay kids everywhere. But both he and the studio want his personal life to stay under wraps."
[From The National Enquirer, print edition, November 23, 2009]
This wasn't the only time that Colfer has spoken to the press about being gay. He also talked about it in an interview with Access Hollywood a few weeks ago in which he answered a similar question about coming out. The interviewer asked him about his experience coming out as compared to his character's (it's at 2:30 in this video) and he said his parents were very accepting and that he had a "similar" experience to Kurt's, but not the same.
The Advocate still has the part of the interview with Colfer on their website that Fox supposedly wanted removed. They also report in a follow-up that Colfer refused to talk about his sexuality in a subsequent interview with USA Today, and said something that seems to confirm that he was told to stop discussing it. "I try to keep up a mystery. As much as I give away of my personal life, the less people will believe me as other characters. I try to be private about it. It is what it is."
It sounds like Fox executives had a talk with Colfer. It's his decision whether he wants to talk about being gay or not, but you can't blame him for doing what his bosses tell him to in order to keep his job. Fox isn't doing him any favors by trying to keep him from being typecast or whatever they claim their motivation is. It's nice to see a talented young actor who is comfortable talking about being gay and doesn't consider it a big deal. If this is what happened, shame on Fox for telling Colfer to change his tune.
Spoilers for past Glee episodes below
As much as Fox seems short-sighted in this decision, I like how Glee is handling the plotline with Kurt. It was touching to see his manly dad stick up for him this week. The "coming out" episode, where the football team did "Single Ladies" dance, was just brilliant. It's a great show with some compelling characters and they handle some sensitive issue with grace and humor.
Photos from Fox via IGN and The Advocate