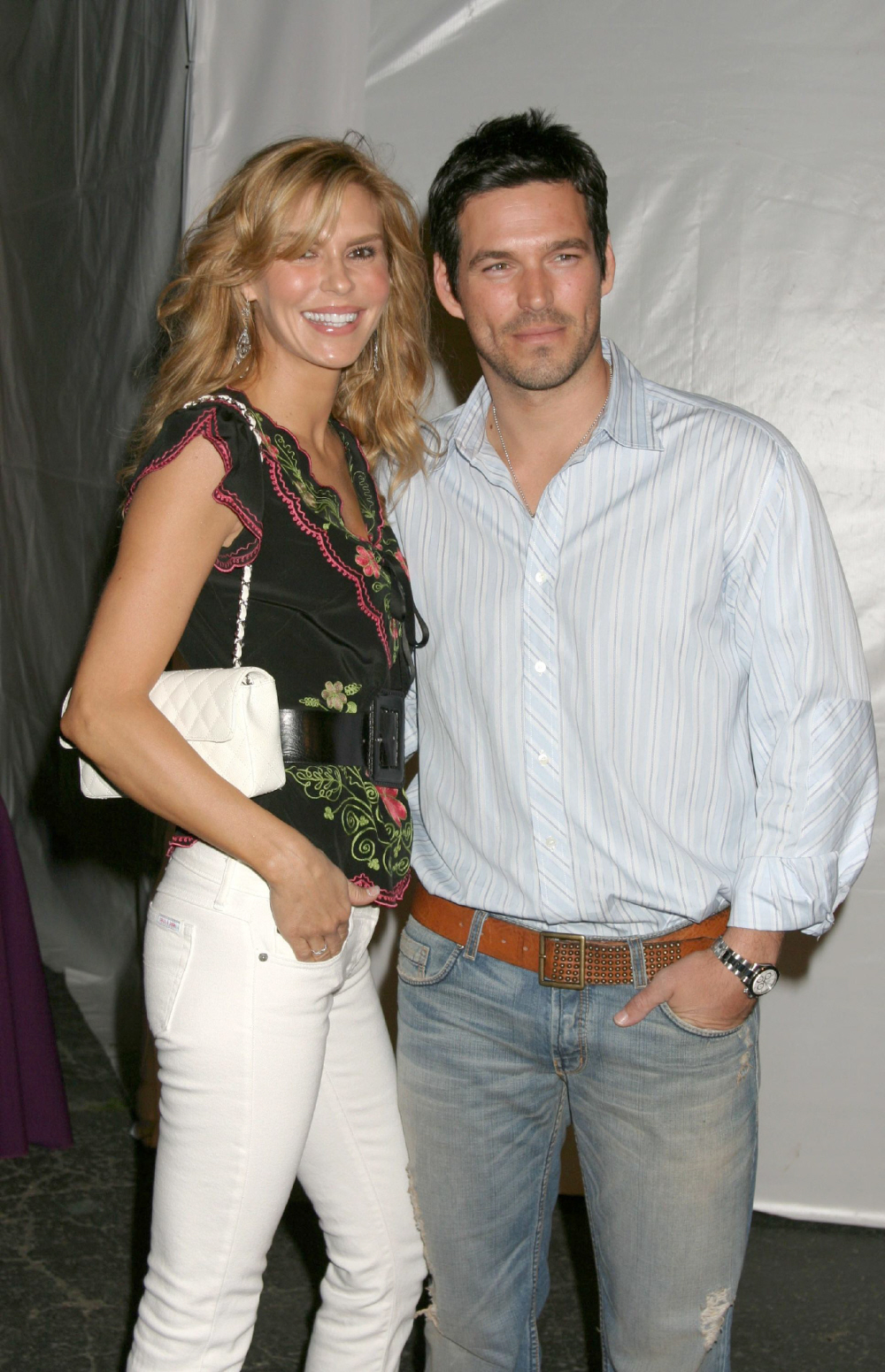 It's been a little while since we heard from Brandi Glanville, Eddie Cibrian's estranged wife. She used to give interviews every week or so, just dropping in little quotes here and there about Eddie being bastard, a home wrecker, and how he's going to drown in his unfair fishbowl, et cetera. But there hasn't been much from her lately. Meanwhile, Eddie and LeAnn Rimes seem be going strong. Sort of. Last week, the big story was that Eddie may be cheating on LeAnn with the other mistress he had while he was married to Brandi, a girl named Scheana Marie. Eddie denied it all, and claimed he would sue Life & Style for that story. Nothing's happened there either.
I guess what I'm trying to say is that Eddie is a busy guy. He doesn't have time to worry about stuff in his past, like his estranged wife and their two sons. Thus, he didn't notice that Brandi and their boys need more money. Brandi filed for spousal support in an LA court this week, claiming that Eddie needs to share his $60,000-a-week paycheck with her, pronto. Apparently, Brandi is only asking Eddie for $39,963 a month for spousal support, household bills, medical bills and schools. That seems like a lot, right?
Eddie Cibrian's estranged wife Brandi Glanville wants him to pay her spousal support.

TMZ.com reports that she has filed documents in L.A. County Superior Court claiming that the CSI star, 36, earns $60,000 a week but is only paying for her for "household bills."

Glanville, 36 – mother to Cibrian's sons, Mason, 6, and Jake, 2 – is asking for $39,963 a month in spousal support so she can pay for the kids' schooling and medical bills, among other expenses.

In August, Glanville filed for divorce after eight years, citing irreconcilable differences.

She told Us Weekly she was tired of Cibrian's infidelity. As Us Weekly first reported, he had an affair with now-single LeAnn Rimes while shooting Lifetime original movie Northern Lights, which they filmed last fall.

He recently announced that he plans to sue Life & Style for claiming that he cheated on Rimes, 27. He said the tabloid published a story "filled with inaccuracies and deceitful lies, presumably to titillate sales, but clearly resulting in harm to Eddie Cibrian and others."
[From Us Weekly]
Nearly $40,000 a month sounds like a lot to me, it really does. But then again, I'm not raising two boys in Los Angeles without a job. And if Eddie's making roughly $240,000 a month (less, considering he's got to pay out his managers and stuff), Brandi's due a chunk of that. Considering the situation with Eddie and LeAnn, I think Brandi's due. God knows, Eddie really doesn't need the money. LeAnn is paying his way now!
Header photos is of Eddie and Brandi in happier times, at a Lakers Casino night on April 12, 2006. Credit: WENN. Below is a photo of Eddie and LeAnn out on 10/20/09. Credit: Hellmuth Dominguez, PacificCoastNews.com.