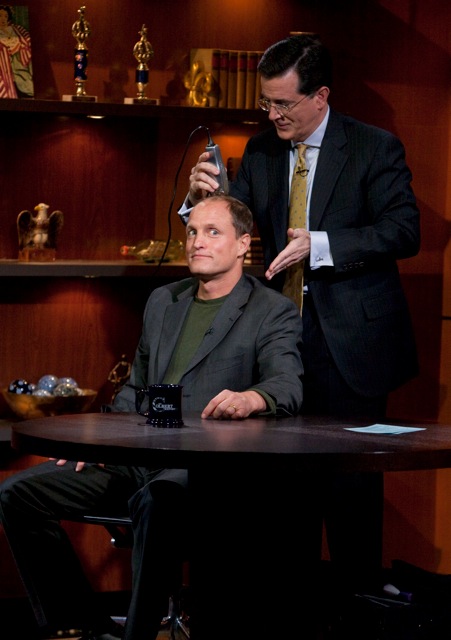 Patriotism is shown in all sorts of ways. Flying the flag, donating your time to a charity, or in Woody Harrelson's case, shaving his head, with the help of Stephen Colbert. Watching this clip was the highlight of my month so far. Not that my month has been pathetic (okay it has, but irrelevant), but that this was so hysterically funny I actually thought I was going to choke.
It's not funny simply because Stephen is shaving Woody's head – though that's still amusing. It's because while Stephen's shaving Woody's head, they're both singing the "Star Spangled Banner" – excellently. Harmony and melody done perfectly. I could only hear one minor imperfection at the very end. It was shocking. And all the while, Stephen is shaving Woody's head, and doesn't miss a beat or a hair.
Woody Harrelson appeared on the "Colbert Report" last night to promote his upcoming film "The Messenger." The movie centers around an army officer tasked with delivering death notices to soldiers' next of kin, and explores the psychological and physical toll of war. Harrelson, a pacifist, made clear that while he doesn't support the war he wholeheartedly supports the troops. Colbert, who shaved his head while performing for the troops in Iraq, asked Harrelson if he too would go bald to show his support for our fighting men and women. "I wish there was more support to show," Harrelson quipped as Colbert clipped.
[From the Huffington Post]
From what I gather, Woody isn't visiting the troops. Colbert shaved his head when he went over to Iraq. Woody let Stephen shave his head just as a show of support – and let's face it, some good TV. Frankly, if I only had as much hair as Woody does (did), I wouldn't let anyone touch it unless I were actually planning to feel the desert heat. So big points for that. And who would have guessed both Stephen Colbert and Woody Harrelson have such lovely singing voices?
Here's the clip, which is only viewable in the US.