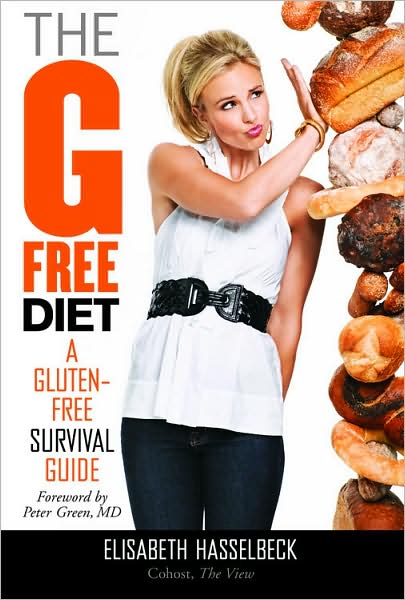 Elisabeth Hasselbeck is off the hook in a plagiarism lawsuit regarding her best-selling gluten-free diet book, "The G-Free Diet: A Gluten-Free Survival Guide." But it isn't because she didn't plagiarize it. It's simply because the lawyer for opposing party, author Susan Hassett (who wrote "Living with Celiac Disease," and sent Hasselbeck a copy long before Hasselbeck wrote her book) didn't file necessary paperwork on time, thus the judge threw out the case. But he also noted that parts of Hasselbeck's book were definitely lifted from Hassett's.
Elisabeth Hasselbeck may be a lot of things, but a rip-off artiste isn't one of them. A plagiarism lawsuit brought against The View's token conservative was dismissed last week after her accuser's attorney declined to pursue the case.

The woman behind the initial court action was Susan Hassett, a self-published author who claims that Hasselbeck's recently released best-seller, The G-Free Diet: A Gluten-Free Survival Guide, lifted significant passages from Hassett's own book on celiac disease.

U.S. District Court Judge Joseph Tauro dismissed the case last Thursday after Hassett's attorney failed to turn in paperwork related to the case in a timely enough manner. He later said that while portions of Hassett's dietary prose were definitely lifted for Hasselbeck's book, the passages weren't significant enough to warrant damages. Which is apparently all the lawyer needed to hear to get packing.

For her part, Hasselbeck has long denied the copycat allegations and even addressed them on The View. "I just want to assure you the allegations are without merit and are being handled appropriately," she told viewers over the summer, when the suit was filed.

As for how the Emotional One would have been privy to the self-published book in the first place, Hassett said she sent Hasselbeck a copy back in April 2008, after finding out the host suffered from celiac disease, along with a personal note. Which presumably did not contain the words don't, copy or this.
[From E! News]
TMZ has a letter sent by Sue Hassett's lawyer to Elisabeth, and it has a detailed breakdown of several of the identical (or nearly identical) passages between the books. It's pretty undeniable that she did take more than just vague themes from Hassett's book. Obviously when you're writing about a disease you're going to cover similar topics as others who've also written about it. But there are unique concepts and phrasing that pepper both books. And there are too many of them for it to be the world's craziest coincidence. Hasselbeck may be off the hook legally, but that doesn't mean she's off the hook ethically.
Here's Elisabeth Hasselbeck at Time's 100 Most Influential People in the World Gala in New York City on May 5th. Images thanks to WENN.com .