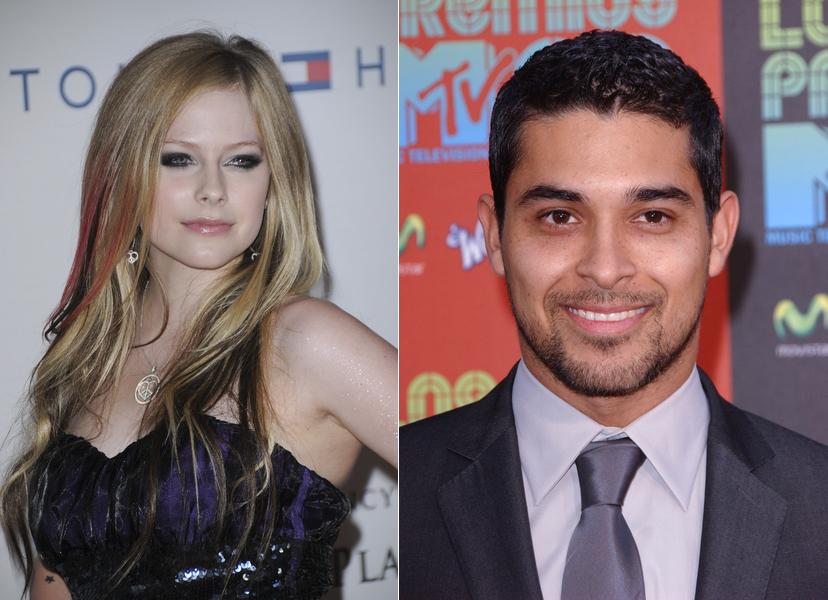 Avril Lavigne can't keep it in her pants. After spending most of this year drinking, drugging and screwing anything with two legs who was not her husband, Avril and Deryck Whibley finally officially split last month. Since then, the most consistent rumor has been that Avril is somehow romantically entangled with Brandon "Greasy Bear" Davis. They've allegedly been friends for a while, and maybe even lovers, and reports indicated that Brandon was the one to convince Avril to finally leave Deryck.
Well, I don't know what happened between Avril and Brandon, but now Life & Style Magazine is reporting that Avril has been hooking up with none other than Wilmer Valderrama, who famously dated Lindsay Lohan back when she was slightly wholesome (but still living at the Chateau Marmont at 17). Out of the frying pan and into the fire! Wilmer and Avril were seen flirting with each other a few nights ago, and love could be in the air:
She filed for divorce from Deryck Whibley just last month, but Avril Lavigne has already found a new man: Lindsay Lohan's ex, Wilmer Valderrama.

"They have been friends since working together on Fast Food Nation in 2005, but things heated up last month," an insider tells Life & Style. "One of their first dates was Oct. 29 at Nobu in West Hollywood."

Avril, 25, and Wilmer, 29, took things public at LA club Wonderland last Saturday.

"She had her hand on his knee and they were whispering in each other's ear, laughing," says a witness. "They even closed the club, sneaking out just after 2."
[From Life & Style]
In some ways, I don't see it. Wilmer has a reputation for loving the jailbait, you know? And he seems to like girls who are really inexperienced sexually. And Avril is no wilting virgin – she's quite the party girl. I'd imagine she's gotten passed around like bad weed. But… in some universe, I could totally see it. Wilmer doesn't have a lot going on, and Avril is some kind of C-list prize, I guess. And it sort of makes sense if they've known each other for years. I'm still hoping she's with Brandon Davis, though. I think they deserve each other.
Here's Avril at a photoshoot in L.A. on November 4th. Images thanks to Fame Pictures .