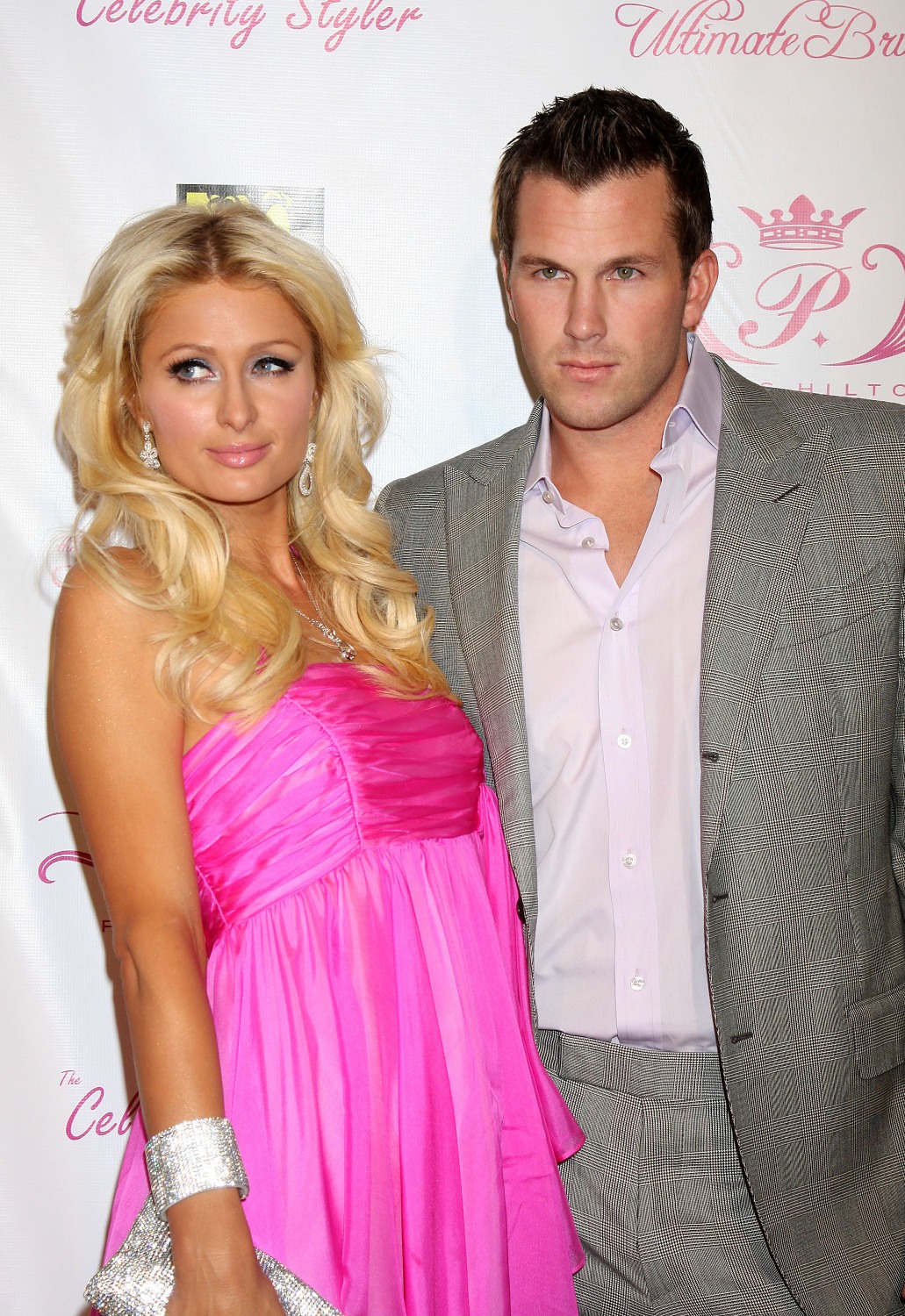 What's the best way to cap off an evening with a big party thrown in honor of your new hair appliance? Well if you're Paris Hilton, it's with loud drunken fighting and a few calls to the cops. Naturally.
Paris had a big shindig at the Thompson Hotel in Los Angeles, all as part of her over-the-top promotion for her new combination flat iron/curling iron/brush, the Celebrity Styler. Yes, we're excited about it too. As is fitting only Paris, the whole night was about her. Everything was pink. She debuted her new commercials. And thank goodness, she didn't let little sister Nicky's fender bender steal any of her thunder.
Paris Hilton has taken over the rooftop of the Thompson Hotel tonight…literally. In true Hilton style, the roof is decked out in pink, from the lighting to the bubbly, and the entire wall of the building is projecting commercials for her latest venture (and the reason for the party): the Celebrity Styler, a curling iron/brush/flatiron.

… At 7:36, the guest of honor arrives with boy-toy Doug Reinhardt in tow. The couple takes a few quick photos before Doug bows out for P's solo shots. Then it's time for pics with her parents. Kathy [Hilton] is loving the cameras—like mother, like daughter—until a reporter informs her that daughter Nicky was in a minor fender bender…

…Doug, clad in a lavender shirt picked out by Paris, says wedding bells aren't ringing just yet. Despite rumors, the two aren't engaged, but he assures me it's definitely looking "long term." Then I ask about rumors that Paris may be jealous of her former friend Kim Kardashian. "Just look at her," he says, gesturing toward his hot pink girlfriend. "She's not jealous of anyone."

Nicky arrives unharmed and sashays around the pool. Guests grub on lobster tacos, spicy tuna rolls and steak and chicken skewers as Paris takes over the mic to thank guests for coming and to debut her new commercials. There's no table dancing or PDA sessions tonight for the former party girl. She calls it an early night, and all partygoers get gift bags with the Styler and brush. Score!
[From E! News]
So how do Paris and Doug cap off such a lovely evening? One of their epic fights. I love how Doug is always talking about how serious and long term they are (despite a reasonably long breakup a while ago), and yet this isn't their first police-worthy argument.
Paris Hilton and Doug Reinhardt got into an epic fight early this morning … so much so the LAPD responded to a call — "Drunk people arguing" — this, according to law enforcement sources. It happened a few hours ago in the Hollywood Hills. An eyewitness tells us he saw Paris in her driveway and Doug getting in his car, when Paris began screaming, "Don't go, don't go!"

The eyewitness tells us Doug got out of the car and the lovebirds began "shoving each other." The last the eyewitness saw Paris and Doug go back up the driveway. According to law enforcement, cops spoke to Paris and left.
[From TMZ]
I love it. "Don't go, don't go!… I wanna keep screaming and shoving you!" What morons. Paris is getting extremely desperate. Though she's always been reported to be rude and self-centered and really only negative adjectives, I can't remember any stories of her having police show up because of domestic fights. That seems to be unique to Paris and Doug. And he's a total do-nothing nobody. Why is she so desperate to stay with the guy? Because he lets her dress him up like one of her toy poodles, that's why. Paris is hard to have any empathy for, but she should find someone else. There are desperate guys with low standards all over the country; I'm sure she could find a relationship that's a little less toxic.
Here's Paris with Doug and her family at her party last night. Images thanks to WENN.com .