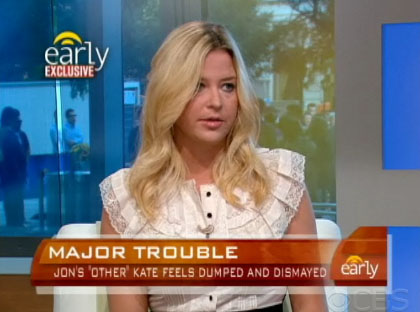 Yesterday Radar Online published a handwritten contract between Jon Gosselin and his summer fling of 12 days, former Star reporter Kate Major. In it, Jon promised Major a job as his personal assistant while Major pledged to field all media requests for the former reality star. As many of you pointed out, the scrawled writing and crossed-out words made it look more like a drunken scribble on a cocktail napkin than any kind of binding agreement.
I thought that Major might use the note against Jon in TLC's suit against him for breach of his reality show contract. Major has been deposed as a witness in the case, along with another ex girlfriend of Jon's and his former BFF, Michael Lohan. While Major might chose to bring up the note as evidence in court, she also has other plans for it. She tells Radar that she plans to sue Jon Gosselin for breach of contract. Good luck with that, considering that Major also broke her part of the "contract" that promised not to "comment publicly about our relationship." She went to at least three different television outlets with her pitiful tale of being used and discarded by Jon Gosselin. It looks like she can't find another job and is still fixated on how Jon wronged her:
Jon Gosselin's embarrassingly public blunders are hitting him right where it counts – the wallet.

RadarOnline.com has learned exclusively that the reality dad's former fling, Kate Major, has retained an attorney and is moving forward with plans to sue him for breach of contract.

"Kate called me and has retained my services regarding a possible breach of contract between herself and Jon Gosselin," Major's attorney, Ben Pietra, confirmed to RadarOnline.com exclusively. "We are keeping our legal options open, but if a breach of contract has occurred, we will be moving forward with a lawsuit."

As RadarOnline.com reported exclusively earlier Wednesday, Gosselin and Major signed a secret handwritten agreement back in June, in which Kate agreed to work for Jon as his personal assistant, earning a percentage from his accounts and pledging not to talk to the media about their relationship.

That document is likely to be the centerpiece of the new litigation against Jon, who is already facing a breach of contract action from TLC.

"Kate 2.0 and Jon spent a weekend in a hotel where they drew up the contract," a well-placed source told RadarOnline.com. Kate had just resigned from her position as an entertainment magazine reporter, and according to the source, "Jon told her he would match the salary she was making at the magazine if she came to work for him as his personal employee."

The source added: "Jon drafted the agreement and they both signed it."

Now Major wants payback for the time she says she wasted waiting for Gosselin to make good on his promises.

Along with breach of contract, an insider tells RadarOnline.com that the 26-year-old also plans to sue for fraud and loss of wages.
[From Radar]
This girl was reportedly 26 over the summer, which is young, but too old for Jon and old enough to know better. (She looks at least 30 to me, but there's some hard living and too much eyeliner aging her.) If you quit your job for a married guy with another girlfriend who you dated for less than two weeks, then you should face the consequences of inevitably being unemployed. A handwritten note isn't a binding contract, and I doubt she'll even move forward with this lawsuit. If she does, it will just mean more legal bills for Jon though, so more power to her I guess. This whole situation descended into circus territory months ago and not much would surprise me at this point.