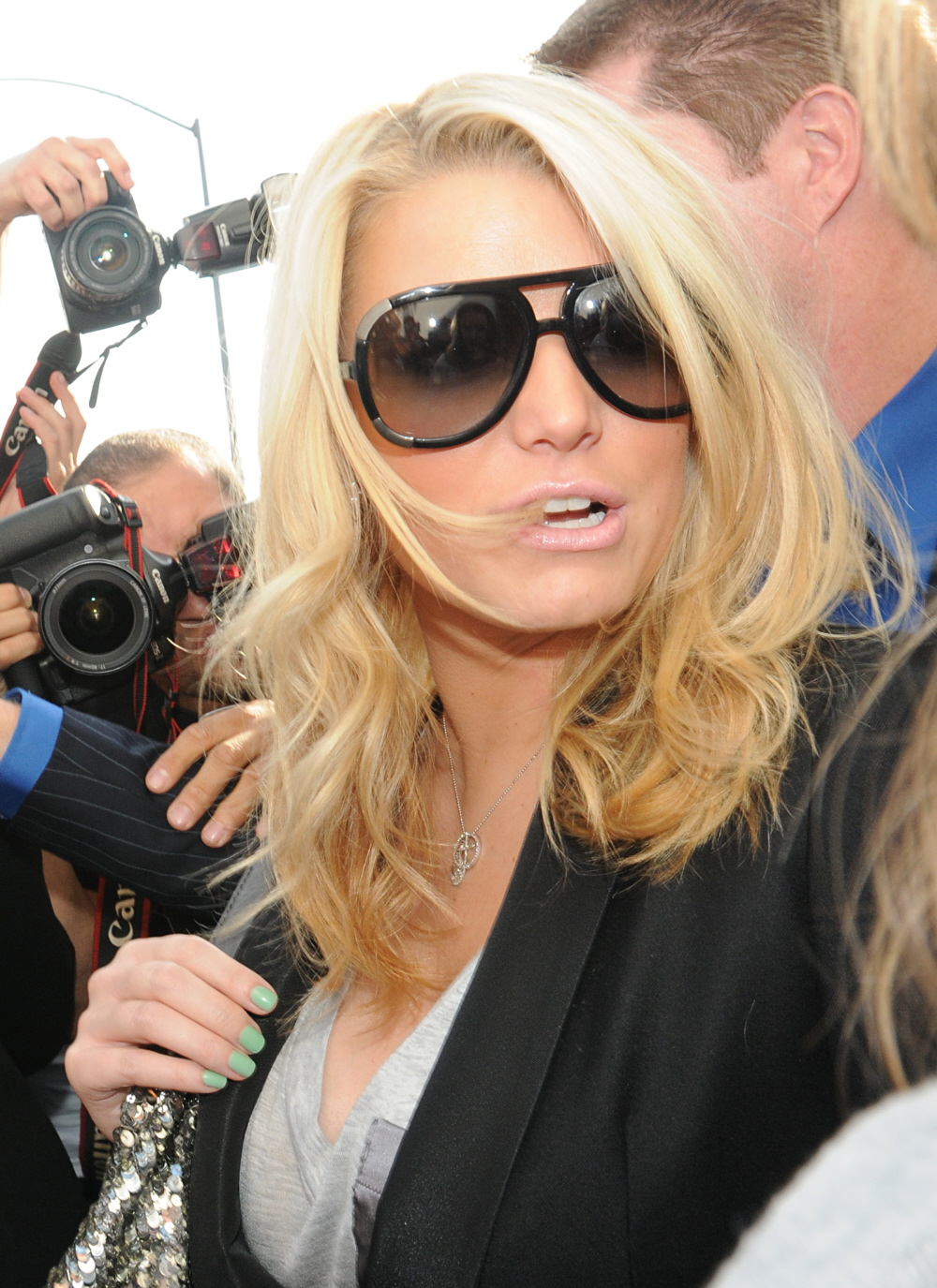 Jessica Simpson is trying to take Perez Hilton to task. Perez posted about Ashlee "Asslee" Simpson and her son Bronx's first birthday, which everyone was tweeting about. Perez stated at the end of the post " Poor lil' thing doesn't stand a chance!!!" I think Perez was probably referencing Bronx's unfortunate name, and maybe his unfortunate parentage. In any case, it wasn't even the cruelest, dumbest or most ridiculous thing Perez has ever written. And yes, I hate that I'm defending Perez. It's just that I could see myself saying something like "That poor Bronx" or "that kid has it rough". Of course, we don't refer to Ashlee as "Asslee", but whatever. It doesn't sound like Jessica Simpson was very mad about that one. Jess took to Twitter to verbally shank Perez, writing "Don't ever attack my family again.Sad to know u hate so deeply.Sad 4 U". Don't ever attack your family… or what? Ken Paves will beat us with a flat iron?
Jessica Simpson is coming to her family's defense once again.

The 29-year-old singer — who called Melrose Place "crap" after her younger sister Ashlee was canned — is now going after celeb blogger Perez Hilton, who poked fun at her nephew Bronx.

On Friday — Bronx's first birthday — Perez wrote: "It's been one year since Asslee pushed Bronx Mowgli through her vayjayjay and it's all the family is talking about!"

He then ended his post by calling Bronx a "poor lil' thing" who "doesn't stand a chance!!!"

Simpson wasn't amused. She Twittered later that day: "Does perez hilton..whatever his name really is..have no heart at all?Don't ever attack my family again.Sad to know u hate so deeply.Sad 4 U"

Her spirits seemed to improve a short time later. "I challenge everyone to save up for a flt [ed note: flight] to somewhere you have always wanted to go. Get inspired beyond boundries [sic]," she wrote. "Find something waiting!"
[From Us Weekly]
Jessica is defending her family, so good for her. It seems like both Jessica and Ashlee are doing a lot of "defending" of one another lately. Is it just me, or is there a vein of passive-aggressive sister stuff in their "defense" of one another? Ashlee defended Jessica against people who criticize Jess's weight – but by doing so, brought up the fact that Jessica isn't as thin as Ashlee. With Jessica, I think she's less likely to be passive-aggressive because she's not smart enough, but I still feel like people wouldn't have even noticed this somewhat boring comment of Perez's if Jess hadn't pointed it out. Ah… Papa Joe, look at what you have wrought.
Jessica Simpson entering Cecconi's restaurant in West Hollywood, California on November 20, 2009. Credit: Fame. Perez Hilton at the AMAs, November 22. Credit: WENN.