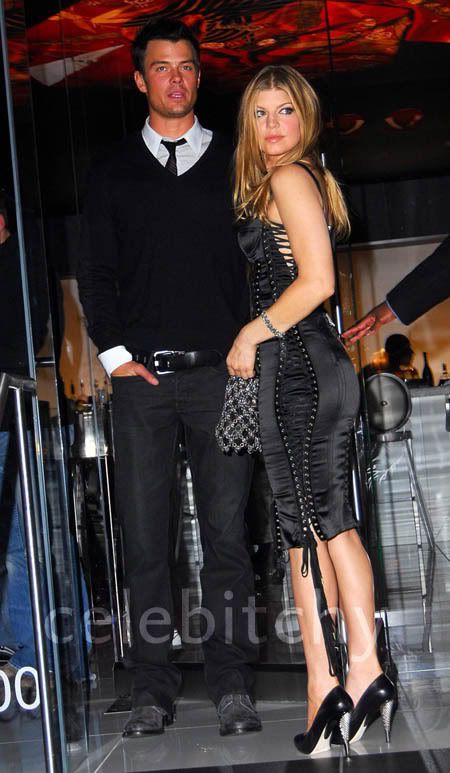 Professional Hot guy, Josh Duhamel, is reportedly engaged to singer, rapper, and part-time Pea, Fergie. Duhamel's press agent announced the couple's engagement Thursday.
Stacy Ann Ferguson, the singer Fergie's real name, has been nominated for a Grammy in the best female pop vocal category for her debut album "The Dutchess." Fergie's solo album, as well as her work with rap mega-group The Black Eyed Peas, has catapulted her to pop-superstardom and led her to challenge Gwen Stefani for the title of "Funkiest White Girl in California" in the 150lb and under division.
Josh Duhamel's big break came when he out-prettied Ashton Kutcher at an IMTA modeling contest. Duhamel might be most recognized for his part in Transformers, but he also appeared in the 2006 movie Turistas and in the NBC show Las Vegas. Duhamel won a daytime Emmy for his role as Leo du Pres, a handsome and debonair scammer, on the ABC soap opera All My Children.
Given Duhamel's romantic history, you might wonder if du Pres was really an act. The AP article says Duhamel told interviewers that he and Fergie have been dating for "about three years," yet Duhamel's wikipedia entry claims that in 2004 he "was engaged to his girlfriend of several years, fashion model Kristy Pierce"
At this rate, we predict all those women warm for Duhamel's form may have to wait several months before he is officially back in circulation.
Picture note by Celebitchy: Josh Duhamel and Fergie are shown on 12/2/07 outside Katsuya restaurant in LA, thanks to WENN.