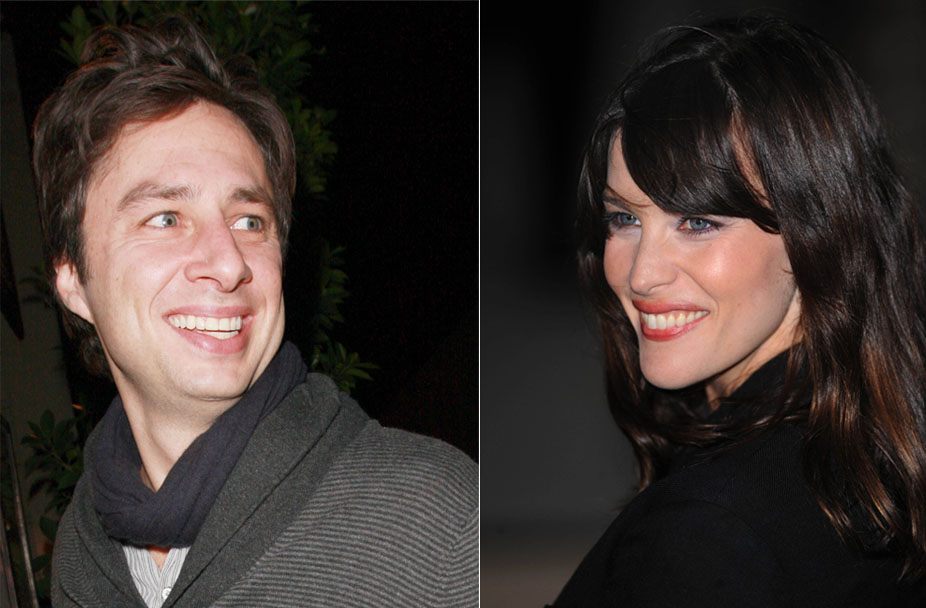 The lovely Liv Tyler may be moving on after her painful divorce from British musician Royston Langdon last year. She told Wonderland magazine in an interview published in February that she was still going through a hard time but had a lot of support from friends. "It takes a long time, but you do kind of wake up one day and you just feel a little tiny bit better… There's nothing worse than heartache, being lovesick."
According to The National Enquirer, Tyler has a potential new boyfriend in indie actor Zach Braff. Tyler, 32, and Braff, 34, were spotted out on a date looking cozy. If it turns into more for them we're sure to hear more about it:
"Liv was emotionally drained after breaking up with Royston, and she decided to wait a while before dating again," said the friend. "But Zach makes her laugh and hasn't pressured Liv into a serious commitment. He's got her believing in romance again."

The couple enjoyed a cozy dinner on Nov. 14 at Vinoteca wine bar in the Los Feliz neighborhood of Los Angeles.

"Zach had his arm wrapped around her and was whispering in her ear," said an eyewitness. "It was very touchy-feely. It was definitely a romantic night out for them."

While Liv, 32, is thrilled with her new relationship, close pals have cautioned her about Zach's love-'em and leave-'em reputation…

"Liv swears Zach is a sweetheart, but her friends have serious reservations and have told her so," added the friend.
[From The National Enquirer, print edition, December 14, 2009]
From what I heard Braff was really awful to Mandy Moore when they were together, and he's said to be a total player. Gawker even banned stalker reports of him in 2007 because he was all over NY hitting on various women like the semi-famous leech that he is. Tyler seems like a sensitive, vulnerable person and I hope that she listens to her friends and plays the field instead of falling for Braff. The least she could do would be to Google the guy and find out for herself that he's not to be trusted.
Liv Tyler is shown on 9/22/09. Credit: WENN. Zach Braff is shown outside a club on 11/13/09. Credit: SCJ/Fame Pictures. Liv is also shown out shopping on 11/13 and outside the salon on 11/30. Credit: WENN