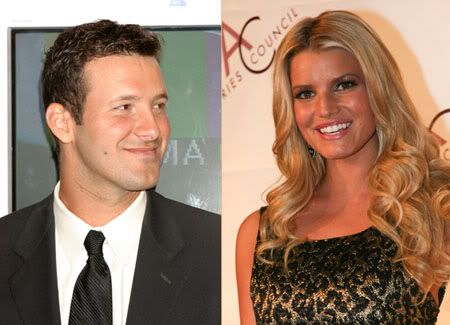 This week's Star Magazine has an interesting story about how Jessica Simpson and Tony Romo might be faking their relationship for the sake of an upcoming Super Bowl commercial. Jessica and Tony are said to be in talks with Pizza Hut to star in a big budget Super Bowl commercial together and their whole fauxmance has supposedly been orchestrated by Jessica's controlling father, Joe, for publicity purposes. It could be true that they're dating and genuinely like each other, but either way they're milking it for all it's worth:
Insiders are whispering that Jessica Simpson's manager dad, Joe, is the mastermind behind his daughter's "romance" with Dallas Cowboys quarterback Tony Romo – and their sudden, very public relationship may just be the setup for an attention-grabbing Super Bowl commercial!

"It seems that Joe set them up to make sure Jess got good publicity," an insider tells Star. "She's got a new country album coming out, but her movie career is stalled, so she's doing what her dad tells her will be good for her image and to keep her name in the papers…"

[Jessica and Tony Romo are] reportedly in talks to Pizza Hut to do a special commercial that will air during the Super Bowl in February. And the insider tells Star that Joe Simpson even offered Tony, 27, a small role in his daughter's next movie.

"He told Tony that it would be a good opportunity for both of them PR-wise," says another source. "It isn't hard for them to look like the perfect couple – they're like a real life Ken and Barbie."
[From Star Magazine, print edition, January 7, 2007]
This makes a lot of sense considering that Tony Romo is one of the very few suitors of one of his daughters that Joe Simpson approves of. Joe is even said to have set Jessica up with Tony, and although the papers make it out like Tony called Joe up and asked to date his daughter I bet it was the other way around. It doesn't seem like much of an incentive for Tony to be offered a role in Simpson's next movie, though.
Jessica seemed to be a bad luck charm for Tony. The Dallas Cowboys quarterback performed his worse game – ever – when she was in the stands in December. That makes it seem as if he has at least some feelings for her. Romo quickly recovered from his slump, and his statistics improved for his next game. He told the press that Jessica was also in the stands that time, but she was never shown on the jumbotron and he wouldn't say where she was when asked.