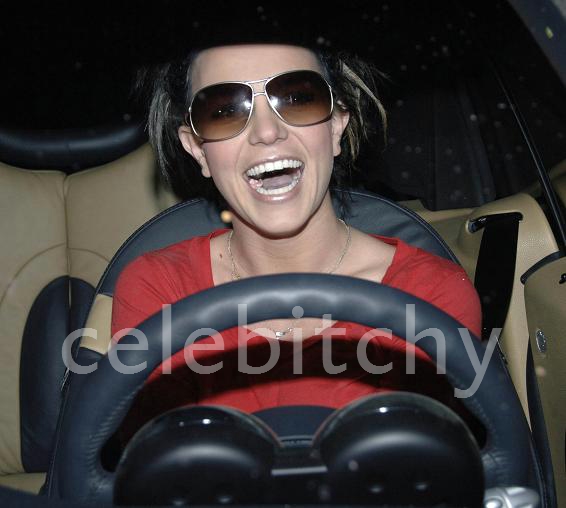 Britney Spears is clearly doing whatever she can to make her life as difficult as possible. While it often seems she's doing it for attention, she's also doing it because she's an idiot. Yeah I know you were looking for something a little more profound on that last one. A psychologist would probably say that she's subconsciously sabotaging herself for some reason. Probably true. But that girl doesn't have two IQ points to rub together. She's not just emotionally immature, she's flat-out dumb. Britney's lawyers can't handle her immature, self-centered behavior, and are about to quit. If they do, it'll be the third round of lawyer's Brit's gone through since her divorce started.
The high-powered firm of Trope and Trope filed legal papers today asking to withdraw as Brit's hired guns in her custody dispute with K-Daddy.

In the legal papers, attorney Tara Scott from Trope and Trope wrote, "There has been a breakdown in communications between [Britney] and Trope and Trope making further representation of her interests impossible." Ding dang wha?!

No word on whether Brit has a new lawyer. You may recall, disso-queen Laura Wasser quit Brit last year as well. Representing a popwreck can be a bitch!

UPDATE: Sources tell TMZ the reason Trope and Trope withdrew is because Britney just didn't listen to her lawyers' advice, and her behavior was generally sinking her case.
[From TMZ]
Celebitchy also pointed out that Brit also may be facing jail time as a result of her immature, lazy behavior. She's failed to show up to multiple depositions recently, and it's been noted that she could be held in contempt of court if she missed another one. OK reports that Brit blew of (what I'm guessing will be) her final deposition this morning.
As first reported by OK!, following her decision on Wednesday to blow off her second court-ordered — and seventh in total — deposition in her custody battle with ex-husband Kevin Federline, Britney Spears was given one final chance to make good on her legal responsibilities. All she had to do was show up today at 9:45am PT to give her deposition.
And yet, as off 10:20am PT, she had not arrived at the office of K-Fed's lawyer Mark Vincent Kaplan.
[From OK! Magazine]
Where exactly is Brit? According to OK, she did leave her house sometime around 10:25. Keep in mind that means she left at least an hour after she should have, to safely be at the lawyer's office by 9:45. But did she end up going there? Nope. A few minutes after she left, she turned around and headed back home. OK reported that Brit only has until 10:30 before Kaplan goes straight to the judge and asks him to give K-Fed permanent custody. This makes eight depositions Britney Spears has blown off. After such a ridiculous history, I'm guessing the judge will give serious consideration to Kaplan's request.
Britney seems hell-bent on proving to everyone that no one can tell her what to do. The problem is that pretty much everyone else in the world realizes that no matter who you are, there are a few people who can boss you around no matter what – and judges are one of them. Britney's much more concerned with her own "freedom" and out of control ego than she is with her kids. Someone like that won't ever mature to the point that she'd be a good mom. Hopefully she'll lose her kids for the long haul, and then she can have all the freedom she wants.
Picture note by Jaybird: Here's Britney on Dec. 23rd, the night she slept with that married paparazzi. Does anyone else thing her smile isn't so much "joyful" as it is "psychopathic?" . Images thanks to Splash Photos.