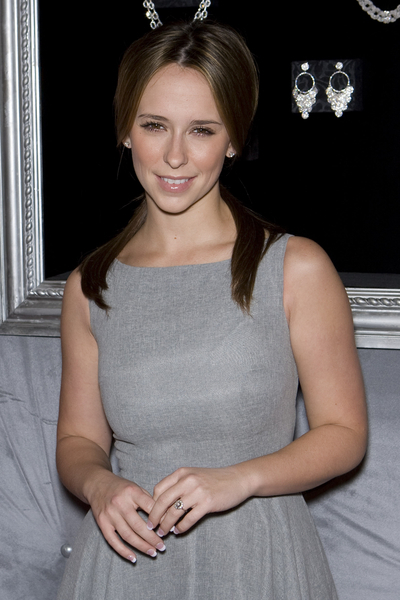 Ghost Whisperer star Jennifer Love Hewitt is negotiating with the networks to have her own daytime talk show. She wants to create an inspirational show that is aimed at young women.
[Jennifer Love Hewitt] is in talks with different networks to headline her own daytime show, a source tells Star exclusively. "Jennifer has always admired Oprah Winfrey's ability to inspire people and hopes to do the same, especially for young girls," says the source. "She really wants to be a positive role model."
[From Star Magazine, print edition, January 21, 2008]
A talkshow seems like a very risky venture, but if anyone can do it's Love Hewitt, and it's certainly a better career strategy than a reality tv show. Love Hewitt is known for her caring and empathic personality, which could be put to good use on a television show if it's presented well.
There was a really cute story about Love Hewitt a couple of years ago in which she said she often tries her best to help elderly people who confuse her with her character on television. She said she once spoke with a 75 year-old woman for 20 minutes before she realized the woman was talking about her deceased husband and asking her for help contacting him. Love-Hewitt said "I was broken-hearted because I didn't know how to be the Ghost Whisperer in real life."
As for Britney's latest troubles, Love Hewitt said that she feels bad that people judge her and thinks that they should try to help instead of making the problem worse, "I feel bad because everyone kind of judges her and splatters her business everywhere. No one goes, 'Why is this happening?' They just judge and judge and judge. It's too bad."
She seems like she would make an excellent talkshow host, but they may need a sidekick or some other way to give her a little more presence with the guests. She's got that "too nice" vibe about her, but it definitely comes off as genuine and that's rare.
Love-Hewitt, 28, is engaged to her boyfriend of nearly two years, Scottish actor Ross McCall, 32.
Jennifer Love Hewitt is shown at the 7th Annual Awards Season Diamond Fashion Show Preview on 1/10/08, thanks to PRPhotos.