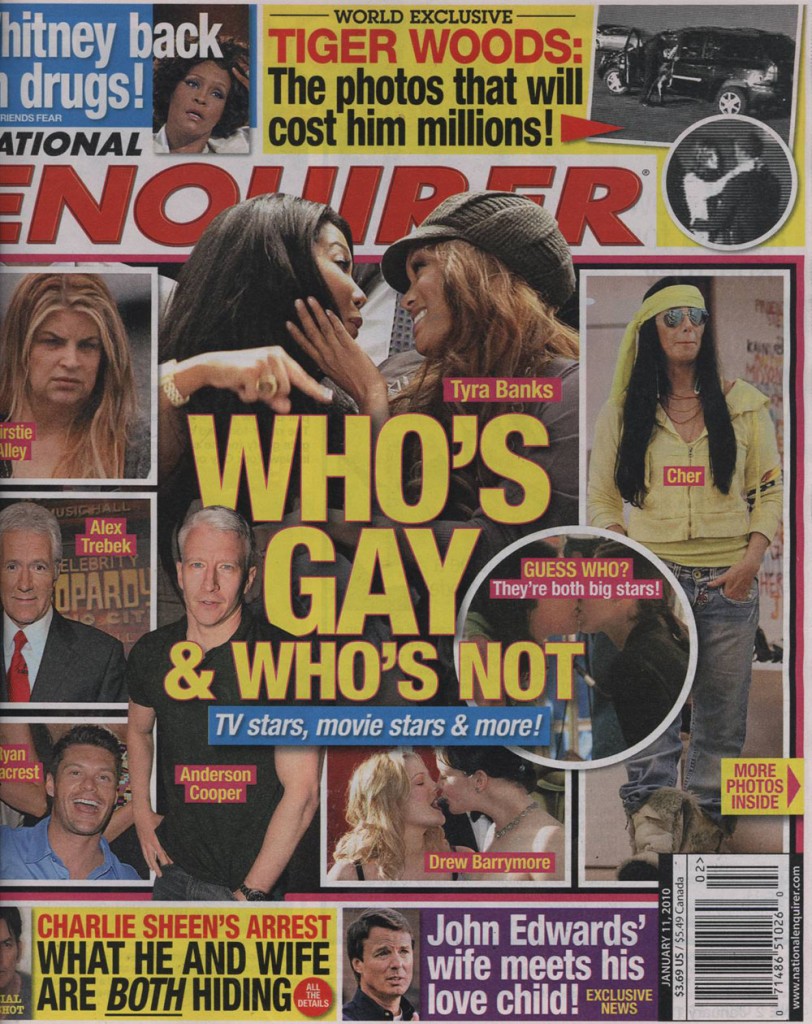 I love this issue of the National Enquirer. I wish all Enquirer covers were "Who's Gay?" stories. I love it not because there's so much new information, or that the Enquirer got some kind of scoop, but because it's so inappropriate. First – Who's gay? Who cares? Second – lawsuit, much? Just by putting so many high-profile celebrities together and simply asking aloud "Gay much?" is getting into some tricky legal territory.
Still, I'm not going to let those concerns ruin a perfectly good "Who's Gay" cover story. Let's check out the highlights:
*Zac Efron : According to the Enquirer, there are "gay questions" mainly about how Efron "prances" in High School Musical, and how much makeup he wears. The Enquirer puts these two sentences together for "who's gay" effect: "Zac has long dated co-star Vanessa Hudgens, but some believe the relationship was arranged to throw a damper on the gay hoopla. It's recently been reported that the two are on the outs." Oh, yes. Gay hoopla indeed!

*Selma Blair : She could be gay because she kissed Sarah Michelle Gellar in Cruel Intentions, and because her marriage to Ahmet Zappa fell apart. But, the Enquirer notes that Sarah Michelle Gellar is "happily married," so…?

*Courtney Love : The Enquirer calls Love's sex life "bi-and-bi" and details several of Love's public kisses with women. I think Love identifies herself as bisexual, yes?

*Lance Armstrong : Lance might be gay, in the Enquirer's opinion, because he has a close, sweaty friendship with Matthew McConaughey, based on wearing matching outfits and working up a sweat together. But, the Enquirer admits that Lance does have a history with ladies, so whatever.

*Tommy Lee : He might be gay because he and friend Dave Navarro kissed. Once. Apparently, Tommy also said in an interview once that a male friend tried to seduce him, but "maybe if he was really good looking I may have slightly considered it. But he was not my type." Tommy Lee, perhaps you'd like to meet Zac Efron?

*Sienna Miller : Because she kissed a woman named Helen McCrory once… but I'm pretty sure Sienna just loves d-ck.

*Anderson Cooper: Probably because he and his boyfriend have been photographed together?

*Ryan Seacrest: He can't be gay because he dated Teri Hatcher for two seconds, right?

*Colin Farrell: The Enquirer thinks Colin could be gay because he shot a gay sex scene once (in A Home At the End of the World) and because he kissed a dude once. Oh, and because Colin loves the gay community (probably because his brother's gay, just my opinion) and Colin actively participates in interviews with gay media, like The Advocate. But we all know Colin likes the ladies.

*Joely Richardson : Once again, The Enquirer's reasoning is because Joely played gay for a role, this time in Nip/Tuck. However, I kind of wonder about Joely. She might be a lesbian, for all we know. She plays her personal life close to the vest.

*Hugh Jackman : Because he loves to sing and dance and be fabulous. But he's married with kids! And he loves gay people! Jackman said in an interview: "I'd be happy to go and deny [the gay rumors], because I am not. But by denying it, I'm saying there is something shameful about it, and there isn't anything shameful." I think Hugh just loves to sing and dance, personally.

*Kevin Spacey : The Spacey rumors revolve around his close relationship to his mom, and his strong ties to the gay community. Oh, and he claims he got "mugged" in a gay cruising area of London.

*Alex Trebeck : I've heard these rumors before, and I actually thought there was something to them, but the Enquirer points out that Trebek is something of a ladies' man, and he's been married twice. To women!

*Tyra Banks & Kimora Lee Simmons : Because they were joking around and claiming that if they were both single, they'd totally hit it. And apparently – and this was so shocking to me – Tyra is surrounded by gay guys on America's Next Top Model. It's gay by association again.

*Adam Lambert : Because he came out of the closet.

*Neil Patrick Harris: Because he came out of the closet.

*Megan Fox : Because she pretends to be bisexual to get attention.

*Vin Diesel : This is another rumor I always thought had some truth. The Enquirer says Vin Diesel claimed he preferred to "date in Europe" because they know about the "code of silence". But, he fathered a child with his girlfriend, so meh.

*Cher : More gay-by-association. Cher loves her gay fans, does interviews in gay media, and doesn't judge any lifestyle.

* Kirstie Alley : The Enquirer thinks she's gay because she's overweight and because she hasn't been in a relationship in years. I think that just means she's got some sh-t she needs to work out, but whatever. Oh, but she is a Scientologist, and we know how they feel about gay people.

*Barry Manilow : Did you know Barry used to be married? It was the 1960s. Since then, he's never come out of the closet, but he seems to have lots of young, buff men that hang around him.

*Pink: She gets gay rumors, I think, because she's not all jacked up and girly. But I buy her relationship with Carey Hart, so meh.

*Drew Barrymore: Because she's given lots of interviews where she's talked about how much she loves women's bodies. And she kisses her girlfriends. And she's Drew, and she's probably dated women.

*Jamie Foxx : Apparently the gay rumors about Jamie (that I've never really heard) stem from one scorned woman who spread it around that Jamie liked men. But, Jamie has one daughter for sure, and probably another baby around here somewhere.

*Dale Earnhardt Jr. : I had no idea, but apparently Earnhardt has a big gay following, and he gives shout-outs to his gay fans. And he lives alone. Oh, and he calls his candy bar "Big Mo". For real.

*Kate Moss : Lots of rumors about threesomes and orgies doesn't make someone gay!

*Robert Pattinson: The Enquirer seems to think Sparkles may be gay because he once said he was as a joke. Oh, and because he played gay for a role. And probably the accent and the prettiness doesn't help either.
[From The National Enquirer, print edition, January 11, 2009]
That's everybody on the Enquirer's list. Can you believe they didn't include any of the gossip about Tom Cruise, Will Smith, John Travolta, Jada Pinkett Smith, Matt Damon, Ben Affleck, Jake Gyllenhaal or George Clooney? Was the Enquirer scared about hitting some of the big names? Probably. It will still be interesting to see if anyone says anything about this cover story.