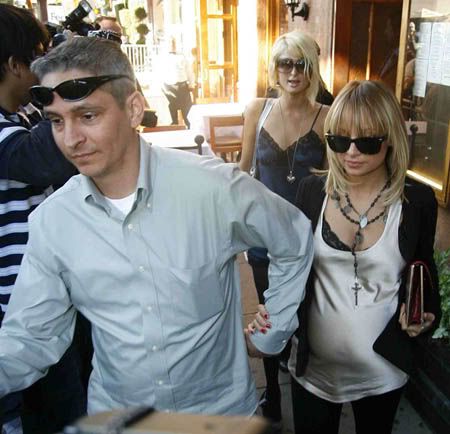 Nicole Richie and Paris Hilton don't have the best friendship track record. They filmed one season of their terrible faux reality show The Simple Life separately, but were later shown fake making-up in a staged scene that convinced no one. Some people theorized that they remained friends throughout their supposed estrangement and that it was all for publicity, but they don't seem savvy enough to me to have pulled it off for so long.
Paris announced Christina Aguilera's pregnancy for her by calling her "the most beautiful pregnant woman in the world" in what was thought to be a deliberate dig at Richie. These two have supposedly made up since, though, as Paris was listed as one of the official hosts of Nicole Richie's baby shower in November. Their reconciliation may have been only temporary as usual, because Star Magazine reports that Paris was mighty pissed to learn that Nicole donated her expensive baby gift to the charity she co-founded with her boyfriend, Joel Madden:
When… Paris Hilton gave BFF Nicole Richie and her fiancé, Joel Madden, an expensive crib from L.A.'s Petit Treacute;sor, she was offended to learn that the expectant parents gave it away to charity! "Paris sent them a crib for their baby. It was very expensive, and she was mad when she heard they gave it away," a source tells Star. "Paris told Nicole, 'This isn't something you give away to charity!'" But Nicole already has furniture for the baby's nursery that her dad, Lionel, bought for her.
[From Star Magazine, print edition, January 21, 2008]
Somehow Nicole Richie has managed to come off as a caring and responsible mother throughout her pregnancy. She said she didn't even allow people to smoke around her and was reportedly planning a natural, medication-free childbirth while many other celebrities schedule medically unnecessary c-sections.
Nicole and Joel founded a charity to help needy mothers, and seem to have really put their work into it during the last stages of Nicole's pregnancy. The real test will be if Nicole donates the money she receives for the baby pictures to charity too. Although her dad is loaded she doesn't have a real career to speak of, though, and I guess you can't blame her if she decides to keep the cash. As it is, she offloaded Paris' gift to charity and that's good enough for me.
Paris Hilton and Nicole Richie are shown outside Forte restaurant on 11/27/07. I'm also including another picture of Paris to show that she dressed like a hooker that day. Thanks to Splash News.