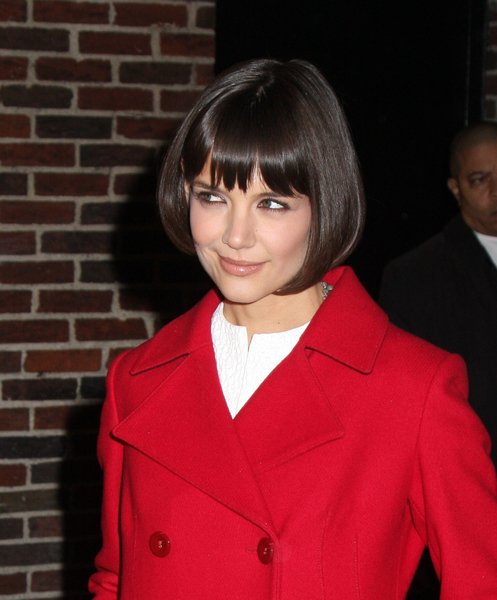 Katie Holmes' recorded times crossing various markers on the NY Marathon route were identical down to the second at nearly every point in the middle of the race to one of the guys seen jogging with her, sparking theories that she had one of the other joggers wear her chip. Her composed appearance, lack of sweat, and seemingly completely inappropriate and probably uncomfortable attire had many people claiming that she didn't run or even walk the whole 26 and a half miles.
Fox News has an interview with the mother of the unregistered and previously-unnamed runner, Wesley Okerson, and his mom says that both he and Paul Vincent, whose times mirrored Katie's down to the second, are her trainers, and "yes, she really ran the marathon." Case solved then I guess.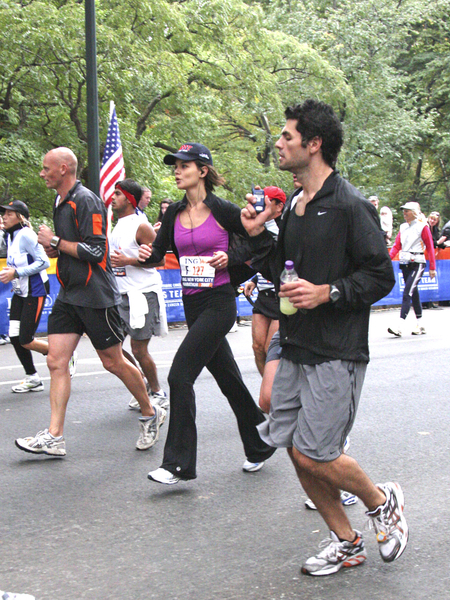 Katie and her two trainers. Okerson is on the right. He is wearing a tracking chip despite not being registered for the race.
Defamer notes that Okerson is an aspiring actor and that he was a personal guest of the Holmes-Cruises that night at the premiere of Tom's movie Lions for Lambs. Katie wore peep-toe heels that night and her feet looked perfectly fine. No swelling or abrasions that are common among marathon runners.
Commentors on Gossip Rocks, where we get a lot of stories, note how naturally and repeatedly Katie Holmes lied on her Punk'd episode (link leads to video) when she was led to believe that director JJ Abrams was cheating on his fiancé. She didn't seem to have any ethical issues and instead of telling the truth or refusing to answer the fiancé about whether there was another woman in the room she said "no" over and over again when it wasn't true. She was put in a bad position and was just trying to get out of there, but when asked "Do you always tell the truth? About everything?" she easily said "yes."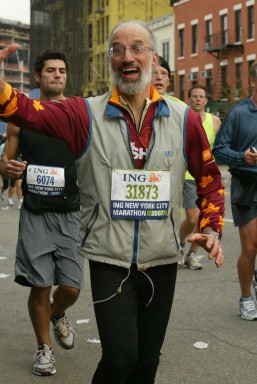 Katie Holmes' trainer, who was seen finishing the race with her, wearing a tracking chip despite not being registered and a bib from 2003. Katie Holmes was nowhere to be found in three different photos at this point.
Update: Thanks to Calimoonchild on Gossip Rocks for the link to this photo on sawzy's Flickr of Wesley Okerson, who was not registered in the NY City Marathon and wore a bib from 2003, wearing a tracking chip despite the fact that he wouldn't need one or presumably get one if he wasn't registered. Katie Holmes is nowhere to be found, although she finished the race alongside both Okerson and Paul Vincent as seen in the photo above. Okerson is obviously behind the smiling old guy. There are three photos of just Okerson with no Katie in sight on sawzy's Flickr. Commentor sc on our other post about this curious issue said he was a volunteer for seven hours on the course at the same spot and that the celebrities were easily spotted, but that he never saw Holmes pass.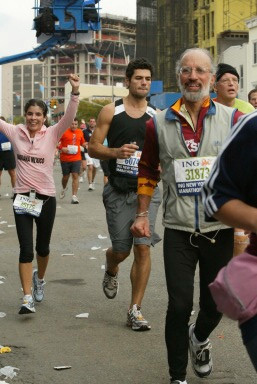 Katie Holmes is shown outside the Late Show on 1/14/08, thanks to PRPhotos.