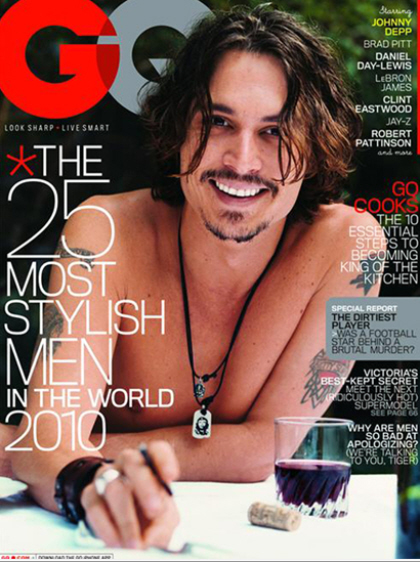 Johnny Depp! Shirtless! On the cover of the February issue of GQ. Now, I don't want to be shanked by CB or any other Depp-loonies, but I thought HuffPo was joking when they labeled this cover "Johnny Depp". It doesn't even look like him. Not how he's been looking lately. I thought it was some kind of Depp look-alike placeholder on the cover, honestly. But apparently, it's him. GQ made him their cover boy because he's been chosen as the most stylish man in the world. Depp can add this honor to his banquet of awards from the past year, including his People Magazine Sexiest Man Alive for 2009, Entertainment Weekly's Entertainer of the Decade, and his People's Choice Star of the Decade.
This honor comes with a slideshow on GQ's site of the most stylish men of the past century. They don't label them as "from the past century" but I noticed that Genghis Khan didn't make it, so I saying "century". As for Depp's inclusion and victory as most stylish… really? I mean, I like his style, he's quirky and fun and sexy, but I don't think of him as the most stylish man. But maybe I'm alone.
He does look good shirtless though. Mmm…
GQ cover courtesy of Huffington Post.