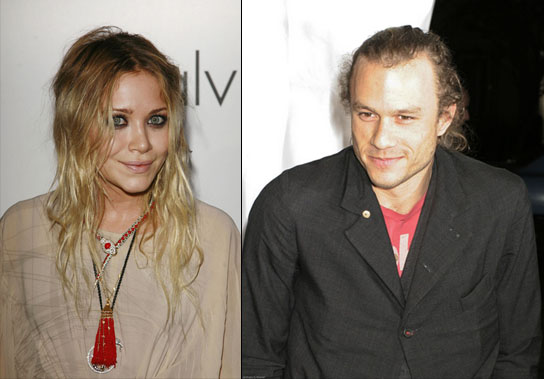 In the reports of Heath Ledger's death Mary Kate Olsen's name just keeps appearing. First it was that Heath was renting an apartment either currently owned or once owned by Mary-Kate (not true), then it became that they shared a New York bodyguard, then it was that the masseuse worked for both of them. However, People magazine has a whole new idea: they were party buddies, or possibly a bit more.
Certainly friends, definitely party pals and maybe more, Heath Ledger and Mary-Kate Olsen first met over the summer of 2006, at the time he was living at the Chateau Marmont in Hollywood, People has learned.

More recently, "Mary-Kate and Heath were casually dating for three months before Heath's death," a source has told People. "They were hooking up, but neither were particularly interested in making it exclusive."

As for what drew the two together, says the source, "They had a bond that was based on partying, and they had the same tastes in partying … like, in terms of where they liked to hang out in New York, what time they would want to go out. They just had the same sensibility."
Since splitting from Michelle Williams four months ago, Heath Ledger has been linked to Kate Hudson, Helena Christensen, Lindsay Lohan and Gemma Ward. Where did he have time to get freaky with Ms Olsen? This is also the first word I've heard of their partying ways, and they were probably out in public places where they might have been photographed, and I haven't seen a picture yet. So while the two of them probably were friends, I doubt it was anything more.
I think we can pretty safely assume that the masseuse, Diane Lee Wolozin, called Mark-Kate first as she knew that she and Heath were friends. Like a lot of people in an emergency situation she possibly freaked out and couldn't make a decision.
Fortunately the police say that it matters little the time spent on the phone with Mary-Kate, as it seems that Heath had already passed at that point.