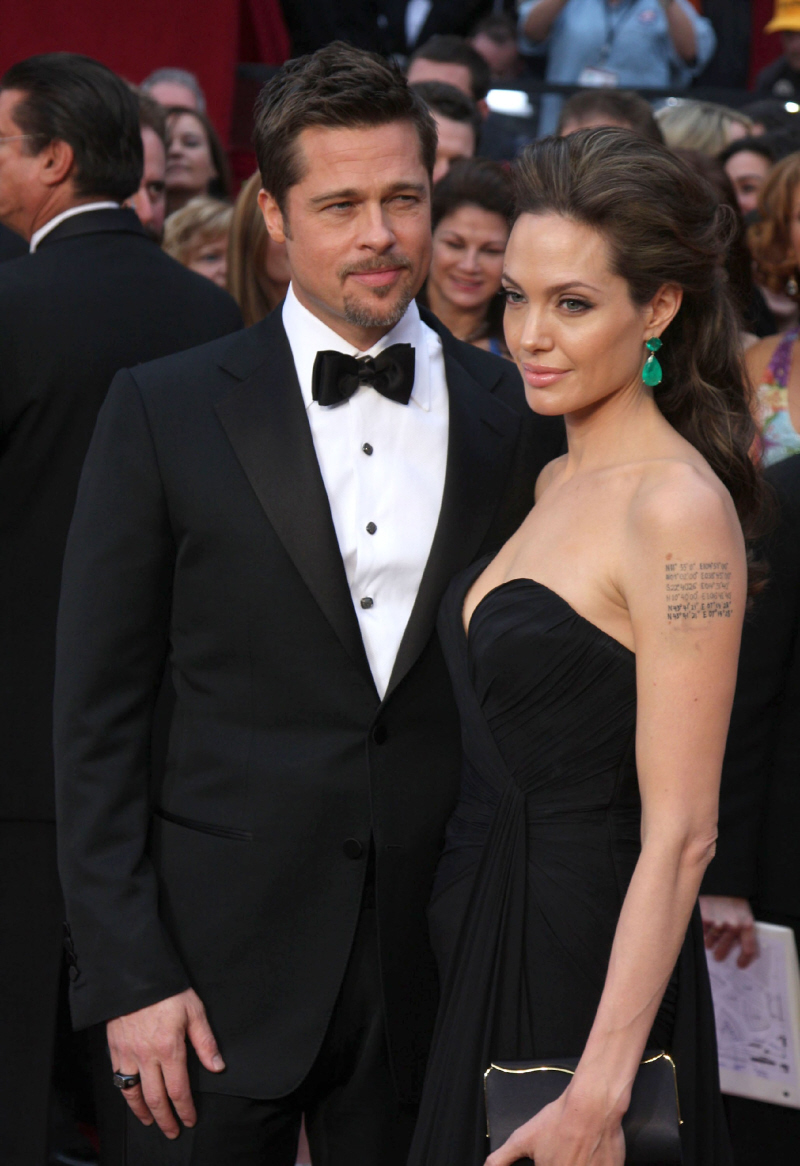 While the dust still settles on the swirl of rumors about an impending Brangelina split, many media outlets are doing pieces on the question of "Why now?" As in, "Why did these rumors garner such strength when there have been breakup rumors for more than four years?" One prevailing theory is that it's some kind of "punishment" because Brad and Angelina didn't show up to any of the awards shows, giving lazy entertainment journalists something to write about. Well, that ploy may have worked (I believe it's called "negative reinforcement") because now the rumor going around E! News is that Brad and Angelina will make an appearance at the Oscars, a photo op designed to show how they're just fine. And of course that dialect coach – the one Angelina allegedly had vodka-soaked sex with on black rubber sheets - has come forward with a much less sketchy story about his non-sexual relationship with Angelina:
Since various tabloids have had Brad Pitt and Angelina Jolie breaking up since the day they got together, what's different about their latest fabled trip to Splitsville?

Well, this time Jolie supposedly cheated on her bearded beau.

But while In Touch Weekly is reporting the Oscar winner had an affair with the "dialect coach" she worked with for her upcoming spy thriller Salt, the film's resident dialect coach tells E! News the rumor couldn't be further from the truth.

And not just because he didn't even work with Jolie on Salt.

"Oh, my friends thought it was hysterical," said 51-year-old Howard Samuelsohn, whose credits include 2012 and Revolutionary Road. "I've had eight different reporters call me, and one was even outside my home."

He says that ITW contacted him last week, asking about the nature of his working relationship with Jolie.

"I said, 'Yes, I know her professionally. She's very nice.'…And then I immediately became the guy who slept with Angelina Jolie.

"I'm not a language coach," he explained. "She doesn't have a dialect in the movie; she speaks Russian. There were several people who taught her the language. I worked with a Polish actor, Daniel Olbrychski, on the movie to make his English better."

Plus, Samuelsohn added that he's been "with the same woman for 33 years."

Good lord, what would we do if Brangelina dared to last that long?!

Meanwhile, a rep for the Waldorf Astoria, where a housekeeper named Anna Kowalski supposedly told ITW she saw kinky evidence of the alleged tryst, has said that no such person works there.

But the magazine tells E! News that it's standing by its story, semantics aside, and that a source verified that Kowalski worked at the Waldorf over the summer.

"As In Touch Weekly originally reported, an ex-employee of the Waldorf-Astoria in New York told the magazine exclusively that Angelina Jolie cheated on Brad Pitt with one of her language tutors on the set of her movie Salt," a rep for ITW said in a statement, which modifies the job description of the purported lothario from the published text.

"We never claim Anna was a current employee of the hotel or provide the specific name of her coach, of which there were several. In Touch stands by our reporting on this story."
So is this all coming to a head because Pitt and Jolie haven't been photographed together in a while?

Pitt appeared Friday on the Hope for Haiti Now benefit, but he and the mama of his children opted to skip the Golden Globes and Saturday's Screen Actors Guild Awards, where Pitt would have been sharing the limelight with his Inglourious Basterds costars during their win for Outstanding Performance by a Cast in a Motion Picture.

He's slated to present a statue at the Directors Guild of America Awards on Saturday in Century City.

Jolie hasn't been seen (by anyone with a telephoto lens, that is) since she took daughters Zahara and Shiloh to a Whole Foods market in Sherman Oaks, Calif., on Jan. 16.

In fact, the last time we saw the whole family (minus twins Knox and Vivienne) looking cozy was during their holiday-time trip to NYC last month.

But perhaps this latest blip on the happy-couple radar will disappear soon. A source close to the couple tells E! News there is no split, and Hollywood Life is reporting that Jolie and Pitt are planning on attending the Oscars. Together.

They might even hold hands.
[From E! News]
I guess it would be a smart move to go to the Oscars and give people the photo op. I know I will be accused of being a Brangeloonie (and I do like them – her more than him), but I don't think they're having huge problems in their relationship. As CB said yesterday, I wouldn't be surprised if they had the normal problems of any couple, especially a couple with lots of young children. But I think they're very much together, and very much a team – for now and for the foreseeable future (like, the next few years). I was actually thinking about this last night as I was watching E! News, and I actually think Brangelina will last longer then some of the media-designated "solid" couples, like Jennifer Garner and Ben Affleck.
Brad and Angelina at last year's Oscars on February 22, 2009. Credit: WENN.