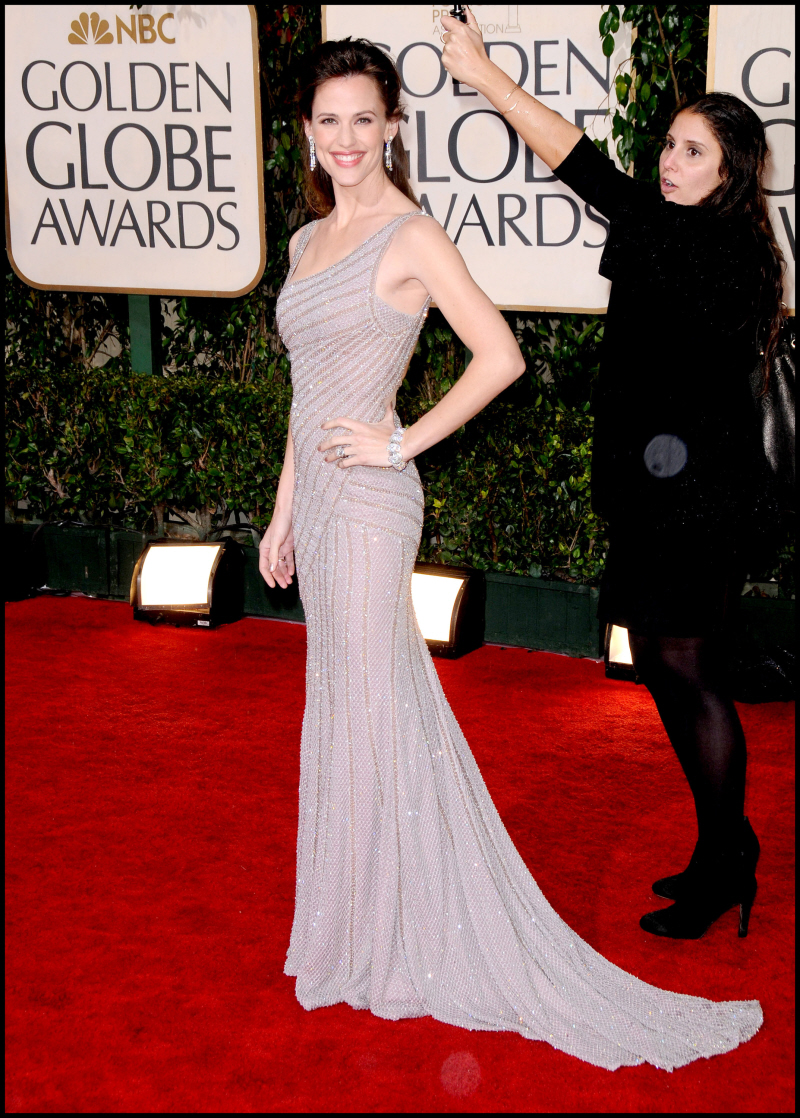 Life & Style has an article up about Jennifer Garner's dramatic weight loss, but in all fairness to them, L&S isn't being judgy about it. They don't come down on one side ("she's too thin!") or another ("she looks fine!"). I'm the one who is concerned, not L&S. As I noted post-Golden Globes, Jennifer looks way too thin for my taste on the red carpet. True, she's not emaciated, but she's had some dramatic weight loss in just the past few months (see photos of Jennifer in September). Life & Style attributes her drop in three dress sizes to her getting serious about losing the baby weight:
When a slim Jennifer Garner stepped onto the stage recently at the Golden Globes in LA, the Versace-clad mom of two drew plenty of oohs and aahs. But her streamlined silhouette was a new look for the 37-year-old star, who was once famous for the super-muscular physique she showed off in action-hero roles.

"She's a size 0 now," an insider says about Jen, who has two daughters, Violet, 4, and Seraphina, 13 months, with hubby Ben Affleck. "She used to be a size 6."

That means after having her second child, Jen dropped the baby weight and more — which was tough to do the first time, she's said.

"I just wasn't that motivated," Jen said about taking time to lose the weight after Violet's birth. Then I got on the treadmill, stopped stuffing my face and lost the weight. I cut out croissants, bagels and muffins — all the good stuff — and went back to having
a salad once a day and protein."
[From Life & Style]
I'd be more likely to believe that Jennifer's metabolism has gone haywire post-pregnancy rather than she was aiming to be a size zero. That, and she probably loses a lot of wieght running around after Violet and Seraphina, and she's a busy mom. I really believe Garner is the kind of woman who would take her own health seriously, and would want to get back to her natural, slender frame, yet still have some athleticism and some meat on her bones. Maybe when she gets back to work on a film, she'll put on some more weight?
When I was researching this, I found this little blurb from Us Weekly/iVillage. Apparently, Ben Affleck still wants a son, and he's still trying to convince Jennifer to get pregnant again. This story has been reported before - and now they're claiming that Jennifer is reusing to get pregnant again because she's worked so hard to get her body back.
Jennifer Garner in LA on January 26, 2010, credit: Fame Pictures. Also, Garner at the Globes on January 17, 2010, credit: WENN.