F-ck me, Josh Holloway looks good enough to eat. Those dimples are going to make me go insane. How in the world was this man not a star before Lost? Seriously? Why do we put up with the Taylor Lautners and Josh Duhamels of the world when there's a guy out there who looks like this? Sigh… I'm in love.
Anyway, I'm putting up these photos (which are more than a week old, my apologies) of Josh and Evangeline Lilly, Emilie de Ravin and Daniel Dae Kim because Lost: The Final Season premieres in, like, days! Like, if you wanted to count down by hour, you seriously could. I'm so thrilled about this, I don't even mind that it's scheduled for the same time slot as NCIS! Mark Harmon is great and all, but I cannot deny the Josh Holloway and Naveen Andrews magical island hotness. Lost's premiere is one of the most anticipated events of the year decade century! Or whatever.
Considering how highly anticipated this event, this must-see-tv, this history being written, it's kind of strange that we literally know nothing about what is going to happen on the premiere episode, or the season as a whole. I've read some half-assed spoilers here and there, stuff about this character being killed off or that one blah blah, but nothing is ever verified, and one of the reasons Losties love the series is because no character is too precious to avoid death, destruction or heartbreak. They've killed off fan-favorites before (R.I.P. Charlie) – and God knows, the original construct of the first episode was for Matthew Fox to die! Still, I hope it's not Naveen Andrews or Josh Holloway. I would be heartbroken. Anyway, the in-house Lostie at Entertainment Weekly has written a massive, mega-opus describing various theories for how the final season could play out. I read about four pages and then I had to stop myself because I was going to geek out too hard and bust something. Here you go – enjoy!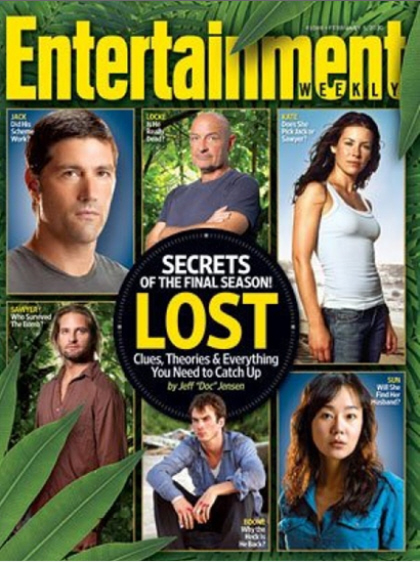 In addition to the theories, EW also put Lost's Final Season on their cover this week, and they scored an interview with the two co-creators of Lost, and EW put up an excerpt:
With Lost's last season premiere just days away (Tuesday, Feb. 2 at 9 p.m. on ABC, to be precise), EW's own Jeff "Doc" Jensen has been going a little crazy with anticipation. Fortunately he's channeled all that energy into something productive: Theorizing!

Not only does he have his own thoughts about how it's all going to end, this week Doc Jensen also went straight to the source — Lost's exec producers Damon Lindelof and Carlton Cuse — to get some key intel on what fans can expect in the sixth and final season.

Given that there are so many lingering questions to be answered in just 16 episodes, Cuse and Lindelof say the plan is to do what they've always done: tell their story their way.

"We're writing the show for ourselves," says Cuse. "It would be a terrible mistake to change the methodology that has sustained the show for this long." Lindelof refers to Lost's most despised duo to drive home the point: "Find the person who hates Nikki and Paulo the most, and I guarantee you that Carlton and I are still flagellating ourselves for that idea. The fact that we are 10 times harder on ourselves than anybody else makes us feel like the show is in the right hands."

That said, Lindelof is still feeling butterflies about the impending premiere: "I wish it was already here. The audience may hate it. The audience may not hate it. But at least they will finally see it, and when they do, it will be a relief."

The duo also offered teasers about Lost's most pressing questions — Is John Locke really dead? Who are Jacob and the Man in Black? Will Kate choose Jack or Sawyer? — though they're coy when asked if fans will ever learn what the Island really is.

As for Lost's central hero and resident "fixer," Jack Shephard, the question of whether he'll achieve the redemption he so desperately seeks will be a core theme for season six.

Explains Cuse, "This notion of predeterminism is something we're very actively exploring this season. Is redemption possible? Is redemption possible for all of them? Is redemption possible for some of them? What does redemption look like?"
[From EW]
You know who no one is mentioning anymore? Desmond. I actually adored the Desmond character, and I loved his love story. It would such a shame if he wasn't around at all in the final season. My greatest fear is that the last episodes are going to be dominated by Jack and Kate's bullsh-t. They're generally considered the two "leads" of the ensemble, and they are the weakest links, in my opinion. Oh, and Jack and Kate belong together. Two self-absorbed, asinine, belligerent a-holes belong together. Leave Sawyer either with Juliet… or mourning her.
Anyway, who's with me? I'm initiating the countdown now!
EW cover courtesy of CoverAwards.