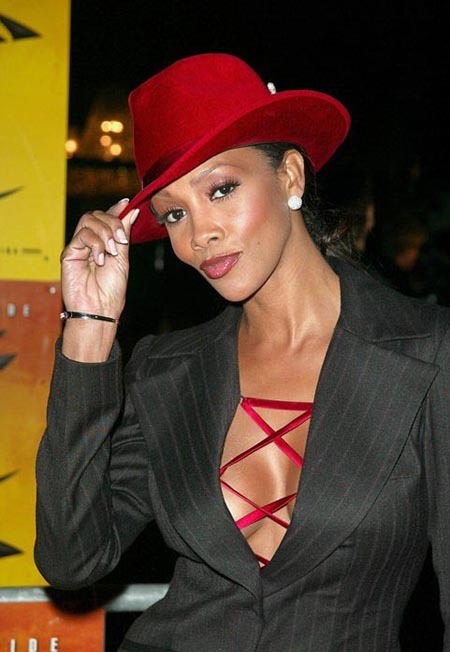 You know when it's a fabulous time to announce that you want to adopt kids? Right as you're going through a multiple D.U.I/sex tape scandal. Nothing says "A+ Mom" to potential adoptive parents quite like a lady with a drinking problem. But that's not stopping Vivica Fox from claiming that she wants to adopt kids. Her reason? If she had a kid naturally and things didn't work out with the father, the kid would be a constant reminder of the bad relationship. Hey Vivica, thanks for giving all of us children of divorce one more complex.
Kill Bill star Vivica A. Fox is considering adoption because she never wants a child to remind her of a romance gone wrong. The actress, who briefly dated 50 Cent after splitting from husband Christopher Harvest, admits no man has ever convinced her that having a child naturally is worthwhile. Fox says, "I haven't met anybody that I want to be reminded of. You gotta think about that for 18 years because, more than likely, you, as a woman, you're gonna be stuck raising the kids. Knowing me, I'd have a baby by somebody I can't stand and he'd (baby) look just like him (boyfriend). It'd be like, 'Damn, here you come again today.'
[From Contact Music]
Wow, it's good to know what my parents see when they look at me. I think if that's your outlook on children, you probably shouldn't have them period. Funny thing about children… they're actually separate, unique people and not simply half you and half the other parent. It's pretty narcissistic to just see yourself and someone else. And let's be realistic, you're not just going to have them around for 18 years, unless you're a pretty bad parent. If you do it right, you'll probably see the kid for the rest of your life. I pray pray pray to God that Vivica was trying to be funny when she said this, and it just didn't come across. It sounds like she's not really wild about kids… or the inevitable complexities that come with them. Yet Vivica still seems to think she'd be an awesome mom.
So the 43-year-old actress is now considering adopting a baby and becoming a single mum. She adds, "I've gotten a little old to be walking around pregnant (but) I'd make a wonderful mom. I'm good with kids. I love kids. It's just that (pregnancy) hasn't happened in my life."
[From Contact Music]
I think her comments perfectly explain why a lot of celebrities don't seem to make great parents. They just don't get that it's about the kids and not all about them. Generally when you see Vivica interviewed, she comes off as kinda crazy anyway. Those are the kind of people that make great aunts, fabulous godmothers, and awesome cousins. But they're probably best when they're removed from the kid by at least a few degrees.
Picture note by Jaybird: Here's Vivica and her infamous boob dent at the Emmys in June. Images thanks to PR Photos.