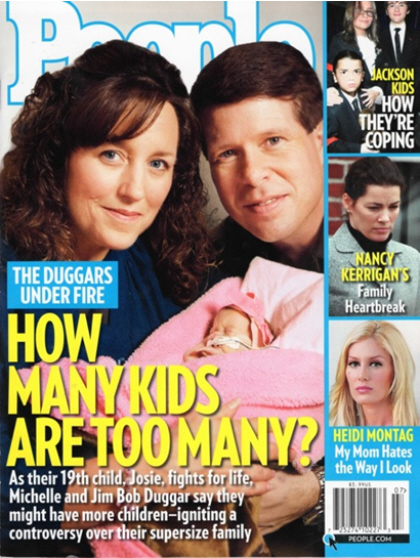 Just days after People Magazine was one of the few media outlets to premiere photos of the Duggars' newest baby (their 19th), People decided to put the Duggars on their cover with the headline: "Duggars Under Fire: How Many Kids Are Too Many?" While I see the point of People's cover story, and I understand why the question is being asked, and why it's newsworthy, I do find the whole thing uncomfortable.
While I can't personally understand that lifestyle, with all of those children, with no birth control, having babies because of a staunchly conservative Christian belief system, I also think it's their choice. From what I understand, the Duggars aren't taking government assistance to support their children, so at that level it's none of my business, because I'm not paying for it. And if that's their choice, than so be it. Their choice is as sacrosanct as my choice to not have that lifestyle, and to make my own decisions for myself about how, when and where I choose to be a mother.
Part of the reason I think People Magazine put them on the cover is because the Duggars say they want to have even more children. Jim Bob is 44 years old, and Michelle is 43. Would they be able to conceive naturally? Perhaps. If they weren't able to conceive naturally, would they go in for fertility treatments or in vitro? I doubt it – wouldn't that be deemed "unnatural" by their faith? Or would the ends justify the means in that world, if it helped bring another life into this world?
I don't really know. But my guess is that a lot of people will be talking about this cover story.
People Magazine cover courtesy of CoverAwards.