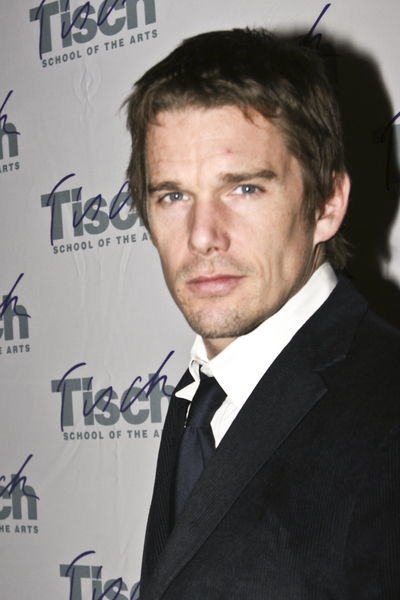 Ethan Hawke is about to become a father for the third time. The "Training Day" star has two children with ex-wife Uma Thurman, and he is expecting a third with Ryan Shawhughes, 27, whom he met when she worked as a nanny for his family back when he was with Uma. It is unclear whether the two are living together or engaged at this point, but Ethan's camp says the actor is pleased at the news of his impending fatherhood:
"I can confirm and they are thrilled," says Hawke's rep Mara Buxbaum. "No further details will be made available."
[From People]
In the fallout after Uma and Ethan's split, there were rumors that Hawke was unfaithful, but neither spoke about it publicly. Ethan only had this to say on the couple's split in a 2006 interview:
"To be honest, [fame] was an undue pressure on my marriage. I didn't like being famous when I was single, and what it did to my celebrity status to be married to another famous person was a huge pressure — one I didn't enjoy. And it had nothing to do with her. Nothing to do with her," Hawke says.
[From Showbuzz]
Uma has been linked to a handful of rich suitors since then, but Ethan's love life has remained very private. In fact, there is only one photo of Ethan and Ryan together, and it was taken in December 2007 as they dined in a restaurant in Manhattan. Ryan bears more than a passing resemblance to Uma. The NY Daily News' Gatecrasher column says keeping the relationship secret for so long was a ploy to protect Ethan's image.
"They seem to be trying to rewrite history by saying they waited a whole year, so they could look innocent when word that they were together finally got out," an "insider" tells the mag.

"He [Ethan] was terrified, because he knew if Uma found out he was with their nanny, she'd blow up and the divorce would get nasty when it had been going relatively well."
[From Gatecrasher]
While I don't agree with cheating on a spouse—especially with a nanny—it seems as though both Ethan and Uma have moved on with their lives and manage to co-parent their kids quite nicely these days. They even schedule movie shoots around their children's needs, and try to accommodate each other's careers. My guess is that Uma's fans and sympathizers will be a lot more offended and upset by this news than she will. Uma seems to be doing quite well without Ethan.
Picture note by Celebitchy: Ethan Hawke is shown at the Tisch School of The Arts Gala on 11/12/07, thanks to PRPhotos. Inset photo of Ethan and his girlfriend thanks to the Daily News.