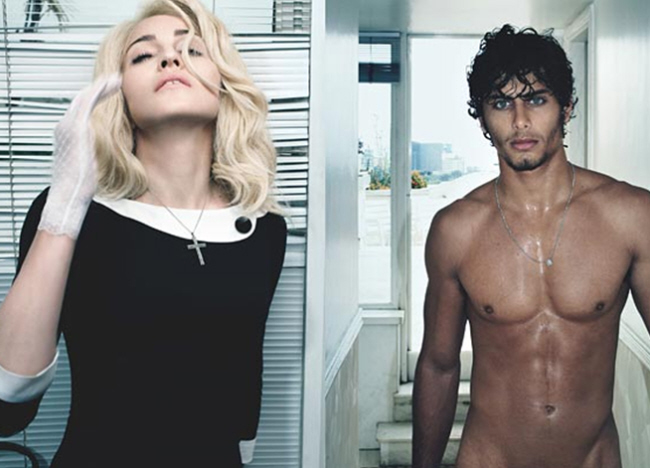 Well, it seems the reports might have been wrong! Not only has Madonna made a $1.5 million investment in special, Brazilian "youthful" coconut water, she's also continuing to make a significant investment in Jesus Luz's sweet nectar of youth. Gatecrasher reports that the rumors of a Jesus-Madge split - spread earlier this week – are false. Because apparently, Jesus and Madge were all over each other in London earlier this week. Who knows?
Back off, cougars of the world –Jesus Luz remains Madonna's man.

Despite rumors the Material Mom had dumped her Brazilian boy toy, we hear the two appeared very much together at the London premiere party for "A Single Man" on Monday night.

"They were all over each other and were even kissing in front of everyone," a spy on the other side of the pond dishes of the duo, who snuck into the famed Harry's Bar around 11 p.m. "They looked like they were still very much an item," although the snitch added that while Jesus snuck out right before the party ended, Madonna stayed until the venue closed.

"Tom Ford was there, and she looked like she wanted to talk to him before she left for the evening," the source says. "But there's no doubt she and Jesus were at the party together."
Madge even buried the hatchet for the evening: She was also spotted chatting with her ex, Guy Ritchie.

While the Queen of Pop may not be single, that doesn't mean she can't mingle: We hear she also enjoyed herself in NYC on Wednesday night — having a great time but certainly not stepping out on her man.

"She came into SL with a huge entourage of guys, but it looked very friendly," a snitch dishes. "At first, she was blocked off by security, but as the night went on she was having such a good time that she was out dancing like everyone else."

The 51-year-old still knows how to party: Our spy says that she even had a dance-off with the members of her posse, which included Knicks player Danilo Gallinari.

"They made a huge circle, and Madonna looked like she was competing with ["The Hurt Locker's"] Anthony Mackie and Jeremy Renner. Madonna looked really happy and like she was having a good time, but any attention she got from the men was definitely platonic."

Well thank God — err, Jesus — for that!
[From Gatecrasher]
Yeah, I could see this. I think Jesus and Madge will break up when she's ready to break up, and not a minute before. I tend to think of Jesus as Madge's employee more than anything else – and he wouldn't "dump" her without giving his two weeks notice.
However, In Touch Weekly does claim that there is trouble in Madge-and-Jesus-ville. Apparently, Madge is quite "bored" with Jesus, and she's "distancing herself from him" because she's "rekindled a friendship with her ex-husband Sean Penn." Which has been my theory for a little while – that Madge's next "boyfriend" will be a rekindled relationship with Sean Penn. We know he's a repeat offender, at least in love. Anyway, Madge is "physically attracted to Jesus, but that is pretty much about it now… she's already hinting that her relationship with him is coming to an end, but she'll keep him as a friend." I think "keep him as a friend" = payroll.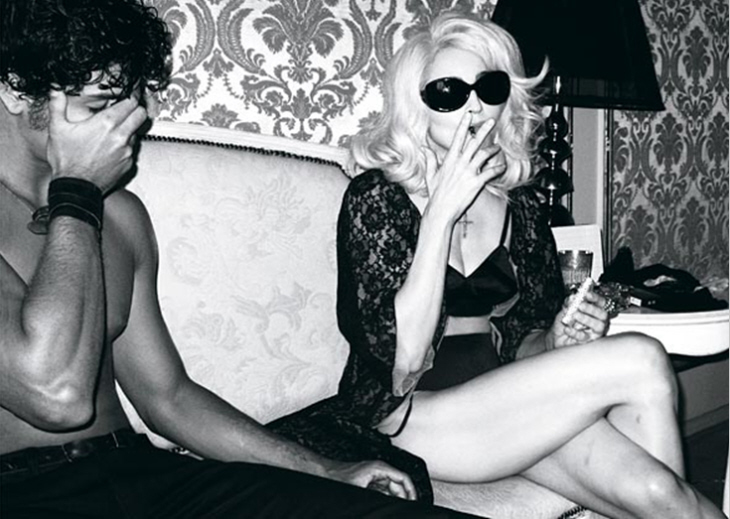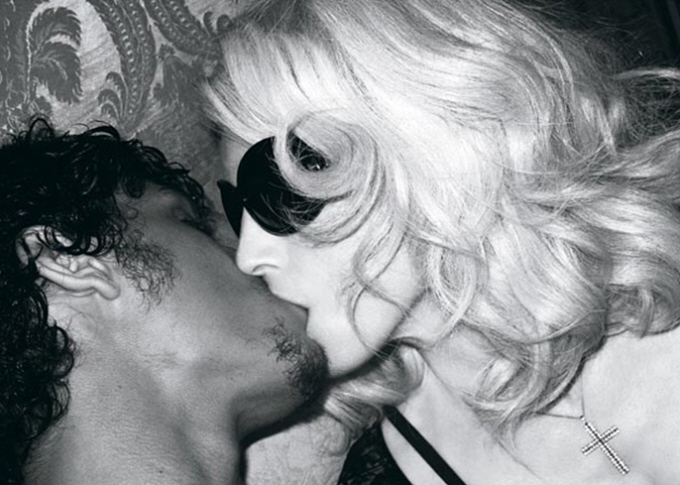 Photos of Madonna and Jesus Luz from their infamous 2009 W Magazine photo shoot, courtesy of W Magazine and The Hollywood Gossip.