Victoria Beckham blames sourpuss face on "the way they edit the pictures"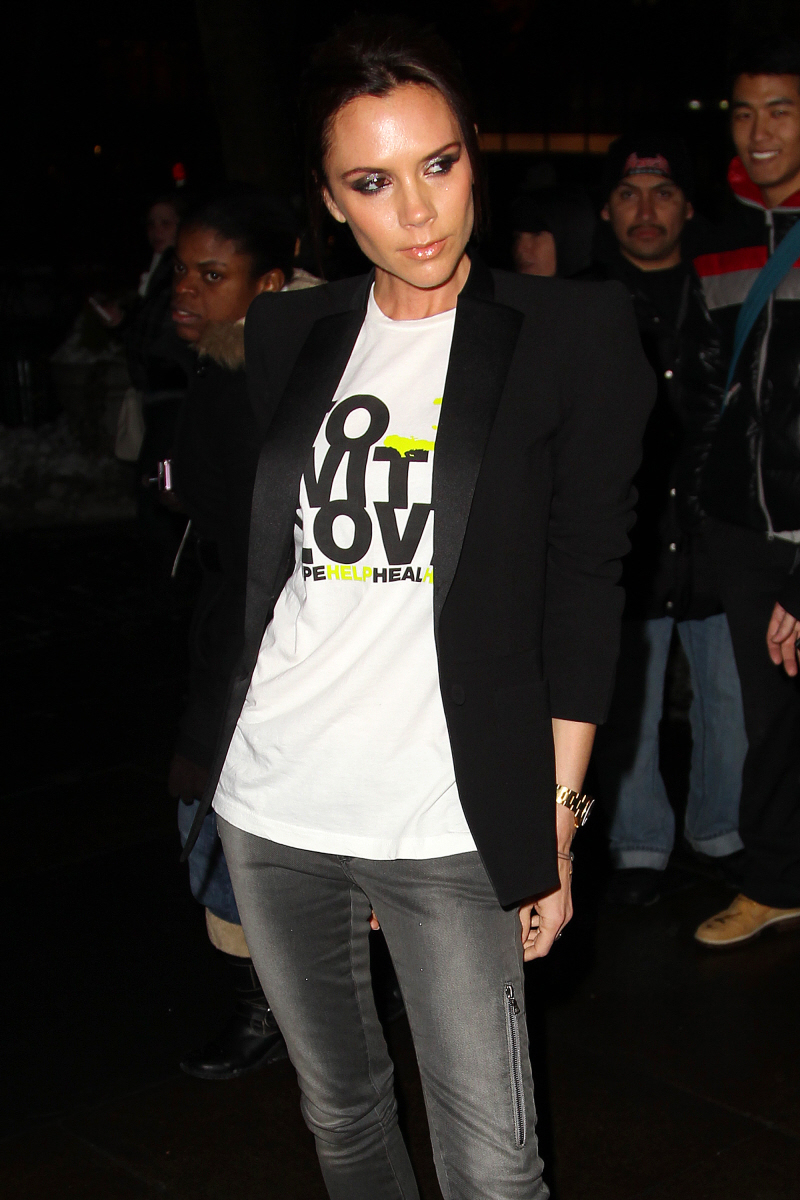 Victoria Beckham co-hosted "The View" this morning, and I have to admit that she was rather personable. I missed the first few minutes, but when I caught it she was talking about how proud she was that the Spice Girls, her former all-girl music group, had won at the Brit awards, which are like the British equivalent to the Grammys. She said "I haven't sung for some time. It seems like so long ago." She said they're creating a musical now that's in development, but it wasn't clear whether she and the other Spice Girls would star. I'd assume not. She also talked about her Glamour photo shoot with the adorable puppies, which inspired her to get an English bulldog for her family.
The panel discussed the controversy over the size 4 model who is too "big" to walk the runway, and pin thin Victoria mentioned the CFDA (Council of Fashion Designers of America) campaign "Health as Beauty" for more healthy models. She even said that some of the girls were too thin at her the showing for her fashion line.
The ladies complimented Victoria for designing clothing for all body types, using the example of Jennifer Hudson in one of her dresses at the Grammys. Posh then brought up the point that she didn't think it was the models' fault, though, they were just born like that. "Most of these girls are naturally thin. I don't think we should be discriminating against someone because they're too thin, or too curvy or too large.. What I loved about dressing Jennifer Hudson [for the Grammys] is how sexy she looked and it shows that you don't have to be tiny." I'll give her some credit for making dresses that flatter larger women, but super tiny Victoria isn't about to bash emaciated models because to her it's "natural" to look like you're starving.
My favorite quote, though, was when Sherri asked Victoria why she makes that lemon-sucking face in all her photos. I've seen this woman interviewed before, but I am still always surprised at how normal and likable she seems. She doesn't seem like the hungry snob with the stick-up-her-butt that you might assume from photos. Victoria feigned surprise and laughed and hung her head. She said "I don't know… I think it's just the way they edit the pictures." She then changed the subject to talk about the puppies in her Glamour photoshot.
When the group started talking about the men's Olympic figure skaters, Victoria made a little joke. "There's nothing good about those outfits. I wear the feathers in my relationship, if David came dressed home like that… can you imagine?… David would never ever wear a lycra catsuit." Tiny cotton underwear, though, that's no problem.
Victoria at New York Fashion Week on February 12, 2010; in London on February 3, 2010 and December 9, 2009. Credit: WENN.

Written by Celebitchy

Posted in The View, Victoria Beckham

- Who butchered the National Anthem? [D-Listed]
- Rob Lowe never ages [Lainey Gossip]
- What is Vanessa Hudgens wearing? [Go Fug Yourself]
- Summer guide to reality TV [Reality Tea]
- Game of Thrones recap [Pajiba]
- Tan Mom's music video [Buzzfeed]
- Amanda Knox is broke [Starcasm]
- Backstage at the Billboard Awards [Popsugar]
- Miley is still stuck in the 90s [Popoholic]
- Blind Items revealed: Adam Levine [CDAN]
- Hugh Hefner bought Crystal Harris a house [Celebslam]
- What happened to Aimee Teegarden? [The Blemish]
24 Responses to "Victoria Beckham blames sourpuss face on "the way they edit the pictures""