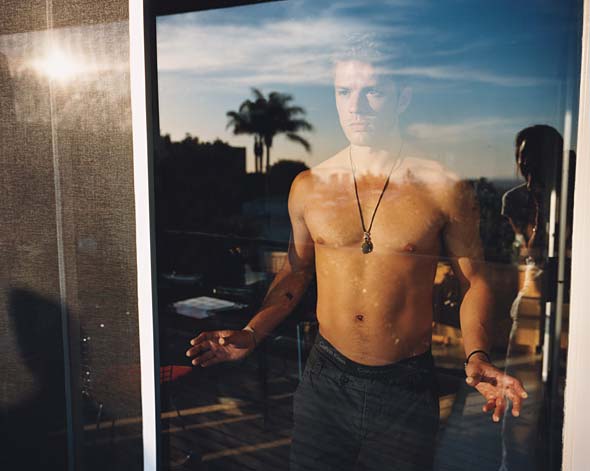 For reasons completely unbeknownst to me, I've always sided with Reese Witherspoon in her divorce from Ryan Phillippe. Probably due to that nasty rumor that he was cheating on her, and/or jealous of her career. But whenever he's interviewed he comes across as genuinely brokenhearted about the whole thing, and admits to a level of sadness few men would. It seems like he was truly broken apart by the whole thing, and is still very much in the process of putting himself back together. Ryan gave a pretty in-depth interview to W magazine recently, where he talked about the divorce and his relationship with Abbie Cornish, who he was long rumored to have had an affair with. Ryan insists that the two are not a couple.
"She and I are close friends, and as far as if there is any future, that is not where we are at now," he says. "That is what other people like to say or like to assume. As far as I'm concerned, it's a friendship, and we are getting to know each other in a really difficult situation."

Cornish was labeled the "other woman" after it was rumored that the two slept together during production on Stop-Loss. Asked about the veracity of the gossip in a rather blunt manner, Phillippe bursts out laughing and says, "First of all, I wouldn't answer that, but I would say that things are never as simple as it's made out to be in the tabloid press. It was unfair for her to be called the names that she was, because it wasn't about that. I don't think an outside person can ever cause a divorce. I had difficulties in my relationship, and in my marriage, long before I ever met her."
[From W Magazine]
Ryan also gives a really astute answer when the subject comes up of why his relationship with Reese ended. He says that the public wants answers – and he doesn't even go off on how people aren't entitled to answers. He just says that they wouldn't necessarily be satisfied with them.
Phillippe says these popular diagnoses of his failed union widely miss the mark. "I certainly understand the level of interest that comes along with a public marriage," he says, "and with being married to someone like Reese, who so many people love with good reason. People want answers. But I think sometimes they wouldn't be happy with what the answers would be."
[From W Magazine]
Ryan has mentioned in a previous interview that he was so depressed over the divorce that he was suicidal. He noted to W that he couldn't get out of bed for months, but that things did eventually get better, little by little.
A little later, Phillippe says his divorce was "the darkest, saddest place I had ever been. It was a struggle—there were a good four or five months of not being able to get out of bed. It was the worst time in my life." These days, things are better. "You get through it. It's a process that's not easy, but I get less and less sad about it every day."
[From W Magazine]
It's really heart-wrenching to read what he has to say. Phillippe definitely doesn't come off as a bad guy, and he doesn't portray Reese as a bad person either. I am always curious as to why their relationship ended, but he's right, the average member of the public would probably never be satisfied with the answer, because we weren't a part of that relationship and don't understand the intricacies of what went on. Ryan says he and Reese have maintained a cordial relationship because of their kids. It doesn't seem that they're warm to each other, and it appears that there's still sadness and hurt, which is understandable. Hopefully as time goes on everyone will heal and things will thaw out.
Header image is of Ryan at the Edinburgh film festival on 8/23/07, thanks to WENN.