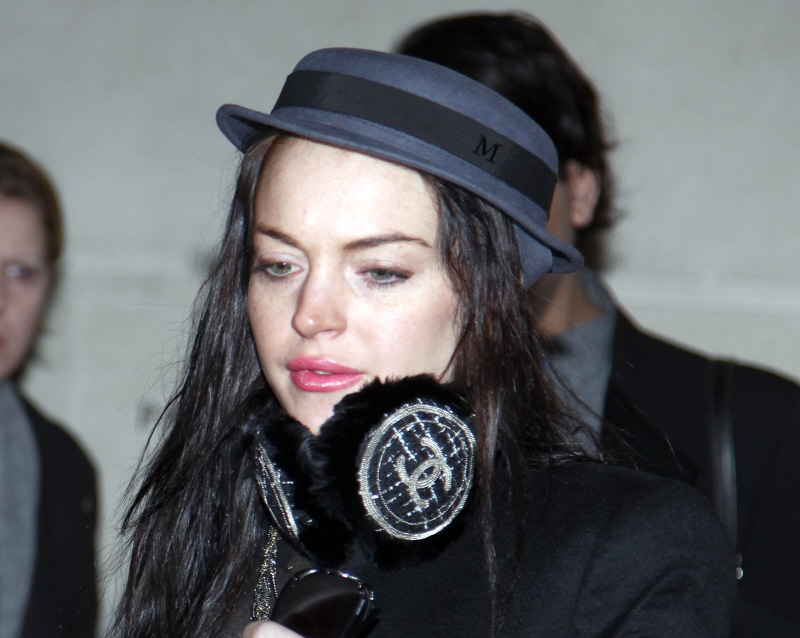 CB sent me this story yesterday, but after the E-Trade debacle (which has a new chapter that I'll to in a moment), I was slightly Lohan-ed out. Which brings me to a conversation point: the banning of Lindsay on this site. CB and I have talked about it, and the truth is, Lindsay is still totally gossip-worthy, as evidenced by how many hits we consistently get on Lohan posts. She's a hot mess, yes, but she's also crazy and arrogant and delusional, and even though it might make me a bad person, I find that I enjoy writing about her shenanigans. She doesn't have the sheer tragedy of Britney Spears – Lindsay's downfall isn't about some chemical imbalance or anything, Lindsay's problem is The Cult of Entitlement, you know? No one telling her "no", no one telling her "you can't pull this sh-t and still have a career." Except people did say that to Lindsay, and she was too coked up to listen.
Anyway, the first story is that Lindsay was on a UK talk show with Alan Carr, and Carr asked her a bunch of "uncomfortable questions". Like, "Are you Arthur or you Martha now? Are you back on the c-ck?" I'll give Lindsay credit for looking genuinely embarrassed:
Meanwhile, in Lindsay's-only-problem-is-her-childhood-milkaholism news, Lawyers for both "sides" are speaking out. Mostly, it's Lindsay's sketchy lawyer doing the talking, but E-Trade did release a short statement to Esquire: "While E*TRADE doesn't typically comment on pending litigation, we felt it appropriate given the high level of interest in the E*TRADE Baby. With the E*TRADE Baby, our advertising campaign is meant to be witty and memorable, while effectively communicating the powerful investing tools and services offered by E*TRADE. We believe the claims are without merit and we intend to defend ourselves vigorously in this case." Lindsay's lawyer, Stephanie Ovadia, had much more to say:
Lindsay Lohan's case against E*Trade is heating up, with both sides trading barbs, denials and accusations over a TV ad about a "milk-a-holic" baby named Lindsay. Since being filed in New York on Monday, the lawsuit has raised more than a few eyebrows. Stephanie Ovadia, Lohan's lawyer at the forefront of the lawsuit, tells PopEater that skeptics need to look at the "totality of the commercial, taking into account name and characterization."

If you really want to know when E*Trade (or its ad agency, Grey Group) turned the corner and decided to model the boyfriend-stealing baby after Lohan, Ovadia asserts, all you need to do is look at the ad's script. "This script is a very important piece," she tells us. "Because, slowly, all of the pieces are fitting together to make one complete picture."

That "piece" of the puzzle emerged this week via Esquire magazine, which happened to be embedded with Grey while they were crafting the baby ads. In the original script, dated Aug. 11 of last year, the "other woman/baby" character was named Deborah. In an updated draft six weeks later, the "bimbus" (which was eventually changed to "milk-a-holic") was changed to Lindsay. Adding confusion to the mix, the name Deborah was still referred to later in the script, but scratched out for the new name.

As we previously reported, Lohan is suing the company for $100 million, insisting they modeled the baby after her. Ovadia insists that because of her stardom, Lohan now has single-name recognition among the general public.

Lohan believes that under New York state law, E*Trade was supposed to ask for her approval before using the name. They want the TV spot off the air and want $50 million in exemplary damages and another $50 million in compensatory damages.
[From PopEater]
Ugh. This lawyer sounds as bad as Lindsay, doesn't she?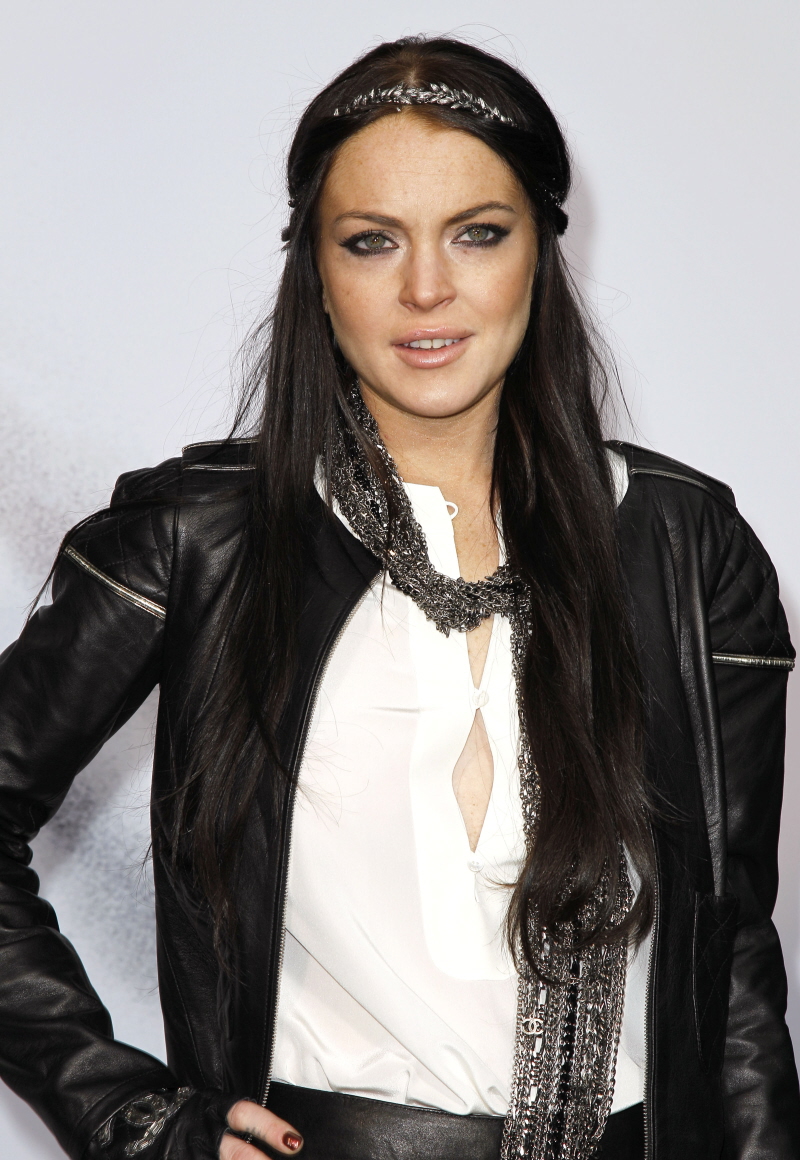 Lindsay in Paris on March 9 & 11, 2010. Credit: ANG/Fame Pictures.