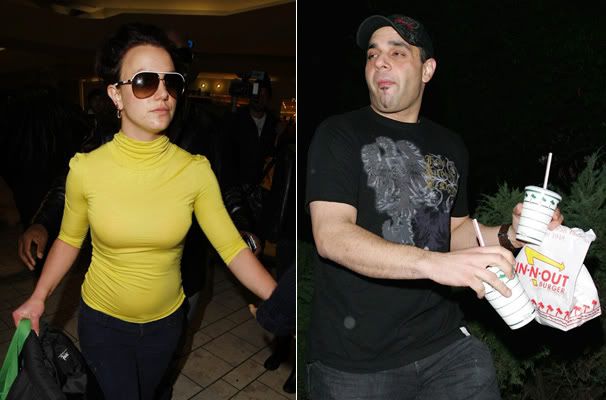 Britney Spears spent more money than some nations are worth in just a year and a half and has only ratty extensions, a couple of mansions and a bunch of overpriced dented cars in her garage to show for it. The National Enquirer reports that she spent $22 freaking million dollars in the last 18 months and that her family is pouring over receipts to see how much of that was bled out without her knowledge by the evil Svengali-like creep who had her in his grip, Osama "Sam" Lutfi. The Enquirer also claims that Britney's family has turned evidence over to the police to show that Lutfi was spending Britney's money, although she also seems to do a great job of that on her own:
The singer has blow through $22 million in just months. And the family charges Lutfi knew she was suffering from a mental illness – and pounced like a vulture.

They say he had access to all of Britney's credit cards, her ATM card and submitted bills to her business manager for his "services." And her mother Lynne believes he gave her pills…

Her parents' call for a criminal investigation was sparked by dad Jamie's close look at Britney's finances, says the insider. He was shocked to learn that his daughter had expended a whopping $22 million in the year and a half since her split from ex-husband Kevin Federline…

A one-month American Express card bill for a staggering $225,000 alerted her dad to the massive hemorrhaging of money, revealed the source.

"Several charges on the bill are thought to be Sam's doing since Britney hasn't had the card in her possession in months. Sam took control of her finances."
[From The National Enquirer, print edition, March 3, 2008]
Among Britney's expenditures noted in the article include rental cars, sometimes three at a time, and high-end hotel stays. Her house cost $7.2 million, and although she bought it furnished the Enquirer notes that she had it redecorated before Christmas, and that she spent $200,000 on chandeliers alone. She even has one in her garage.
There was a theft at Britney's house right after she was committed for the second time. Chandeliers were reported missing by her parents as well as jewelry, a flat screen tv, and camera equipment. It is thought that Lutfi had a hand in it, as he had the keys to Britney's place.
Lutfi's spokesperson of course denies that he stole anything or wasted the pop star's money while he was drugging and controlling her, but Britney's family also has copies of "outrageous invoices and contracts" he sent to her business manager, according to The Enquirer.
Yesterday the court was finally able to serve Lutfi with the restraining order that states he is to have no contact with Britney. The period in which he was supposed to be served with papers before the order became had already run out a day before. A judge ruled that they're still legally binding, and has extended the restraining order until March 17.
Lutfi's spokesperson and the LAPD deny that there is any criminal investigation into his activities while he was Britney's "manager," but TMZ claims to have an insider source who says that the investigation is very much on.