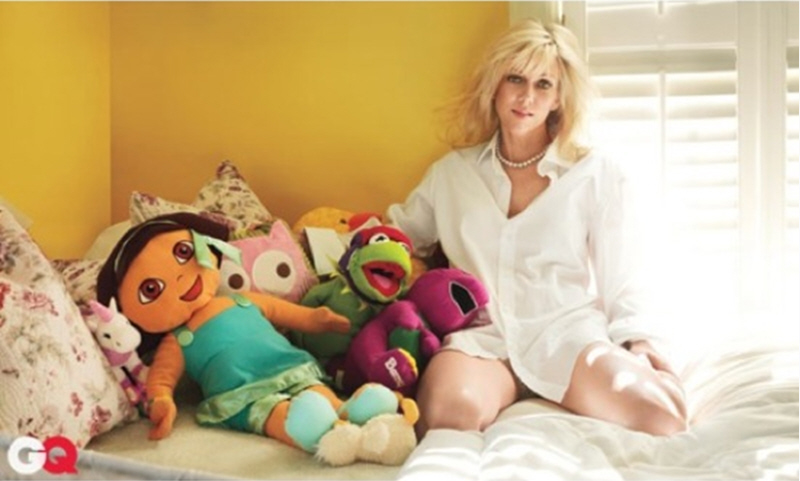 Oh, God. I guess I knew this was coming at some point, but it still sucks that this came to pass. The National Enquirer reported (first!) that Rielle Hunter had agreed to do her first sit-down television interview with Oprah. Ugh. Apparently, Oprah was all up on Rielle's grill, and Oprah wanted some big scandalous interview for May sweeps. The last (and only) time Rielle has sat down for any kind of interview during the multiyear John Edwards drama was last month, when she gave an exclusive to GQ magazine. Many people didn't even pay attention to all of the crazy sh-t coming out of Rielle's mouth because they were too busy being revolted by all of the crazy photos (included in this post) of a half-naked Rielle writhing around on her daughter's bed. Basically: Rielle makes very poor choices about how she projects herself, so this Oprah interview is probably going to be epic:
Oprah Winfrey has nabbed John Edwards' mistress for her first TV interview!

The NATIONAL ENQUIRER can exclusively report that Rielle Hunter has decided to give Oprah access to her Charlotte, NC home for a TV interview that will air during May sweeps.

"Rielle is super excited to have Oprah come into her home," an insider told The ENQUIRER exclusively.

"She's excited about giving her account of how she met John, how the affair began and what's in store for her future. Rielle also wants to clear the air about the GQ photos – she's basically doing it to get the truth out and tell her side of the story."

Rielle has been in talks with ABC's Barbara Walters and Diane Sawyer but thought Oprah was "more spiritual and would get her," according to the insider.

The source also reveals that John Edwards encouraged Rielle to go on Oprah just like he encouraged her to do the GQ interview.

"John wants the world to see Rielle in a different light, not like the home wrecker she's been portrayed," added the insider.

As The ENQUIRER has reported previously an indictment is expected soon for Edwards, the former Chapel Hill heartthrob, after a Federal grand jury investigation into misuse of Presidential campaign funds to buy a conspiracy of silence.
[From The National Enquirer]
Gawker comes close to slamming Oprah for enshrining Rielle with "glossy respectability" by allowing Rielle to be interviewed on such a huge show. I kind of get it from Oprah's perspective, though – Rielle is a "get" and Oprah is just doing her job. And I expect Oprah will get on her high horse throughout the interview and ask a lot of questions like "Did you ever feel like you were hurting poor Elizabeth Edwards?" To which Rielle will probably go off on how Elizabeth is the devil, like Rielle already did in GQ. Also, this is a way for Oprah to show off her cred as the go-to interviewer – Rielle already had a "source" relationship to Barbara Walters, so it's surprising to me that Walters didn't get the first television interview. I bet Babs is pissed.