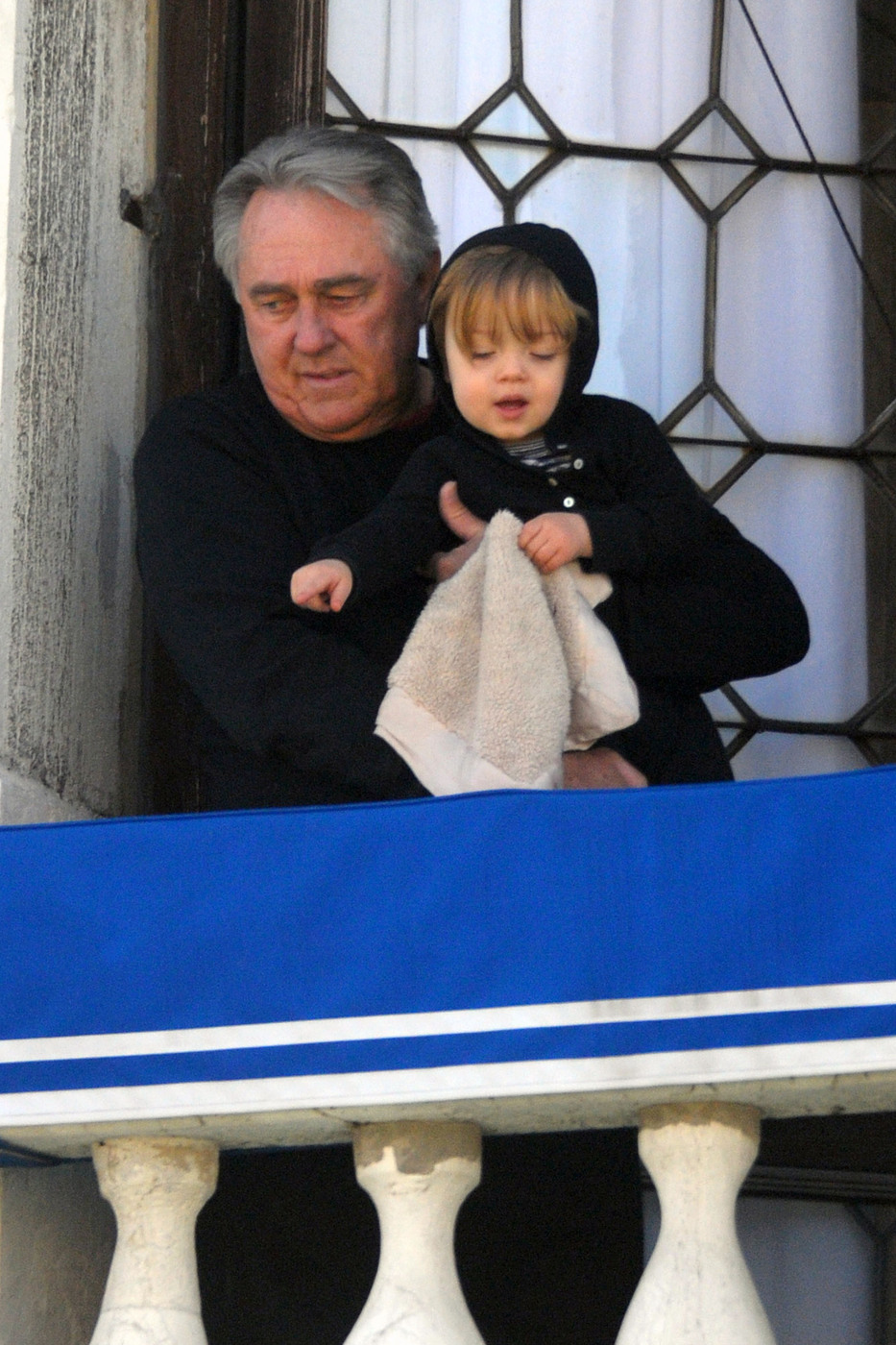 It's time for another exciting round of "Where in the world are the Jolie-Pitts?" As it turns out, they split up over the weekend. According to Radar (photo here), Brad, Angelina and the four older kids went to France for the weekend while they left twins Knox and Viv in the care of Brad's parents, Bill and Jane. Bill even took Knox out on the balcony of the Venice home the Jolie-Pitts are renting (photos above). Knox must really enjoy that balcony, because he manages to get everyone out there. Last Friday Knox got his mom and his stuffed rabbit out on the balcony, and Knox gave everyone a show by dramatically tossing the bunny off the balcony, in a series of hilarious photos. Here's more from Us Weekly: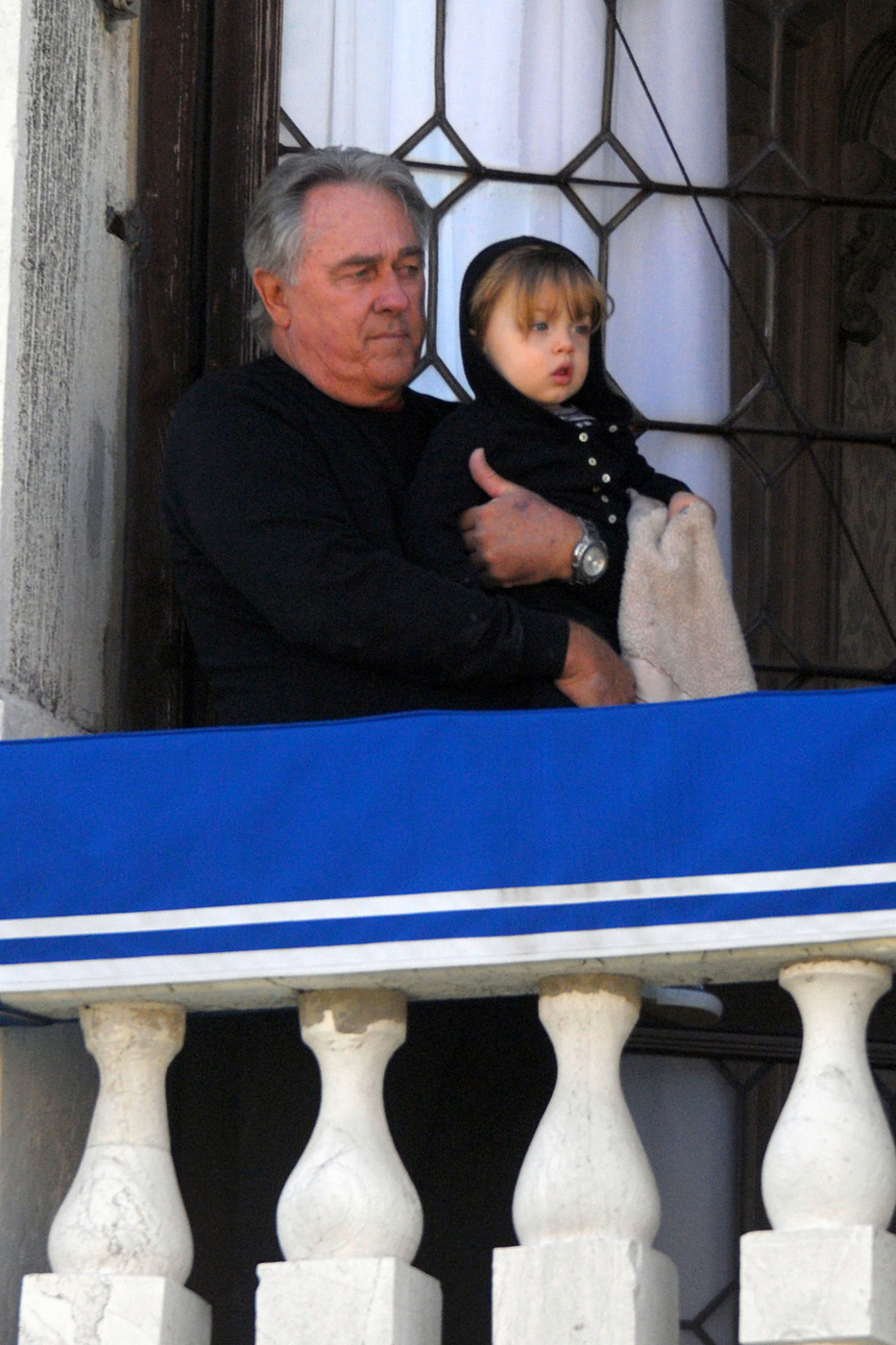 Apparently there's room for a few more guests at the $6.8 million Jolie-Pitt palazzo in Venice. Introducing…Grandpa Pitt!

William and Jane Pitt touched down in Venice, Italy last week to visit with their son Brad, his love Angelina Jolie and their six kids.

Over the weekend, however, Pitt's parents were apparently on babysitting duty: as attested by photos at Radaronline, Jolie and Pitt took Shiloh, 3, Maddox, 8, Zahara, 4, and Pax, 6, for a quick trip to the south of France while twins Vivienne and Knox, 20 months, stayed behind.

On Sunday, William and Knox headed out onto one of the clan's favorite spots in the palace: the scenic balcony overlooking Venice's Grand Canal.

Knox wore a black hoodie and clutched a blankie as he showed his grandfather the sites.

In February, Jolie's father, actor Jon Voight, also visited with the family in the ancient Italian city. Voight, 71 and Jolie, 34, had recently reconciled after a 7-year rift.

"It's nice to have something that's positive!" Voight, 71, told UsMagazine.com of getting back together with his once-estranged daughter. He says their boat ride down the ancient city's Grand Canal was "lovely…the weather wasn't so bad for the journey. It's a very beautiful trip. A lot of fun."
[From Us Weekly]
I think it's funny that Brad and Angelina left the twins in the care of Brad's parents for a whole weekend. They were probably like, "You wanted grandkids, here you go, they need a diaper change, buh-bye." Maybe Angelina doesn't want to spend time with Brad's parents? I'm sure that's a common theory, that Angelina and the Pitts have never gotten along, but I don't buy it. I think they probably get along okay – not really, really well, but they make nice. I'm sure I know what In Touch Weekly's spin on this is going to be – "Jane Pitt flies to Venice to convince her son to go back to her favorite daughter-in-law ever, JEN!" Wait for it.
Here are some older photos on the Jolie-Pitt gang:
Bill and Knox on the balcony in Venice on April 11, 2010. Credit: Pacific Coast News.