Is Kim Kardashian being cruel to a kitty cat?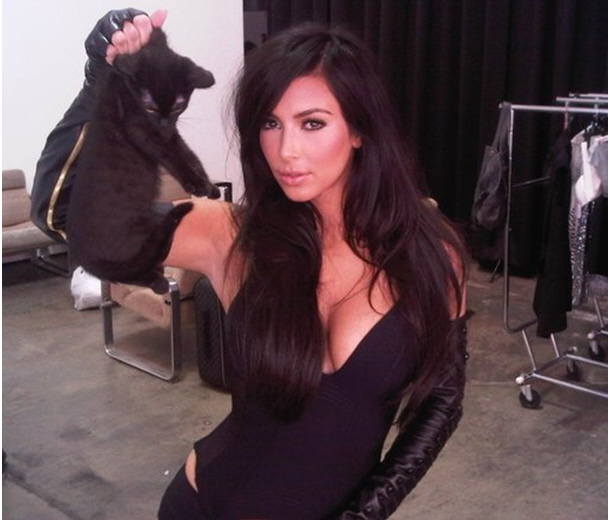 As I've discussed before, I have a huge 100-pound monster dog. He's like a little horse, and he's ugly-beautiful, with a face only a mother could love. And yes, I consider myself his mother. Judge away. Before my current dog, I had a beautiful English setter, but before him, I was a cat person. I was raised a cat person, and I had cat sisters for the first 18 years of my life. I know cats. I love cats. I get the quirky, amazing, can't-be-bothered elusiveness of a good housecat. I know all about cats, from pregnant kitties to baby kitties to kitties in heat to little whore cats to prowling tomcats to dying kitties. In my soul, I am a cat person, I've just taken a little time out to love my puppies.
All of this to say that I hate Kim Kardashian. I hate her because I'm going to come close to defending her and her actions as seen in this photo she tweeted of herself. Technically, this isn't the absolute worst way to hold a cat. This is the way a mother cat hold her kitten. She picks the kitten up by the scruff of the neck and moves the kitten wherever she thinks the kitten needs to go. I've seen people handle cats in similar ways, including more than a few veterinarians. I had one vet who would only hold cats this way – it helps if the cat is a scratcher.
Now, does Kim know how to handle cats? Is she a cat person? She strikes me as a dog person. So is she holding the cat this way because she's a cruel bitch, or because she's a pro at handling kitties? I don't know. But I still hate her. Even if you know how to handle cats, you shouldn't tweet a photo of yourself dolled up like Desperate Hussy the Cat Dominatrix. Bitch. It looks like she's saying to her next client: "Do you want some extra p-ssy thrown in?"
Update by Celebitchy: Kim has responded to the controversy over how she's handling this poor cat, and wrote "rest assured, the owner and vet were on set and showed me how to pick him up. The cat was not harmed in any way and is perfectly fine! I love animals and would never do anything to harm any animals."
Written by Kaiser

Posted in Animal Rights, Animals, Kim Kardashian

- Mariah Carey lip synced on American Idol [CDAN]
- Colin Firth is looking good [Lainey Gossip]
- Internet celebrity charged with murder! [D-Listed]
- What is Paz Vega wearing? [Go Fug Yourself]
- New bachelors on The Bachelorette [Reality Tea]
- Goodbye to The Office [Pajiba]
- Bachelor Sean's fiance cheats on him [Evil Beet]
- Britney Spears out with her man [Popsugar]
- Nina Dobrev works it [Popoholic]
- Cindy Crawford needs to lay off the 'tox [Celebslam]
- Who said it: Carrie Bradshaw or The Dalai Lama? [Buzzfeed]
52 Responses to "Is Kim Kardashian being cruel to a kitty cat?"