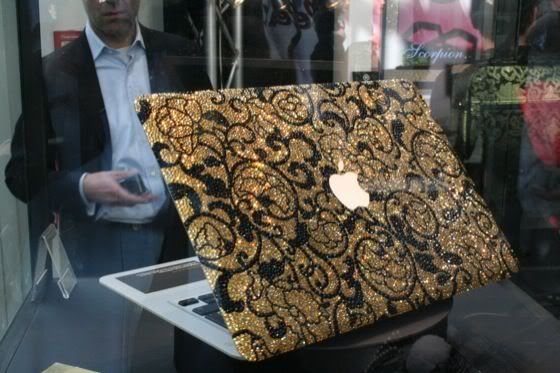 Selfridges in London is selling 20 limited-edition hand-beaded MacBook Air computers for the price of £20k, which is nearly $40,000 USD. Created by the company Bling My Thing, the computers feature 12,000 Swarovski crystals with a layer of 24k gold under each. It takes a week to make just one as they're all hand made.
True luxury addicts need look no further than Bling My Thing's new "Golden Age" creation. Unveiled at CeBIT 2008, "Golden Age" is a Macbook Air decked in 12,000 Swarovski crystals. The crystals are even more shiny than usual thanks to a coating of 24k gold applied under each crystal. The translucence of the crystals allows for true layered luxury. Each "Golden Age" takes a week to construct since each and every crystal is hand-applied, so only 20 of these beauties exist, one of which will be for sale at Selfridges, Oxford Street, on March 18th. That is if you can muster up the £20,000 ($39,750) price tag for the mega-bling.
[From The Huffington Post]
I checked out the Bling My Thing website, and it's full of well-designed and impressive small and large crystal-encrusted accessories, including phones, cameras, gaming consoles, and headphones. They don't have the prices online for their custom masterpieces, but there are DIY kits available if you have a lot of patience and fine motor skills.
A sister custom bling site, CrystalNinja.com, offers one-of-a-kind designs on your phone or sidekick for $610. The device does not seem to be included.
Thanks to Bling My Thing for these pictures.