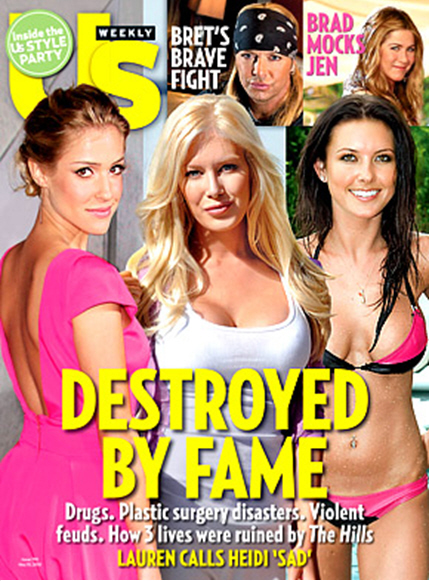 As you can imagine, the other tabloids look pretty foolish this week in the wake of Sandra Bullock's big "I have a baby, peeps" announcement. Well, I did like In Touch's Kim Kardashian story this week, but this Us Weekly story is just foolish. I mean, sure, we all like to mock the dumb Hills people. Heidi Montag is more plastic than flesh and blood. Audrina is cock-eyed. Kristen Cavallari seems somewhat normal, but she's probably a major pill too. Sigh… maybe we should just do a countdown to irrelevance.
Anyway, Us Weekly released part of their cover story on why the ladies of The Hills are being "destroyed by fame". Heidi is being "destroyed" because, according to Us Weekly's sources, she's addicted to painkillers. It makes sense, actually:
Sources on the set of The Hills fear that Heidi Pratt is developing a dangerous addiction to painkillers — months after her recovery from plastic surgery.

"She's a shell of her former self," a show insider tells the new issue of Us Weekly, on stands today. (A rep for the reality star, 23, tells Us, "This is completely ridiculous.")

Indeed, Heidi and her husband, Spencer, have developed increasingly weird behavior. While their 2008 elopement to Mexico was done with a knowing wink, they're recently "crossed over to this bizarre place," the source says.

Case in point: Heidi only agreed to get 10 plastic surgery procedures in one day last November "because she knew it would be a huge story," an insider says. (Laments pal Jason Wahler to Us, "I knew her when she was normal.")

"They are addicted to the fame," the source says. "As The Hills winds down and people start to care less, they are desperate to get back that high."

Pals say they've always had a thirst for fame — especially Spencer, who declared shortly after The Hills premiered in 2006, "I'm going to date those girls and blow that show up." (Before pursuing Heidi, he also went after Audrina Patridge.)

Says a source who knew Heidi then, "She was spellbound. If it weren't for him, she'd be a mom in the suburbs."

To find out how Heidi and Spencer blew through hundreds of thousands of dollars in recent months, how Spencer has gotten violent and lost control with his family and how they're trying to compete against the Kardashians and Jersey Shore cast, pick up the new issue of Us Weekly, on stands now.
[From Us Weekly]
I'll buy that Heidi and Spencer are both totally "bizarre" in real life. I imagine Spencer jerking off to his crystal collection, while Heidi stares at herself in the mirror, occasionally poking her dead, immovable face. Then Heidi turns to Spencer and asks, "Do you think I'm pretty yet?" And Spencer replies: "Not in front of my crystal friends, baby." And then Heidi pops another pill and looks in the mirror. It's all very Valley of the Dolls in my mind. With crystals.
UPDATE: Hollyscoop is reporting that Heidi & Spencer are in the process of getting the go-ahead for their own special reality show that will show a "behind-the-scenes look at their lives". It doesn't look like the show is for sure going to air, though. No one has purchased it.
Us Weekly cover courtesy of Us Weekly online.