Star Mag: Katie Holmes' tortured life while Suri just tortures her parents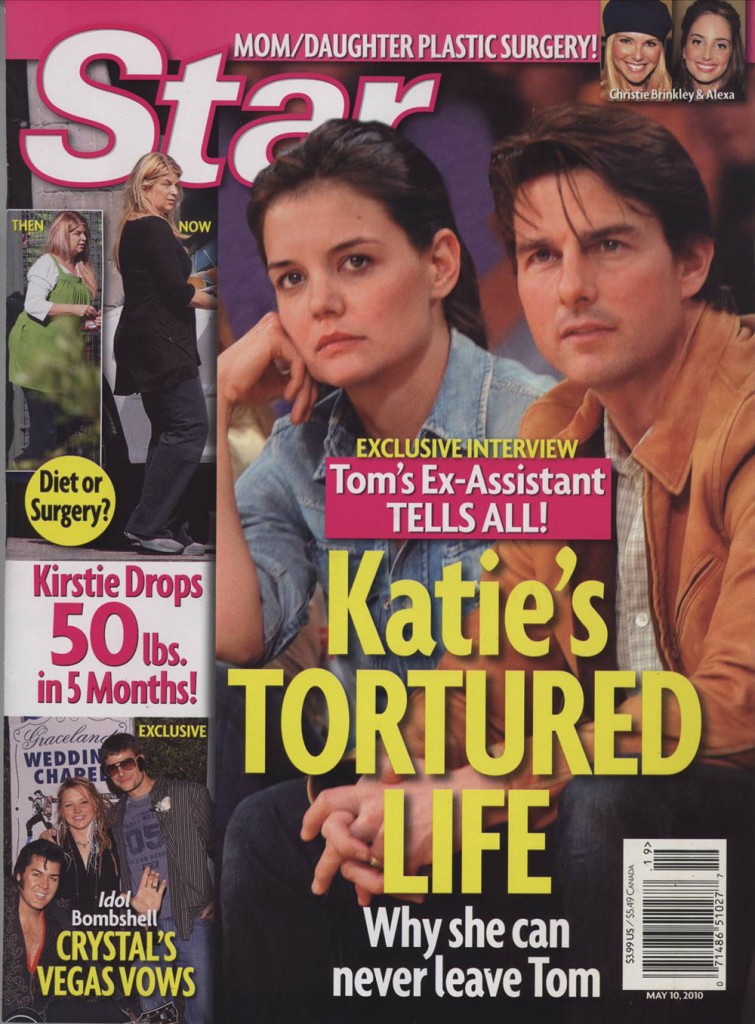 Star Magazine is running a new cover story: "Katie's Tortured Life" with the subheading "Tom's ex-assistant tells all." The article inside is an interview with ex higher up Scientologist Amy Scobee, who wrote a recent book exposing the inner workings of the cult called Scientology: Abuse at the Top. Both Star and The National Enquirer ran cover stories last week based on details from Scobee's book. Whether Scobee actually worked as an "assistant" to Tom is up to question. She did do some work for him, but all Star offers to back up their "assistant" claim on the cover is that she "worked for 20 years in the elite levels of Scientology alongside Tom." As for Katie's "tortured life," it all sounds like conjecture as to what Katie goes through based on known Scientology rituals. I would bet that Katie gets a pass now that she's been Tom's wife, and in Scientology, for two years. Some of our anon readers can possibly school me on whether that assumption is true.
Probably the most interesting claim Scobee makes, and one she told Star last week, is that Tom has a lot of Scientologists working in his household that regularly spy on him and report back to evil Scientology head David Miscavige. Nothing in the Holmes-Cruise household goes unnoticed, but whether that makes it back to the tabloids or not or stays within Scientology remains to be seen. Scobee also says that Suri can do basically whatever she pleases, because Scientologists see kids as old souls in little bodies who should be given free reign. We've heard this before, but it's still interesting to get this take on it:
"Tom is surrounded by Scientologists," Scobee tells Star, and they run every aspect of his life with Katie. From the maids and nannies that Scobee claims she hired from within the church to the financial advisers handling their investments, their staff are given the OK by church leaders. "And everyone reports back on everything that they see."

More than ever, Katie is now brutally aware of how Tom keeps a close eye on her every move. "She realizes how he found out about her smoking, her eating habits and her flirting with costars," a source says.

"She's so mad at herself because she's now cut off from many of her old friends and instead is mostly surrounded by Scientologists. And they're just spying on her."

Everyone in Katie's life is there to make sure she adheres to Tom's plan, says a source. "Katie's day-to-day routine is heavily influenced by Scientology. If she deviates, someone tells Tom and she gets scolded."

Each day starts with vitamins and barley water on an empty stomach. "The vitamins are part of a purification rundown to help cleanse Katie of any toxins around her," Scobee explains.

She is then required to do two and a half hours of "auditing" (spiritual counseling) exercises while getting ready. "It's really strict that you audit every single day," Scobee says. "There are scheduled that you'll have to adhere to, and you sign that you'll do them. If you can't during the week, you have to go full time on the weekend."

Katie's daily sessions are at a set time. "She's measured on an e-meter to see what time of day is best, and that's when they'll always do it," Scobee says. "She even has to brush her hair, brush her teeth, and get dressed in a specific order that's supposed to make her energy better for the day," says a source adds. [sic]

For Suri, however, the rule is that there are none! "She basically runs the house," the source explains. "No one is permitted to wake her, not even Katie." She picks out her own clothes and makeup and decides what to eat and when.

If someone should challenge her, "She screams, throws things, breaks things," says the source. "Her tantrums are legendary." But as a Scientologist, "Tom believes she is expressing her emotions and must be allowed to continue until she's done. And if anyone stands up to her, they're in deep trouble."

"That's an important Scientology belief," Scobee says. "They think Suri is an old soul in a little body, so the rules go out the window."

Katie wants to discipline Suri more, by taking away her bottle, for example, but Tom has forbidden it, says the source. She also wants Suri to attend Gymboree classes, but he refuses.

"Tom is a spokesperson for the Scientology education program, Applied Scholastics International, so he would ever ever let Suri be exposed to another form of education," Scobee says.
[From Star Magazine, print edition, May 10, 2010]
I'm always kind of skeptical of over-the-top tabloid reports, and think that the truth lies somewhere in between. Is Katie beat down by hours of Scientology training daily? She probably was when she first hooked up with Tom, in order to prove her devotion to the cult and to Tom. As we saw from her starry-eyed adjective-filled interviews at the time, she was more than up to the task. I doubt she does hours of purif a day now, though. Is Suri a little hellion on wheels who rules the household with an iron bottle? Maybe, but I know my kid thew some massive tantrums in his day that brought us to our knees too. Sometimes kids are strong willed and you can tell that Suri definitely has that kind of personality.
While I might be willing to give the wacky Holmes-Cruises the benefit of the doubt, I shouldn't be so generous to their cult. All you have to do is read these series of interviews in the St. Petersburg Times, or see Anderson Cooper's recent investigation to realize that when it comes to this dangerous and criminal organization, sometimes the truth is stranger than fiction.
Katie is shown out alone in LA on 4/23. She's also shown with Suri in NY on 4/11/10. Credit: Fame Pictures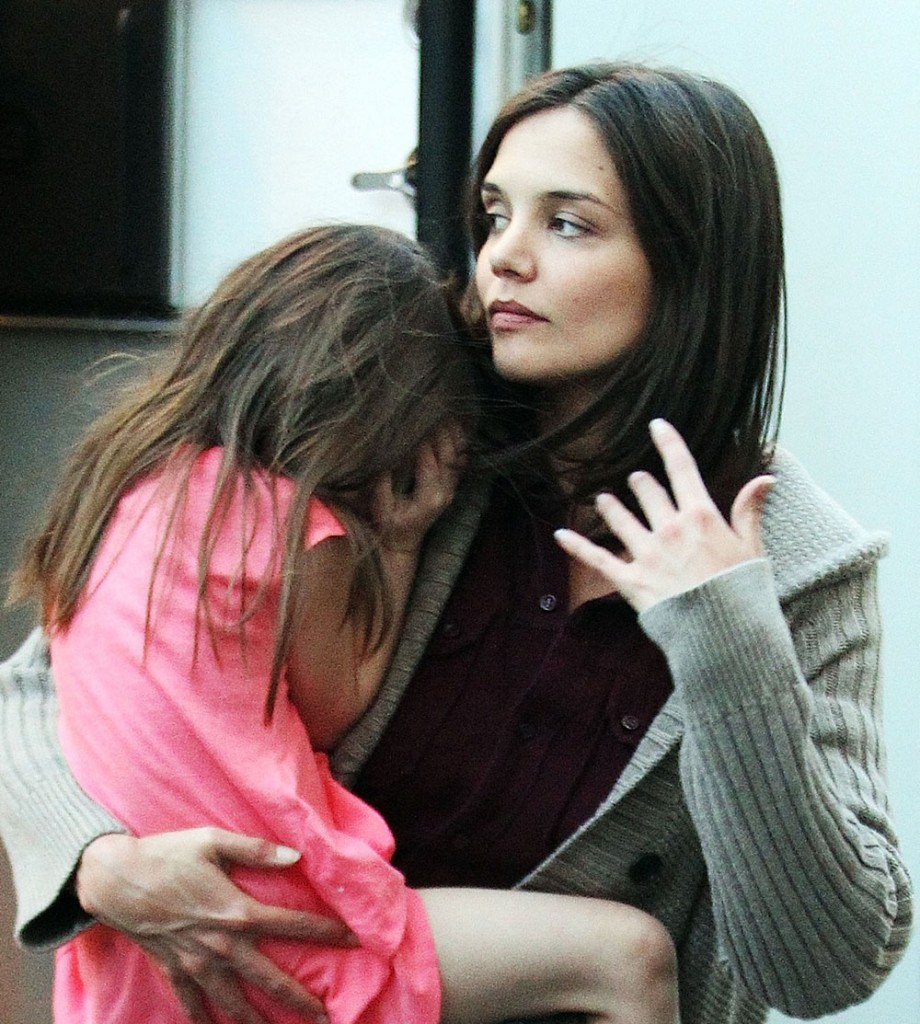 Written by Celebitchy

Posted in Cults, Katie Holmes, Suri Cruise, Tom Cruise

- The Blemish interviews Carmen Electra [The Blemish]
- Rumer Willis joins Pretty Little Liars [Lainey Gossip]
- Morgan Freeman falls asleep during interview [D-Listed]
- Fug or fab: Isla Fisher [Go Fug Yourself]
- Tamra Barney confirms spinoff [Reality Tea]
- Movie franchises that rebounded [Pajiba]
- Why Dylan McKay is the perfect boyfriend [Buzzfeed]
- Saoirse Ronan could have been a Lohan [Evil Beet]
- GIFs from Cannes [Popsugar]
- Cat massages a dog [CDAN]
- Heather Graham is so pretty [Celebslam]
- What is Lucy Hale wearing? [Moe Jackson]
40 Responses to "Star Mag: Katie Holmes' tortured life while Suri just tortures her parents"