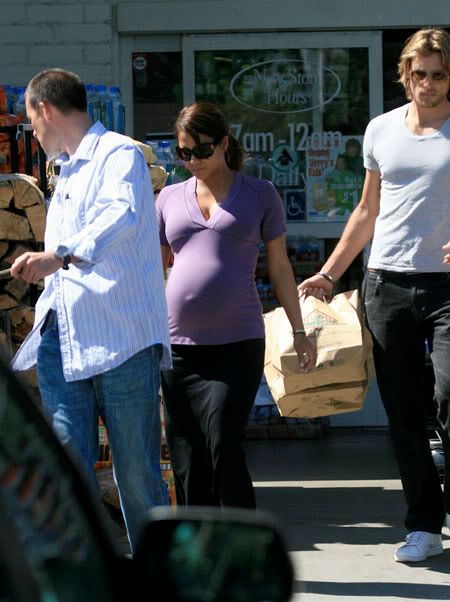 Halle Berry was seen out shopping yesterday with her boyfriend, Gabriel Aubry. In early September she confirmed that she was three month's pregnant, so that would make her due sometime this month. Halle looks fabulous and casual, and I like her hair a lot better in that straight style. She was seen out with a new curly hairstyle in January and while it was cute it didn't seem to suit her.
We've heard a lot about how Nicole Richie, Christina Aguilera, and soon Jennifer Lopez cashed in with multi-page magazine spreads introducing their new babies. Salma Hayek chose to premiere her daughter, Valentina Paloma, with a simple AP photo that was most likely unpaid. Naomi Watts never released a photo of her son, Alexander, and just allowed the paparazzi to get the first pictures.
Halle Berry strikes me as the type who won't sell the photos for a huge spread like Nicole or Christina. She might hide her bundle for a few weeks, though. We'll have to see.
Berry has lent her support to presidential candidate Barack Obama. Berry donated $2,300 to Obama's campaign, which is the maximum allowed for an individual, and is quoted as saying "We are really going to need a president who has the ability to think big, and Barack Obama is that president."
In other recent Halle Berry news, she will soon be developing a fragrance with Coty perfumes.
Thanks to WENN for these pictures.