Mel Gibson was anti-semitic and combative during his DUI arrest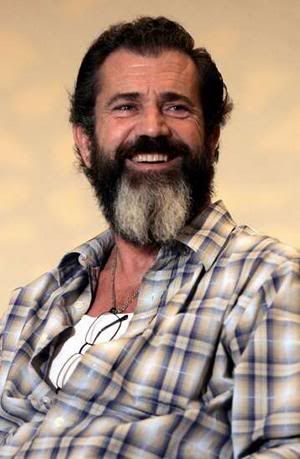 It's a shame there's no Nick Nolte style mug shot to include with this story, but uber-religious Catholic cult member Mel Gibson was arrested for drunk driving on Friday after supposedly being sober for years. He had a bottle of tequila in his car, and said it wasn't his but he'd "had a little bit" (that's classic!)
TMZ also has details of a police cover-up to remove inflammatory details from the original report. When he was first arrested, Mel Gibson went off on Jews, saying they were responsible for all the wars in the world, and told the arresting officer repeatedly that he was going to "fuck" him. He also tried to run away when the cop did him a courtesy by not cuffing him.
Once he was in custody, he tried to unzip his pants to pee on the floor of his holding cell!
Once inside the car, a source directly connected with the case says Gibson began banging himself against the seat. The report says Gibson told the deputy, "You mother f****r. I'm going to f*** you." The report also says "Gibson almost continually [sic] threatened me saying he 'owns Malibu' and will spend all of his money to 'get even' with me."
The report says Gibson then launched into a barrage of anti-Semitic statements: "F*****g Jews... The Jews are responsible for all the wars in the world." Gibson then asked the deputy, "Are you a Jew?..."
Gibson was put in a cell with handcuffs on. He said he needed to urinate, and after a few minutes tried manipulating his hands to unzip his pants. Sources say Deputy Mee thought Gibson was going to urinate on the floor of the booking cell and asked someone to take Gibson to the bathroom.
Gibson was obviously distraught over the illegal unprovoked war on Lebanon that's killed countless innocent civilians. Israel is responsible for a high percentage of wars, but then again so are the Americans. There's that whole imprisoning an entire country thing that Israel's doing, too. It's not the Jewish or American peoples' fault, though, just their terrible leaders.
Gibson was pulled over for drunk driving twice before and let off with just a warning.
Mel Gibson is a member of the Catholic cult, Opus Dei, which tried to escape the terrible image it was given in the Da Vinci Code, and calls their portrayal inaccurate:
In The Da Vinci Code, Opus Dei members are falsely depicted murdering, lying, drugging people, and otherwise acting unethically, thinking that it is justified for the sake of God, the Church, or Opus Dei.
The only other famous person I've heard of who was a member of Opus Dei was FBI spy Robert Hanssen, who rigged up a secret room in order to let his best friend watch while he had sex with his wife.
Gibson has since apologized for his behavior, saying that he "acted like a person completely out of control," that he "said things that I do not believe to be true and which are despicable," and that he was "deeply ashamed."
It's too late for Gibson, because everyone's suspicions about him have been confirmed. Now that their highest profile member has been exposed for the jerk he is, Opus Dei is going to have even more problems with their image. Mel Gibson's going to have quite a hard time making his weird religious movies too.
Posted to
Arrests
|
Arrogant
|
Drunk
Poor Pete Doherty arrested hours after his court appearance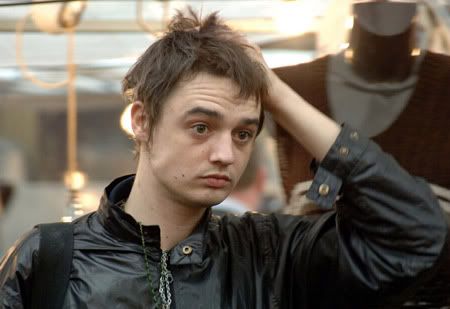 Now we're starting to feel sorry for Pete Doherty since he seemed to be cleaning up slightly and was even praised for his efforts by the judge at his sentencing hearing yesterday. The guy can't catch a break, though, and was just arrested yesterday on suspicion of drugs possession for the umpteenth time:
LONDON - Babyshambles frontman Pete Doherty was arrested Thursday, hours after a court appearance on drugs possession, according to media reports. ADVERTISEMENT
Police said a 27-year-old man was stopped in east London just after 2 p.m. by plainclothes officers and arrested on suspicion of possession of drugs with intent to supply. They did not name the man arrested, but the British Broadcasting Corp. reported it was Doherty.
The Metropolitan Police said the man and a 21-year-old companion were being questioned at an east London police station.
Hopefully officers didn't find any drugs on Doherty, and it will not jeopardize his probation.
In these pictures taken yesterday of Doherty shopping in London, he looks relatively sober. He's just trying to mind his own business while considering whether to buy a pair of binoculars. He seems really sweet and there's something about him that makes you just want to protect him... yeah, that must be how he snared Kate.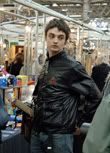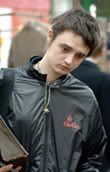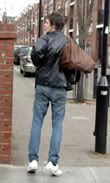 Posted to
Arrests
|
Drugs
|
Pete Doherty
Naomi Campbell is way worse than Pumkin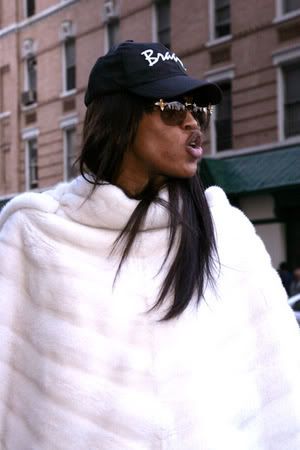 Naomi Campbell doesn't just hit, bite, headbutt and throw objects at people, she also spits. Campbell spat in a security guard's face at a U2 concert a few months ago::
The famously short-fused hottie hurled abuse at a security guard during a U2 concert last October after being told to stop sitting on a barrier, the source told the Daily News.
"Campbell told the security officer that she was not going to get down and that he was a f------ a------," the source revealed.
"She told him to go f--- himself and to get the f--- away from her. She then spat in the officer's face."
The source said the abuse was witnessed by two other security guards and a senior Garden official was called in to intervene.
Campbell was not even removed from the concert and was characteristically rude when officers gave her a verbal warning. The abused guard's harrassment complaint to police was closed because "Campbell's actions were considered more rude than harassing."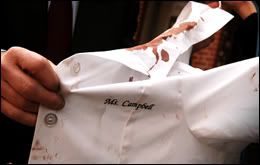 Meanwhile the maid that Campbell struck with a crystal-encrusted Blackberry on Thursday said that she suffered from blurred vision and extreme blood loss after the attack.
Cops have also recovered a mobile phone from Campbell's house that may be the one she used to hit the maid from behind. Campbell faces up to 7 years in jail if she's convicted.
If Campbell wasn't famous she would have been hauled away for spitting at a security guard at a concert. Let's hope she has severe legal and monetary consequences for this latest episode.
Posted to
Abusive
|
Arrests
|
Naomi Campbell
Naomi Campbell smacked her housekeeper with a bejeweled Blackberry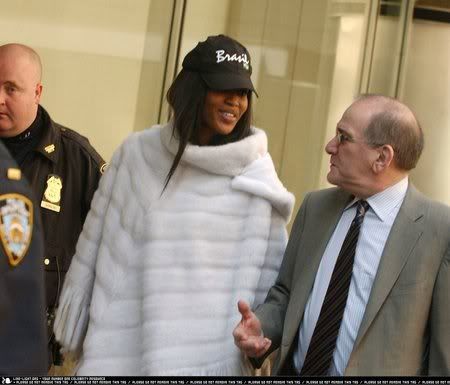 Naomi Campbell hid her handcuffs under a white poncho yesterday morning when the cops hauled her away for hitting her housekeeper in the head with a crystal-encrusted Blackberry.
Campbell claimed the housekeeper stole a pair of jeans, provoking the attack. Campbell hit the poor woman so hard she required four stitches. She then is asked her staff to say that the woman fell and hit her head.
"You f------ b----!" the cantankerous catwalker shrieked yesterday inside her Park Ave. penthouse apartment, accusing her maid, Ana Scolavino, of stealing a pair of $200 Chip & Pepper jeans, sources said.
Raging, Campbell cracked the BlackBerry against her housekeeper's head at 8 a.m. - and then demanded her staff tell cops the 42-year-old maid had hurt herself falling, sources said.
But the sinewy supermodel's servant alerted officials at Lenox Hill Hospital, and soon cops arrived at Campbell's $3.5 million apartment to haul her away.
Campbell, 35, insisted she had no idea what cops were talking about and showed them a flip-phone, not the BlackBerry, as supposed proof, sources said.
But the cops cuffed her - disappointing an Oprah Winfrey camera crew waiting to film her for a cooking segment.
Ever the diva, Campbell hid the handcuffs under a white fur poncho. Sources said she also asked to ride in her own car to the police stationhouse and then paused as her minions begged cops to let them fix her bangs before she was escorted outside. The requests were denied.
Campbell is known for her violent outbursts, and has a long record of abusing her help. Glitterati has a good overview of Campbell's history, which spans at least eight years and includes guilty pleas for past abuse charges.
We hope Campbell gets more than a slap on the wrist for this latest incident, and that her housekeeper successfully sues her for a huge sum.
Pictures [via]
Abusive
|
Arrests
|
Arrogant
|
Naomi Campbell
|
Photos
George Michael only had pot and poppers and gets off easy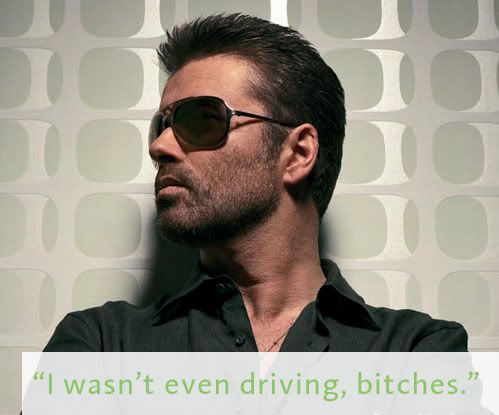 George Michael received a "police caution" for his arrest last month in London. Contrary to earlier reports, Michael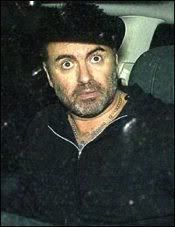 did not have the drug GBH in his car just some marijuana and the legal drug amyl nitrate, aka poppers.
This sounds like a slap on the wrist for Michael, who was found passed out in his car in London at the end of February. Police found several drugs in his car at the time along with an assortment of sex toys and porn.
The article says that Michael may have trouble getting a Visa to the states now that he has an arrest record, but it sounds as if he got off easy.
Posted to
Arrests
|
Drugs
|
George Michael
Pete Doherty arrested for car theft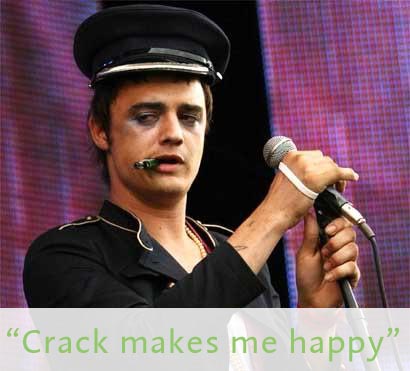 Will this guy ever clean up? Pete Doherty was arrested for possession of a stolen vehicle and, of course, drugs:
Babyshambles singer Pete Doherty – also known as Kate Moss's ex, who appeared with her in tabloid photos of her doing drugs last year – was arrested in England Monday night on suspicion of stealing a car and possessing class A drugs, West Midlands Police tell PEOPLE.
Doherty, 26, and two men aged 18 and 19 were detained by Birmingham police and then released Tuesday morning on no-fee police bail "pending further inquiries," says a police spokesman.
"We don't know what the drugs are at this point. The substance has been sent for analysis," the spokesman adds. Class A drugs typically include cocaine, heroin and opium.
I can see drug charges, but stealing a car? Of course this wouldn't even make the news if he wasn't Moss' ex. This guy is such a mess.
Posted to
Arrests
|
Drugs
|
Pete Doherty
George Michael arrested in London for drugs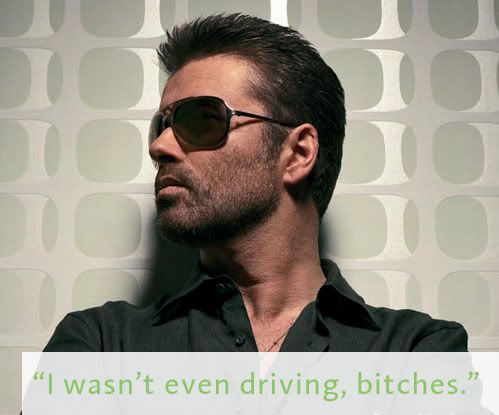 George Michael has been arrested in London on drug charges after being found passed out in a car:
A London police spokesman would not confirm Michael had been arrested. He issued a statement saying a 42-year-old man had been held on suspicion of possessing Class C drugs, a group in British law which includes cannabis, tranquilizers and some painkillers.
"We were called by a member of the public to a man seen slumped over the steering wheel of a car," the statement said. "He was arrested on suspicion of possession of controlled substances."
He was bailed to return to a police station in late March pending a police investigation.
Obviously if this is true, George Michael is not sober and that's a shame. Otherwise this is not a case of impaired driving. He wasn't driving, he was just passed out in a car. We can't assume that he drove to that point, although it's possible. He may have visited a friend or a bar in the area and tried to sleep it off in his car. It's a bit damning that he was "slumped over the wheel," but he was parked and you can't assume anything.
Also, he's out on bail now and he's surely embarassed, but not much will come of this case apart from bad publicity, a potential stint in rehab, and another teary-eyed confession on Oprah.
Posted to
Arrests
|
Drugs
|
George Michael