Ashlee Simpson to represent... Victoria's Secret!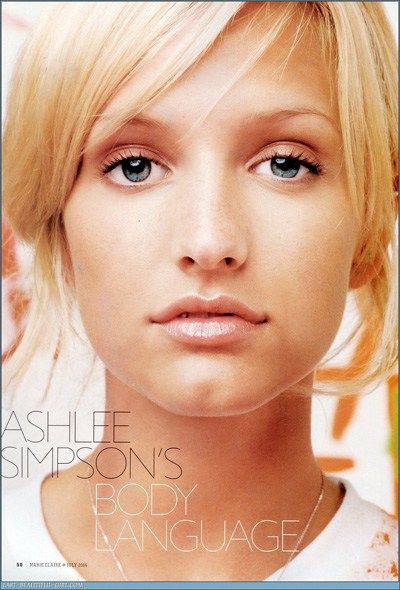 A little plastic surgery can go a long way. It turns out that it was a rumor that Ashlee Simpson was offered $4 million to pose for Playboy and turned it down. It's stranger than fiction, though, that Ashlee is going to be the new face of the Victoria's Secret "pink" line. She is also moving in with her boyfriend and guitarist for her band, Braxton Olita:
West Coast spies say she's selling her Encino home to move in with boyfriend Braxton Olita. (Young Braxton, who plays guitar in her shows, has also graduated from sleeping in the band tour bus to bedding down in Ashley's own private coach, I hear.)
She ought to be able to afford some flashy new digs. It will soon be announced that the 21-year-old will front the campaign for Victoria's Secret's new line, Pink. She beat out finalist Kelly Clarkson to become the face (and hips and legs and … well, everything else) of the new line of younger, "cuter" lingerie.
Finally, anyone with a ticket to her sold-out concert at the Borgata tonight is in for a special treat: Plans are afoot for her big sis, Jessica, to join her onstage for a "surprise" duet.
I could see her getting naked, but someone is paying her to model lingerie? That's too much. Everyone is saying that she's hot now that she looks just like Jessica, but she's still an ugly little girl to me.
Ashlee started her U.S. tour last month, and little girls in Chuck Taylors are eagerly awaiting her arrival in their city. She told concert-goers in Washington, DC that "It's OK not to be perfect":
"The biggest lesson I've learned this year is it's okay to not be perfect," Ashlee Simpson told a crush of young girls who came to see her at the Warner Theatre on Friday night.
Wait a minute -- is that an old speech left over from the great lip-syncing debacle of 2004? It's likely, since Ash's 2006 has been more about striving for bland cookie-cutter perfection than accepting perceived flaws -- as evidenced by her alleged nose job.
It might be ok not to be perfect, but she must have learned that lesson too late to take back her plastic surgery.
Here is Ashlee in July's Marie Claire and in Elle UK. [via]
Ashlee Simpson
|
Endorsements
Ashlee Simpson can't hide her new nose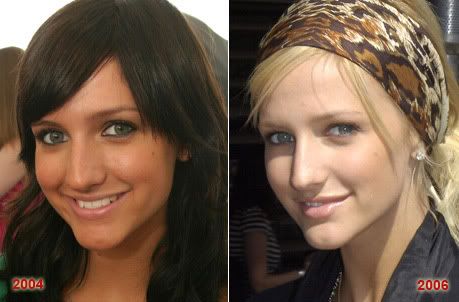 Ashlee Simpson was all giggles when questioned directly whether she had plastic surgery on her nose. She simply said she "doesn't talk about it," which translates to "Yes, I did have plastic surgery people, leave me alone already":
When asked about the speculation during a phone interview with The Associated Press on Wednesday, Simpson giggled and said: "Everybody's already saying it, so I just don't talk about it. I'm like, OK, whatever. It doesn't bother me."
But when asked whether the rumor was true, the 21-year-old singer didn't confirm or deny it, but just giggled more.
"Maybe — who knows!"
It's ridiculous to say "who knows?" when she clearly would know.
Cityrag points out that Ashlee said she loved her nose about a year ago, claiming it gave her character:

Ashlee Simpson is featured on the cover of the January 2005 issue of Allure magazine. In the article, the singer admits, "I felt like my nose was big. I was always like, 'I'm going to get a nose job one day.' And I'm so glad that I didn't. I love my nose. I personally think that I've grown into my nose. I think it has character."
Now that Ashlee's single character-lending trait has been homogenized like the rest of her, we can safely assume that she's entirely manufactured.
Here she is at the airport in Atlanta. [via]
Thanks to CityRag for the header image.
Ashlee Simpson
|
Photos
|
Plastic Surgery
The Duffs vs. The Simpsons in a four-sister catfight


The Duff and Simpson sisters happened to be at the same club in LA when Ashlee Simpson decided to call Hilary Duff fat. Haylie Duff defended her sister, and later talked smack to Jessica Simpson in the bathroom.
Hilary and Haylie Duff were celebrating a friend's birthday at Basque in L.A. when Ashlee Simpson allegedly approached the Duffs' table, and remarked that Hilary's arms looked "chunky." Haylie told her to beat it, like any big sister would. Later in the ladies' room, the still-steamed Haylie had some words for Ashlee's own big sister, Jessica Simpson. A rep for the Simpsons said, "Ashlee thinks Hilary has perfectly lovely arms." The Duffs' rep, Cece Yorke, said, "They said they had a really fun night."
It looks like Ashlee and Haylie are the more aggressive sisters and it's too bad there wasn't an all-out fight between the two to report. Maybe if Haylie ran into Ashlee in the bathroom instead of Jessica there would have been more to report.
Ashlee is incredibly immature and petty but that's not news. The Simpson's rep is also pretty stupid if she's giving quotes like "Ashlee thinks Hilary has perfectly lovely arms."
Here is Jessica Simpson out with her hairdresser to watch Dean Cook's performance at The Improv on April 15th. [via]
Update: Pictures of Hilary performing in Dublin on 4/21. Her arms do look chunky. [via]
Ashlee Simpson
|
Fights
|
Haylie Duff
|
Hillary Duff
|
Jessica Simpson
Ashlee Simpson to host the MTV Australian VMAs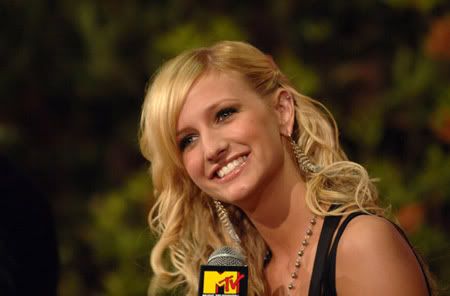 Ashlee Simpson will host the MTV Australian Video Music Awards at the Sydney Superdome tomorrow night. Her sister, Jessica, will be on hand for assumed presenting duties:
"She (Jessica) is just going to be making an appearance," said Ashlee of her 25-year-old sister.
"She is going to be back there, getting my back and giving me high fives."
The sisters will walk the red carpet at Sydney SuperDome tomorrow night, with a string of other international talent confirmed to attend, including James Blunt and Snoop Dogg.
"As far as inspiration for the show, I am just going to get out there and have a good time," said Ashlee, whose parents and managers Joe and Tina Simpson are also in Australia.
"You might see me shake my booty!"
As well as hosting duties, Ashlee will perform two songs, Boyfriend and Love.
"I just usually chill out and hang out with my band," she said of her pre-performance plans.
"I don't like to ever think too much about anything. I just like to go with it."
Ashlee held a press conference for the event with fellow performing act The Veronicas. Lisa Origliasso of The Veronicas is dating Simpson's ex boyfriend, Ryan Cabrera. Simpson and Cabrera split in the summer of 2004, citing their busy schedules as young artists and a lack of time together. Simpson's "Pieces of Me" is reportedly about Cabrera.
Here are Ashlee and The Veronicas and a couple of random ugly guys in underwear at the press conference. We also have the pictures of Jessica Simpson arriving in Sydney that you're probably already seen.
Update: pictures of Ashlee "and her current boyfriend (and guitarist) Braxton Olita on a cruiser in Sydney Harbour." [via]
15 pictures total.
Continue reading "Ashlee Simpson to host the MTV Australian VMAs" »
Posted to
Ashlee Simpson
|
Awards
|
Jessica Simpson
|
Music
|
Photos
Ashlee Simpson calls her boobs amazing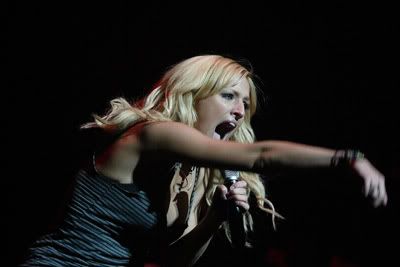 "Singer" Ashlee Simpson, 21, admitted to having an eating disorder for a six month period while she was studying to be a dancer. She said that she's over that now, and thinks it's sad that people can't accept their bodies. She then admits to loving her body a little too much:
"I have amazing boobs. I do; I know it. They're not too big, not too small. They're just perfect."
"It's sexy not to be a bone," Ashlee proclaims
At least the praise is coming from Ashlee herself, and not her creepy-ass father.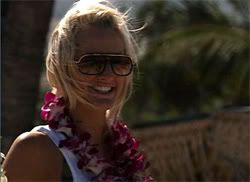 Ashlee and her great tits surfed on an MTV special "Kelly Slater Celebrity Surf Invitational," that aired on March 25.
Here are some pictures of Ashlee surfing and contorting her face at a concert in San Juan, Puerto Rico on Saturday. Ashlee will play in Wisconsin tomorrow night, but it may be empty in the concert hall. As of last week less than 1,000 tickets were sold.
Seven more pictures after the jump.
Continue reading "Ashlee Simpson calls her boobs amazing" »
Posted to
Arrogant
|
Ashlee Simpson
|
Music
|
Photos
Ashlee Simpson has the wrong impression of the Japanese healthcare system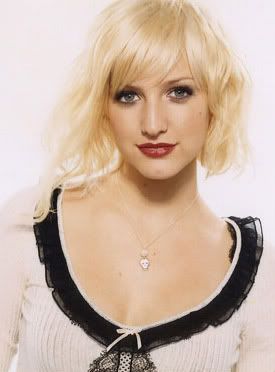 Ashlee Simpson is talking about her bout with the exhaustion virus that claims countless young pop starlets each year. In mid-December, 2005 after a busy US tour, she went to Japan where
she had to be hospitalized in less than ideal quarters
:
The singer was promoting her new album, 'Autobiography,' and her very busy schedule was too much to bear.
She said, "I finished my US tour and went straight to Japan."
She explains, "I didn't go to a nice emergency room - I ended up in one with blood on the walls. Nasty."
"I was dehydrated. I had bronchitis."
She adds, "Who knows exactly what it was? I think it was just complete exhaustion."
Despite Ashlee's impression, Japan's health care system is much better than that of the United States. In a 2000 report by the World Health Organization, Japan ranked 10th overall in health care while the US came in at 37th - below most other industrialized nations. The US also has a higher infant mortality rate than Japan.
Here are pictures of Ashlee in April's Jane magazine.
Ashlee Simpson
|
Illness
|
Music
|
Photos