Justin and Cameron buy Hawaiian estate (update: false)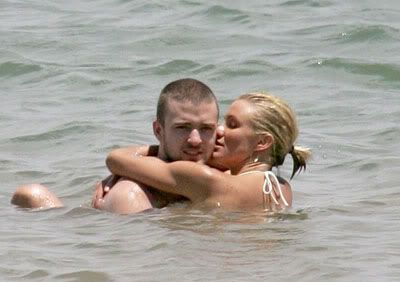 Justin Timberlake might not get away from Cameron Diaz so easily. There's a report that Cameron and Justin have bought a $24 million Hawaiian estate together:
Cameron Diaz and Justin Timberlake have reportedly splashed out $24 million on a Hawaiian holiday home.
The couple were pictured frolicking in the sea while on holiday in Kailua last week and it seems the pair had such a good time they have decided to invest in a property.
Justin and Cameron, both who are avid surfers, spent the whopping sum on a beachfront estate.
Buyer's agent Joan Graham, of Coldwell Banker, is refusing to confirm if the couple bought the holiday home due to a strict confidentiality agreement, however local media have confirmed the sale.
The millions bought the couple 15,000 sq. feet feet of living space, tennis courts along with a sauna, tropical pool and staff quarters.
Justin is said to have wanted time off from his three-year relationship with Cameron, and it was rumored that they broke up in late June. He was even said to be dating 23 year-old Lauren Popeil.
Cameron and Justin were seen vacationing together in Hawaii at the end of July, with Cameron hanging all over him, and Justin looking like he would rather be anywhere else. We doubt this is going to last, even if Cameron can convince Justin that a really expensive house is just the thing they need.
Update: Reader Jean saw on E! News that this was a false rumor. Sorry for the misinformation!
Pictures [via]
Cameron Diaz
|
Justin Timberlake
|
Photos
|
Relationship trouble
Is Justin Timberlake dating Lauren Popeil?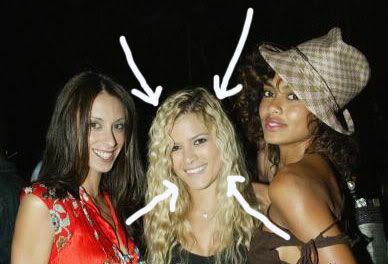 Justin Timberlake might be getting friendly with Lauren Popeil, the daughter of famous Ronco informercial king Ron Popeil. A source tells Perez Hilton that they're good "friends" and went out together to a club in Hollywood last week:
Just as it's become public that he and long-time girlfriend Cameron Diaz have called it quits, a source tells PerezHilton.com exclusively that Timberlake's already found a new lady friend, which may have contributed to his break-up.
The singer has been "spending time" lately with Lauren Popeil (above center), daughter of pasta maker and infomercial guy Ron Popeil.
The two have gotten quite chummy very quickly and have even been taken their close "friendship" public, hitting hotspot Hyde in West Hollywood last Friday night.
The only information I could find on Lauren was on the website for the household goods business she helps run with her mother, popeilfamilystore.com. She is 23, as a 1997 article about Ron lists her age at the time as 14. She was friends with Paris Hilton at some point, because her name was listed on Paris' phone when it was hacked. She doesn't get around - or get photographed - too much, though. The latest pictures of Lauren on Wireimage are from a SuperBowl after party in 2003.
While there is no official response from either Justin or Cameron's camp to the breakup rumors, People cites a source that states that they're still going strong:
"The couple are in fact very much together, as he prepares for the release of his album," says the source, who is close to Timberlake. "Of course, made-up sources have had them breaking up, getting married and having a baby ever since they began dating over three years ago."
Earlier this week, a report claimed that Timberlake – who is slated to release his new album, FutureSex/LoveSounds, on Sept. 12 – had broken up with Diaz. The story cited their age difference – he's 25, she's 33 – one of the reasons why.
Maybe the source is one of Cameron's friends and she's in denial or doesn't know yet. We don't think everything's fine between them, especially in light of this video of Justin on TMZ. A blonde is seen getting into his car, and it's not Cameron.
Posted to
Cameron Diaz
|
Justin Timberlake
|
Relationship trouble
Cameron Diaz tells Lindsay Lohan to put out her nasty cigarette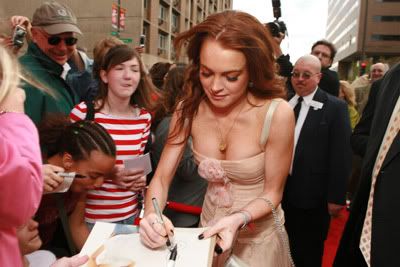 Now that our faith in the gossip industry is waning, we're going to call it like we see it. (For a day or two at least.) The reporting paper where we read this tried to make out like Lindsay Lohan was in a catfight with Cameron Diaz since they both dated the same guy at some point, but it sounds like Cameron simply asked Lindsay to stop smoking when they were in the VIP section of a NY club together:
Star Magazine details the battle as it took place inside the VIP section of Shag club with this report.
Scarlett Johansson, Lindsay Lohan, and Cameron Diaz have a lot in common – including dating Jared Leto!
That fact still makes Lindsay seethe and she has made no secret of her ire for Scarlett – and even reportedly wrote some pretty nasty notes on an NYC bathroom wall about Scarlett...
On April 24th Lindsay also lashed out at Cameron Diaz, who asked her to stop smoking in the VIP section of Shag club. It really wasn't about smoking but Lindsay's lust after Jared Leto still a pal of Cameron's.
There's a lot of jealousy there!
Lindsay's a nasty skank who thinks she can get away with whatever she wants. It's been illegal to smoke in bars in NY for years now, so she should know better. She was probably pissed because she knew Cameron was right.
Meanwhile Lindsay still hopes to clean up her image with that humanitarian mission to Africa we told you about. She's only considering it, doesn't have a date planned, and it's clearly all about making her look good:
"Lindsay truly does feel for those who are suffering from AIDS and who are poor — she genuinely feels she needs to pay something back to the world for the fortunate life she's led," said the insider. "At the same time, she wants to be taken seriously as a person, and she's well aware of her image as a fluffy party girl. She sees working in Africa as a means to shed her 'naughty girl' reputation.
"Lindsay knows the esteem in which Angelina Jolie is held has increased immeasurably since she started her work with the poor for the UN — and she'd like to be seen as more than an airhead who doesn't care about anything but partying..."
While Lindsay's rep said no immediate trip to Africa is scheduled, the source added: "Lindsay's ready to show a new, very human side — one that cares deeply about the problems in the world."
Lindsay's ready to try to get some good press for once is all.
Here she is in St. Paul, MN yesterday for the world premiere of A Prarie Home Companion. Stars were "carried in horse drawn carriages led by the Highland Park Senior High marching band down Wabasha St."






Addictions
|
Cameron Diaz
|
Fights
|
Lindsay Lohan
|
Movies
|
Premieres
Exclusive: Are Justin and Cameron engaged?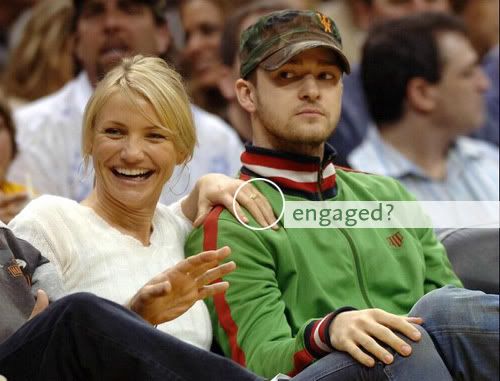 Justin Timberlake and Cameron Diaz attended last night's Lakers game and Cameron was wearing a ring on the ring finger of her left hand. It may mean nothing, or it may mean that the couple is finally engaged. Tongues were wagging at the end of March when the NY Daily news ran a piece stating that Timberlake was "confused" and wasn't ready to take the next step and get engaged to Diaz. Both parties denied anything was wrong with their relationship.
Timberlake, 25, and Diaz, 33, have been dating for three years. It's about time they got engaged. Diaz looks incredibly happy at last night's game and she is wearing a ring. It doesn't look like a traditional engagement ring, but why would she wear it on that finger if it's just regular jewelry? Could Justin be ready to take the next step?
This is an exclusive since no one at Oh No They Didn't where we found the picture source seems to have noticed the ring on Cameron's left hand. We also cannot find another blog that has pointed it out yet.
Cameron Diaz
|
Engagements
|
Justin Timberlake
|
Photos
Justin won't commit to Cameron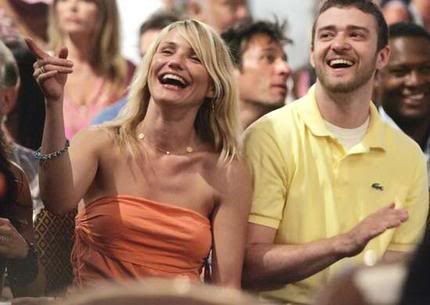 25 year-old Justin Timberlake won't take the next step with Cameron Diaz and get engaged. Friends say he's "confused."
"Justin has told friends he's 'confused,'" one informant tells us. "He likes Cameron a lot. But he's 25. He says he just doesn't know how committed he can be. He needs space. Cameron is a little controlling."
Justin's publicist of course denies this charge.
Justin and Cameron have been going out for three years so he doesn't seem to be the type of guy that's not capable of commitment. When a guy can stay in a long-term relationship but can't take the next step it means to us that he's not ready to marry the woman he's with, not that he's not ready to marry in general.
Diaz is 33 and she probably won't put up with this for much longer. We don't see the couple lasting.
Posted to
Cameron Diaz
|
Justin Timberlake
|
Relationship trouble
Cameron and Justin to make Gigli on Ice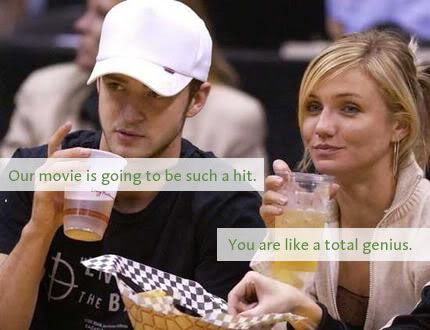 We cannot contain our delight at today's news that Cameron and Justin are taking advantage of the brief ice skating "craze" to create and star in a ice skating-themed romance movie:
Justin and Cam have thrown their acting hats into the rink and have begun developing an as-yet-untitled romantic skating flick with themselves as the leading couple.
By the time they finish this flop the public will not give a shit about ice skating. The Olympics are finished, Skating with Celebrities has wrapped, and no one will care about ice skating a month from now. The only reason people will watch this is to see Cameron in tiny outfits.
Everyone also knows that it's incredibly stupid to make a film with your significant other. The Sun recaps:
MADONNA and SEAN PENN's Shanghai Surprise from 1986 is one of the worst movies ever made. They divorced three years later.
BEN AFFLECK and J-LO's appalling Gigli came just before they split — and their careers have never recovered.
Eyes Wide Shut is not regarded as one of TOM CRUISE or NICOLE KIDMAN's finest works. They divorced in 2001, two years after the film, STANLEY KUBRICK's last, came out.
Gigli on ice - we can't wait!
Posted to
Business ventures
|
Cameron Diaz
|
Justin Timberlake
|
Movies
|
SmartSmartSmart