Daniel Craig is not only a wuss - he's fat!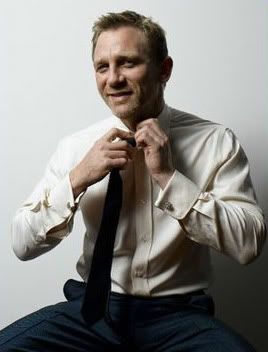 New Bond Daniel Craig can't play cards or drive a stick shift, and he doesn't like guns or speedboats. He also demands baby lotion and nail files, and got a widdle rash while filming "Casino Royale" in the sun.
He's going to redeem himself with full frontal nudity and a lot of hot sex scenes for the film, and at least he's super-buff and has a great six-pack going for him - or maybe not. He loved the dumplings so much while filming in Prague that producers were forced to hire him a personal trainer:
Producers of the new JAMES BOND movie, CASINO ROYALE, were forced to hire a personal trainer for star DANIEL CRAIG after he became obsessed with dumplings while filming in the Czech Republic. Craig sported a muscular physique when he was photographed earlier this year (06) in a bathing suit on location in the Bahamas. But since the production moved to Prague, the actor has reportedly piled on the pounds after becoming enamoured with the local cuisine, particularly dumplings and borscht. Producer BARBARA BROCCOLI was so alarmed by the star's weight gain she immediately hired a personal trainer. Film sources maintain the superspy is now back in peak condition.
[
via
]
OMG - he almost ruined his single qualification for playing Bond! He's back in shape now, though, but the guy doesn't have a clue. Maybe the movie will be hot, though, and we'll see it just to get a glimpse.
Pictures [via Just Jared]
Daniel Craig
|
Movies
|
Weak
|
Weight Gain
Daniel Craig can't even play cards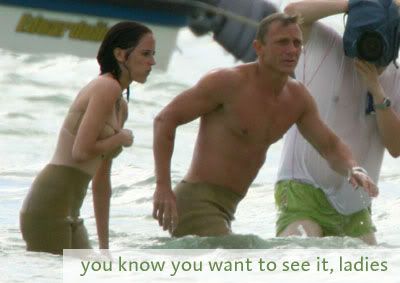 It looks like the only card Daniel Craig can play is the nudity one, because he doesn't know how to play poker:
When film bosses realised Craig was clueless at the game they flew an expert to his Berlin hotel to give him some last minute tips. An insider told The Sun newspaper: "
Daniel could not play cards
- it was so funny. It is a critical part of the film, where Bond shows how cool a customer he is.
But it was frustratingly ridiculous how long it took to teach the cast how to play or behave at a poker table
.
"Everyone at the hotel has been laughing about a Bond who can't play cards."
Let's revisit Craig's various other public failings as the shortest, blondest Bond:
He can't drive a stick shift

He hates guns (This is a personal preference and is not damning, just interesting.)

He had his teeth knocked out while filming his first fight scene

He got prickly heat from a sunburn

His on-set requests include: "wet wipes, baby lotion and two nail files."

Speedboats make him sick to his stomach

Despite the fact that he's quite obviously a wuss, Craig is amazed that he's become the new gay icon.

On the other hand, Craig sports a six pack and has no qualms about getting naked or filming graphic sex scenes.

It might even out, and we're willing to sit through the film for a glimpse of his goods.

Posted to Daniel Craig | Weak
Bond redeems himself with full frontal nudity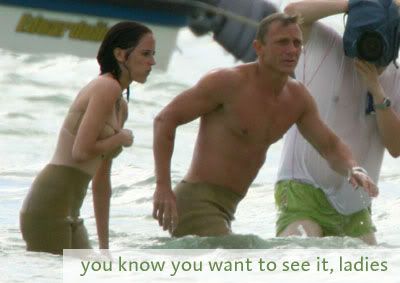 Girly-man Daniel Craig famously lost two of his teeth while filming a fight scene in the newest Bond film, Casino Royale. Craig's inability to drive a stick forced the franchise to make Bond's trademark Aston Martin an automatic, and he will also be driving an uncharacteristic Ford Mondeo. While filming beach scenes, Craig suffered a bad sunburn and got prickly heat. The first blonde Bond's on-set demands include "wet wipes, baby lotion and two nail files." Craig has also said that speedboats make him nauseous and that he dislikes guns.
The latest Bond film doesn't just suffer from the frailties of its lead. Casino Royale will not feature the gadgets Bond relies on in earlier films, will show Bond's weaknesses, and will be "nothing like" the 1953 Ian Fleming Novel.
What can save the doomed Bond film? Lots of sex and nudity.
Actor Daniel Craig has shacked up with Sienna Miller and Kate Moss, and soon the paying public will get to see his goods too. The smart female CEO of the series has realized that only graphic sex scenes can save this PR disaster:
The move to make 'Casino Royal' the sexiest 007 film ever has come from Barbara Broccoli, 45, who runs the Bond franchise.
The insider added: "She wants to show the world that Craig is all man. He has no problems with full-frontal nudity and it shows. Prepare for some jaw-dropping love scenes."
The hunky actor and co-star Eva Green have agreed to shoot full frontal sex scenes in the movie - dubbed "moonie-raker" by the crew because of the amount of flesh on show.
In one scene, Bond is seen naked on a yacht with French beauty Eva - who plays double agent Vesper Lynd - in just a sarong.
Craig, 38, then gets to whip off the skimpy garment before the pair go skinny-dipping.
Craig may be a metrosexual, but he's hot. We predict Casino Royale will do well at the box office.
Pictures [via]
Daniel Craig
|
Movies
|
Photos
|
Sex
Daniel Craig is such a wuss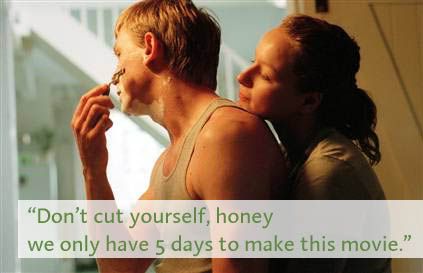 First he got his teeth knocked out, and now has "prickly heat" from a bad sunburn. Sure he looks hot in a swimsuit, and all the legitimate Bonds endorse him, but he's not too rugged:
Could anything else go wrong for jinxed James Bond star Daniel Craig?
It seems the actor is now suffering a nasty outbreak of prickly heat.
The strawberry-blonde one got a spot of sunburn while topping up his tan before filming in the Bahamas.
According to The Sun, a source on the Casino Royale set said: "It's driving him mad.
"He constantly wants to scratch. It's worst when he does a costume change. He's in agony.
"He's been moaning to his assistants that he's got prickly heat.
Poor Craig. Girly-men are in now, though, so at least he has that going for him.
Posted to
Daniel Craig
|
Weak