Celebitchy
Archives: Dave Navarro
Dave Navarro and Jenna Jameson really are hitting it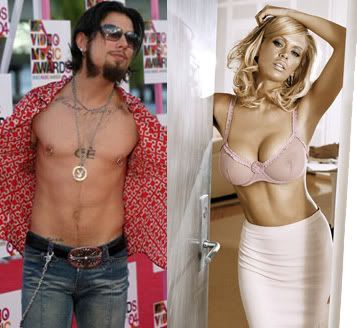 Reader Angelika alerted me to a post on PerezHilton's site that claimed that Dave Navarro was putting the blocks to America's favorite former porn star Jenna Jameson. I said I'd wait until the story got picked up by other news outlets, but it's true and I shouldn't have waited.
TMZ reports that they contacted Jenna's publicist and she confirmed their relationship:

As Star first reported, TMZ has confirmed with legendary adult film star Jenna Jameson's publicist that she has split from her husband and is, in fact, dating Dave..
I must say this is a nice score for Dave. It would be tough for Dave to find anyone to replace firecracker Carmen, but from what I've seen, ahem, I mean "heard" Jenna is up to the task.
Yeah, I can't wait until these two go out in public and are photographed together. No wonder Jenna's husband is abusing strippers. He's pissed that she left him!
Carmen won't be happy to hear about Dave's latest hookup, but rumor has it that Carmen and Dave were split for months before they announced their divorce.
Posted to
Dave Navarro
|
Hookups
|
Jenna Jameson
Carmen and Dave confirm they've split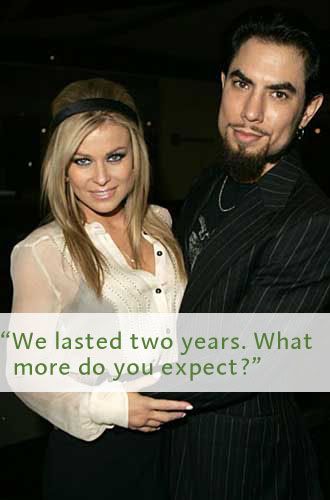 Carmen Electra and Dave Navarro have been rumored to be on the outs since early March. They did PR damage control at the time, but they must not have done enough to save their relationship It is surprising that it took them so long to acknowledge it. Sources say that Carmen is never around Dave, and is travelling frequently without telling him where she'll be or when she'll be home. Their rep confirms the breakup:
Electra and Navarro are "amicably separating," says rep Jill Fritzo. They married on Nov. 22, 2003 in a wedding documented on the 2004 MTV reality show 'Til Death Do Us Part: Carmen & Dave.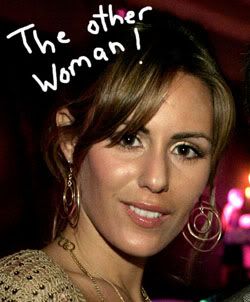 Dave is said to be living with a new girlfriend he's been seeing for five months, socialite Sarah Howard. She's also a brunette and bears a slight resemblance to Carmen.
The MTV reality show now has a better record than The Bachelor and Bachelorette at breaking up couples. It seems starring in a reality series is the kiss of death for a relationship.
Posted to
Breakups
|
Carmen Electra
|
Dave Navarro
Hot Hollywood Awards: huge picture post

Us Weekly's Hot Hollywood Awards were held Wednesday night. Jessica Alba had a near nip-slip that resulted in some cute picture of her pulling her dress strap up. (Wireimage did not capture this, so you'll have to see it everywhere else.)
Despite Us Weekly's content, stars were pleased to show up for the party.

Jennifer Love Hewitt said she has ended up several times on the magazine's worst-dressed list, but was still tickled that she won the hottest body award in the new issue. Both Hewitt and Jesse McCartney showed up with shorter 'dos. And Tori Spelling confirmed that she has hired a wedding planner for her upcoming nuptials to Dean McDermott. Still, she insisted she's planning something small. "I just want to look good for him," Spelling said.
We have over 50 pictures of the party arrivals, including Jennifer Love Hewitt, Jessica Alba, Alessandra Ambrosio, Brittany Murphy, Cindy Margolis, Garcelle Beauvais-Nilon, Ludacris, Harry Hamlin, Lisa Rinna, Haylie Duff, Jamie-Lynn Sigler, Paris Hilton, Victoria Silvstedt, Avril Lavigne, Carmen Electra, Dave Navarro, Michelle Trachtenberg, Rachael Leigh Cook, Nicky Hilton, Gabrielle Union, Kelly Osbourne, Kimberly Stewart, Stacy Keibler, Ryan Seacrest, Sofia Vergara, Taryn Manning, Maria Sharapova, Melinda Clarke, Tom Green with a fanny pack, and Tori Spelling.
Update: Images removed on request.
Posted to
Avril Lavigne
|
Brittany Murphy
|
Carmen Electra
|
Dave Navarro
|
Haylie Duff
|
Jennifer Love Hewitt
|
Jessica Alba
|
Kelly Osbourne
|
Nicky Hilton
|
Paris Hilton
|
Parties
|
Photos
|
Ryan Seacrest
|
Stacy Keibler
|
Tori Spelling
Carmen and Dave in PR overtime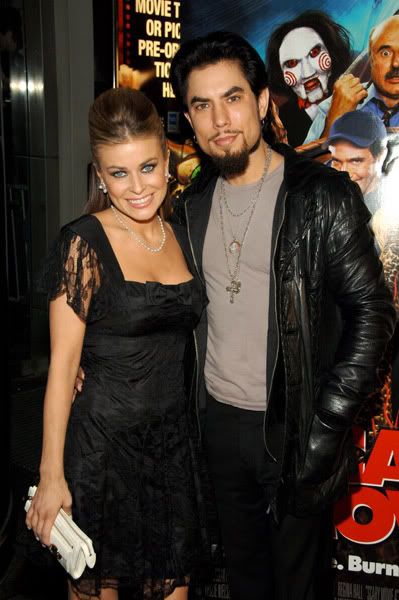 We weren't entirely convinced that Carmen Electra and Dave Navarro were having relationship trouble until we read an unsourced e-mail report on Egotastic. There's something about those "I was there" stories that make them more convincing despite the fact that they're quite easily fabricated.
Carmen teased her hair all up on Monday and attended two events with Dave. They were seen at the Scary Movie 4 premiere and at SAAB's new concept vehicle launch in New York.
She insists that everything's fine in their relationship, but we still remember how nervous she seemed on the Tonight Show when she deliberately avoided the question.
In this recent quote, she calls Dave her "friend," which usually doesn't bode well for a relationship:

Carmen Electra insists husband Dave Navarro is her best friend and that's why their marriage is so successful. The actress previously had a string of bad relationships, including a failed marriage to basketball player Dennis Rodman and a romance with Prince, but has found true love with the rocker.
She explains, "He's my best friend. He really lets me be who I am. It's the first time I've ever been able to travel and go to work and feel comfortable and be able to sleep at night knowing that my friend loves me and isn't hurting me. It's really nice."
Electra does plan on starting a family but, despite tabloid reports, the couple is taking their time. She adds, "I do look forward to being a mom, but I'm not rushing it. But that's what's crazy, there have been so many stories in the tabloids that Dave and I breaking up and now I'm getting pregnant. I'm going, 'Which is it?'"
She's not convincing us, but they'll probably work it out.
Here are pictures from the Scary Movie 4 premiere and one from the SAAB AERO X concept car launch. Other stars seen at the Scary Movie premiere include Simon Rex (who was booted from a party for trying to pee on the carpet according to Page Six), Regina Hall, and Anna Faris.
And here's the trailer for Scary Movie 4. This is the most we will ever see of this movie.

Carmen Electra
|
Dave Navarro
|
Movies
|
Photos
|
Premieres
Carmen Electra goes wild on The Tonight Show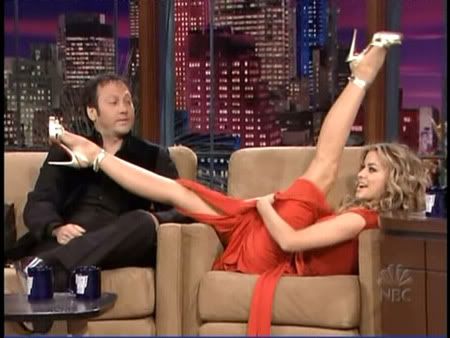 Carmen Electra spread 'em wide during her appearance on The Tonight Show on 3/29. She demonstrated the latest moves she's learning at the circus dance school she attends.
She also denied that she's pregnant and avoided addressing whether she's having problems with her husband, Dave Navarro. She deflected the question with a bad joke, and wasn't too convincing: (Dialogue transcribed from video)
Leno: there's two tabloids last week. One had you breaking up and one had you pregnant.
Electra: Which one is it? I know, I hope I'm not pregnant.
Actually, well I couldn't be, because the last time I was on the show, promoting Cheaper by the Dozen, I said I was going to rip my uterus out, remember that?
I did, so that's impossible. No, No..
Leno: Do you want to have kids?
Electra: I do, I want to have kids...
Leno: How many?
Electra: I always wanted to have 10, like the Brady Bunch kind of family, now I think one or two.
Leno then reminded Electra about the stripper pole she talked about during her last visit, and she brought up the "aerial hoop," which is a ring hanging from the ceiling from which you can do "all these really sexy moves." She spread her legs, covering herself with her dress, and put her feet in Rob Schneider's lap. He acted all silly and put a pillow over his lap.
Electra isn't fooling anyone with her antics, and while she said that "[Dave] looks like a bad boy, but he's sweet" when asked if she goes for the bad boy type, she never said once that "Dave and I are fine."
You can watch the video and see for youself.
Electra is starring in Scary Movie 4, out April 14th.
Pictures [via]
Four more pictures of Electra showing her moves after the jump.
Continue reading "Carmen Electra goes wild on The Tonight Show" »
Posted to
Carmen Electra
|
Dave Navarro
|
Relationship trouble
|
Television
Carmen and Dave: Drop the charade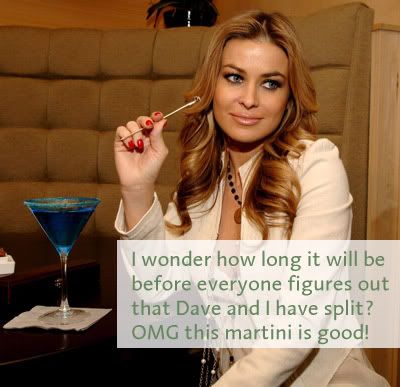 Carmen Electra was on hand to deal the ceremonial first hand at opening of Foxwoods Casino's "World Poker Tour" poker room in Ledyard, CT, yesterday. Electra also enjoyed Foxwoods' "signature $3,000 Sapphire martini" and supervised the handover of a large physical, but small denominational check of $25,000 to the Children's Miracle Network. (That's less than 9 martinis - you think they could spring for more.) Lisa Gastineau was also hired as a per diem spokesperson.
Electra's husband, Dave Navarro, did not come with her to the opening. Egotastic has some juicy news from an insider who claims that the rumors of their marriage being in trouble are sadly true:
Well as far as I am concerned (because I hung out with Dave three weeks ago), he's broken up with Carmen and wasn't wearing his wedding ring.
The producers were like "Oooh, come to the after party, Dave is looking for a night of fun if you know what I mean!" after I asked about Dave and Carmen's status (funny, my boyfriend was standing like 5 feet away haha).
They also kept referring to him and Carmen not being together, and they were trying to recruit girls. He was looking for some girls for the night, but when I was like, "What?! I love Carmen! They aren't together?" Then they'd get all hush hush with funny smiles and say they aren't saying nothing...
There you have it, an anonymous tip to add that extra pinch of credence to the rumors. Chloe Sevigny is shaking her head in an "I told you so" way right now.
Here are pictures of Carmen at Foxwoods yesterday.
Nine more after the jump.
Continue reading "Carmen and Dave: Drop the charade" »
Posted to
Carmen Electra
|
Dave Navarro
|
Photos
|
Relationship trouble
Carmen Electra and the Hiltons at Fashion Week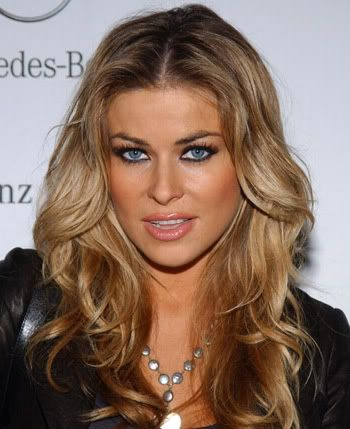 Carmen Electra and the Hilton sisters were photographed at Mercedes Benz L.A. Fashion Week in Culver City, CA yesterday. Matthew Perry also made an appearance sporting a cute spiky hairdo and glasses.
As we reported two days ago, Electra and Navarro are denying reports that their marriage is in trouble because they're spending time apart:
Electra's rep tells me, "They are fine, fine, fine. This started somewhere and it's just gotten out of control." Whispers of problems apparently began in recent weeks because Electra and Navarro haven't been seen together as much they used to be.
Looks like Navarro was too busy this time to sit through a fashion show for the sake of his marriage. We can't blame him.
Carmen Electra
|
Dave Navarro
|
Fashion
|
Matthew Perry
|
Nicky Hilton
|
Paris Hilton
|
Photos
Carmen and Dave pose for the cameras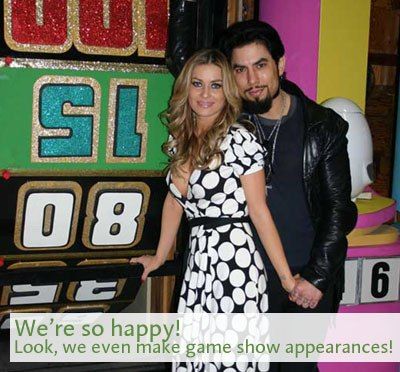 Carmen and Dave were photographed outside of Fred Segal today. Dave is not the type of guy to go shopping with his wife and they're obviously doing this for publicity. We reported earlier today that Life and Style is claiming the couple is having trouble and that Dave confirmed that they're rarely together. You know that Carmen is pissed. Now they're doing damage control.
Dave has also posted a message on his blog denying the reports:
FYI: That was the journalist's interpretation, I neither confirmed or confessed any issues. I merely said that we both work a lot. Nothing more. If any of you heard SRL last night, Carmen, Gregg and I were having a blast. This is my official "once and for all" comment about it. Now, on to other matters.
Let's compare pictures of the happy couple today with pictures taken of Carmen hiding her ring finger outside a doctor's office on 3/2/06.
(Thanks to MarySheepy at JJB for telling me about these earlier pictures of Electra and finding them, and Shadowboxer for posting the information from Dave's blog.)
Pictures and information [via]
Carmen Electra on 3/2 hiding her ring finger: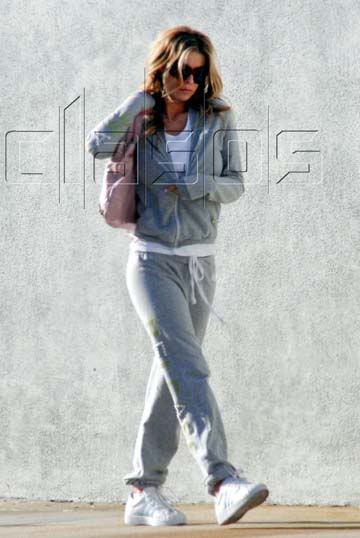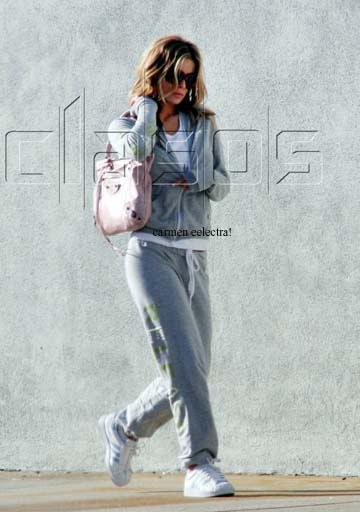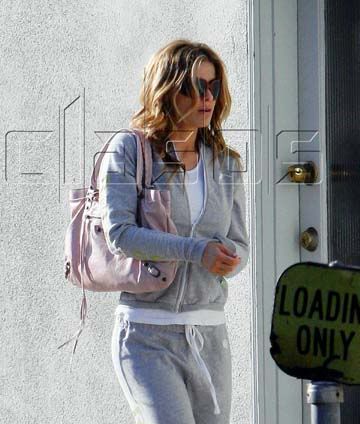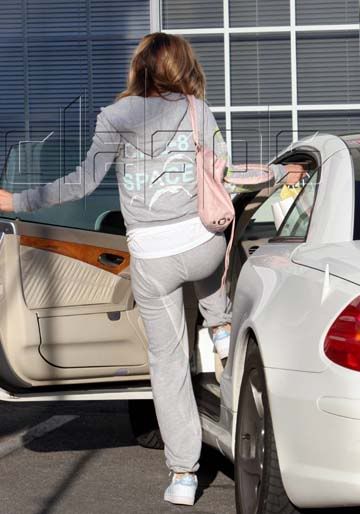 Dave and Carmen on 3/17 "going shopping":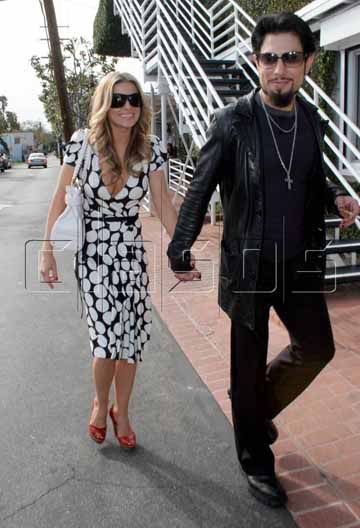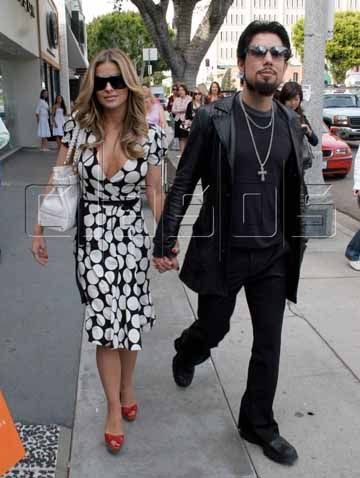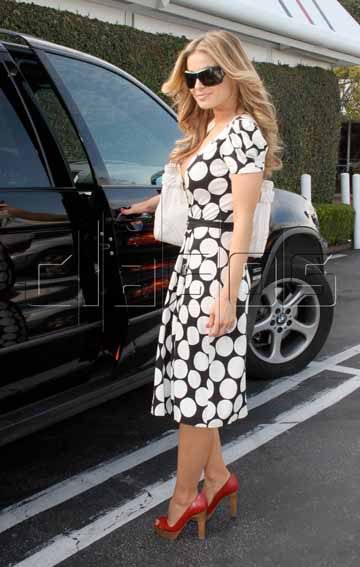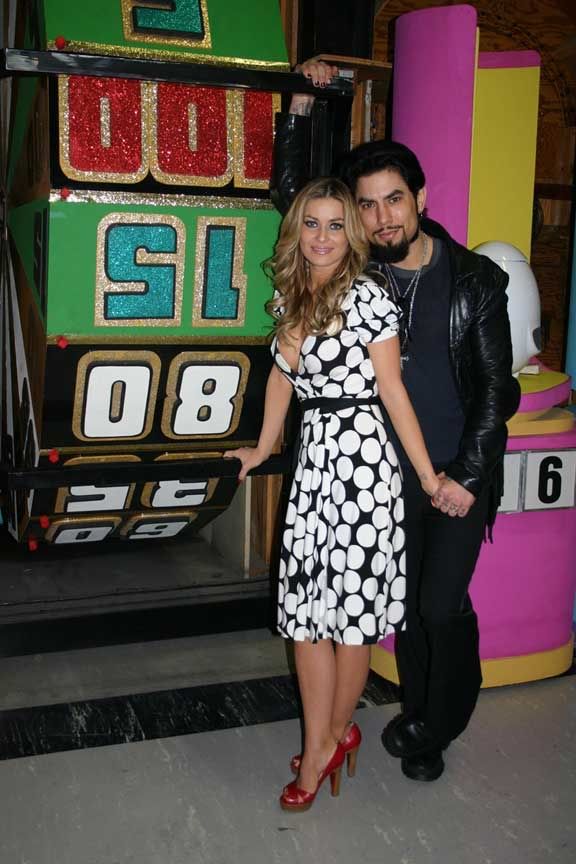 Posted to
Carmen Electra
|
Dave Navarro
|
Photos
|
Relationship trouble
Dave Navarro confirms that his marriage is on the rocks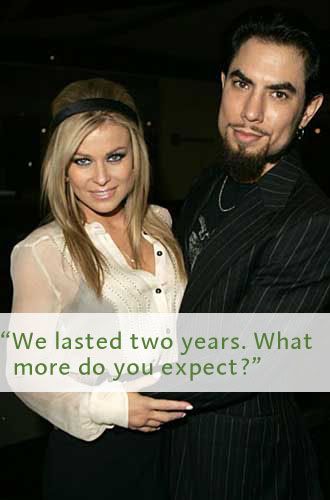 Life and Style magazine reports
that the rumor
we told you about over a week ago
is probably true:
[Navarro] admits, "The truth is, we definitely work quite a bit. Our work takes us away from home quite a bit. She goes overseas, and there are times when I'm away from her. It sucks, I will say that."
Meanwhile, a source tells the publication, "Dave and Carmen are headed for a separation. They've been having issues for a while now. They're living separate lives."
Navarro most recently appeared without his wife at the Rock and Roll hall of fame induction ceremony.
Posted to
Carmen Electra
|
Dave Navarro
|
Relationship trouble
Dave Navarro and Carmen Electra may be on the outs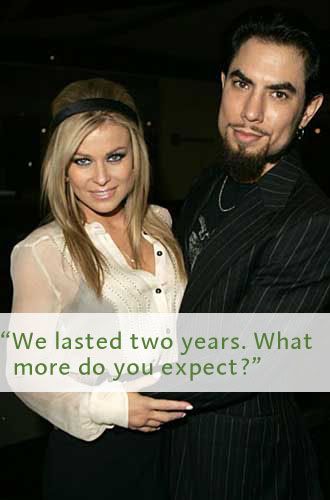 Dave Navarro and Carmen Electra have spent a lot of time apart recently, and Navarro has been partying while his wife is away. People are speculating that
their marriage is in trouble
:
It looks like the danger signals are flashing for the couple that got married before MTV cameras in Las Vegas back in 2003. The twice divorced Navarro - whose mother Connie Navarro was tragically murdered when he was a teenager - has been battling substance abuse on and off for a long time.
Dave says he's been sober for the last four years - nevertheless, going out on the town certainly can create temptation. And while Dave was hitting Hollywood hot spots recently, we've learned that Carmen was thousands of miles away at The Opera Ball in Vienna thrown by multi-millionaire Richard Lugner.
Navarro and Electra's upcoming schedules are full, making it difficult for the two to spend enough time together to rekindle their romance.
Marriage is work, and we hope that Navarro and Electra will put in the time and effort it takes to stay together.
Posted to
Breakups
|
Carmen Electra
|
Dave Navarro