David Spade wants to propose to Heather Locklear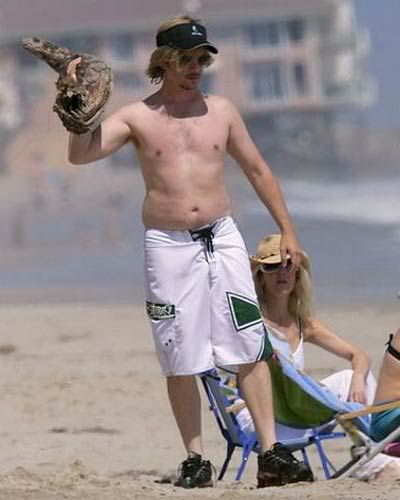 David Spade may be set to pop the question to bitchy hottie Heather Locklear. The mismatched couple has tried to lay low during Locklear's high profile divorce from Bon Jovi guitarist Richie Sambora. Sambora is putting the blocks to publicity hound Denise Richards, who lived right next door to Locklear and Sambora and encouraged Locklear to divorce him.
David Spade reportedly wants to get hitched to Heather Locklear.
"I'm so in love it's ridiculous," Spade told a "friend," according to Life & Style weekly. "Never in my life did I think I'd be with someone so gorgeous and successful. She knows I'm going to ask. It's all about timing."

Spade's rep issued a "no comment," but the mag reports that the "Just Shoot Me" star plans to pop the question this summer.
Spade and Locklear were said to have broken up back in mid-May after a romance that hit the tabs in April that no one believed anyway. When these pictures of Space and Locklear at the beach [via] came out at the beginning of the month it seemed like the unbelievable could be true.
Locklear isn't likely to accept Spade's proposal if this is true. While Spade has defended her, saying she's still "nursing the knife wounds in her back" from her failed friendship with Denise Richards, he doesn't seem like a good match for Locklear. He's a short comic with no sex appeal, and she's well - Heather Locklear. She surprised her husband with divorce papers and she doesn't seem ready to settle down again in a rebound relationship.
Here are Spade and Locklear at the beach and Locklear getting into her car on 4/13. [via]
David Spade
|
Engagements
|
Heather Locklear
|
Photos
Heather Locklear & David Spade have split; Richards & Sambora have not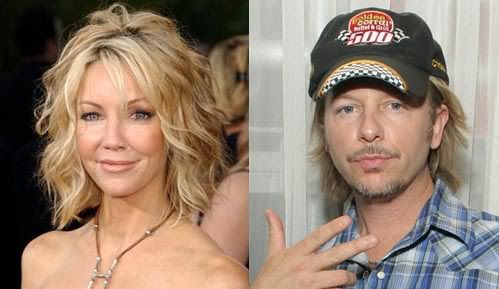 I never believed these two were a couple, because there was only one report of them going out to dinner and kissing that got repeated a couple weeks after it first came out. Other than that there wasn't much evidence and no pictures, although Spade did defend Locklear to the press by saying that "She's still nursing the knife wound in her back" [from Denise Richards] He also did a dumb skit on his show about it, using paper dolls to pretend that Richards apologized for saying he dated Locklear before she split up with her estranged husband, Richie Sambora (video below.)
MSNBC's "The Scoop" is reporting the relationship between Spade and Locklear is over:
The actor's rebound romance with Heather Locklear has ended, according to In Touch Weekly. The star of "The Showbiz Show" hooked up with Locklear after her split from rocker hubby Richie Sambora, and reportedly "isn't happy" about the split.
"Heather isn't in a rush to get into another serious relationship," a "pal" told the mag. Her spokeswoman didn't respond to The Scoop's request for comment.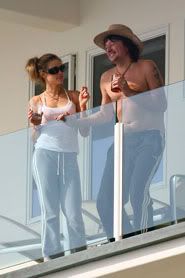 Locklear's ex, Richie Sambora, is still dating his neighbor Denise Richards, despite reports that the two have broken up. Richard's rep confirmed that they're still together and said that Sambora's recent comment at a Bon Jovi gig in Germany, in which he claimed to be "Single and ready to party" was just part of his rock-star personae.
Now Richards is flying to Europe to join Sambora while he's on tour.
The actress will fly to Dublin, Ireland. where Sambora is set to perform with Bon Jovi on Saturday on their "Have A Nice Day" tour.
Richards' representative hit out at reports the couple have broken-up insisting, "Denise and Richie are still together." A source tells Us Weekly the actress will leave her two young children, Sam, two, and Lola, 11 months, with her parents while she goes on the trip.
Bon Jovi have a break after their show in Dublin and the couple will reportedly spend a romantic weekend together in Europe. Richards recently reached an agreement with estranged husband Charlie Sheen, extending her temporary restraining order against the actor.
That sounds kind of desperate and we've joined team Sheen in the Richards/Sheen divorce battle. With the latest news that Richards is starting her own children's clothing line to directly compete with her husband's business venture, she's clearly out to get him. Plus, whose rep ever confirms a rebound relationship? That's just lame.
As for Sambora and Locklear, we're not sure who to root for because it doesn't seem like anyone is at fault. Denise Richards can take the blame there as well.
Here's Spade doing his dumb skit in which he pretends to talk to Denise Richards, using paper dolls to act it out:

Posted to
Breakups
|
Charlie Sheen
|
David Spade
|
Heather Locklear
|
Richie Sambora
Heather Locklear and David Spade?!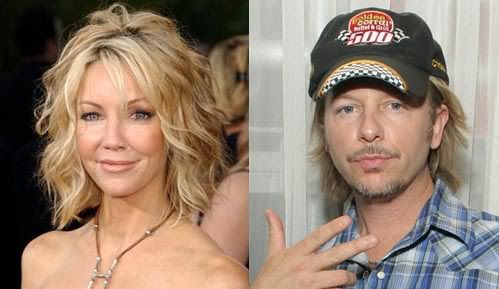 Perez Hilton claims to have inside information from an Us staffer who says an upcoming issue of the gossip magazine will include details of the new romance between Heather Locklear and short comedian David Spade:
One of our mischievous moles at Us Weekly just leaked to us the juiciest item from their new issue, on newsstands later this week. Hope he doesn't get fired over this.
According to Us, Spade has quietly been dating recently separated Heather Locklear.
"They've known each other for a long time," a source tells Us. "It was a friendship that turned into something more. David's sense of humor is getting her through a hard time."
A source who saw them on a date with some pals at West Hollywood hot spot Jones on March 24 tells Us "they looked really cozy." Agrees another witness, "It was so nice to see Heather happy. They were making out like teenagers!"
We hope it's just a momentary rebound fling for Locklear, who filed for divorce from her husband of 11 years, Richie Sambora, this February. Sambora and Locklear attended their daughter's softball game together a week ago, sparking rumors of a reconciliation.
Posted to
David Spade
|
Heather Locklear
|
Hookups
|
Perez Hilton