Celebitchy
Archives: Jake Gyllenhaal
What if Matthew McConaughey and Lance Armstrong came out?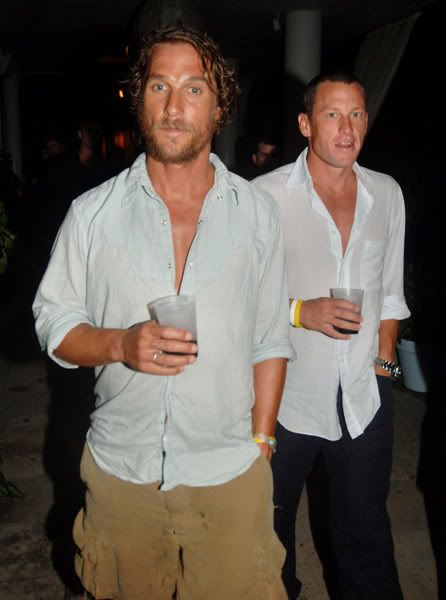 I'm not saying that Lance Armstrong and Matthew McConaughey are anything more than hot, sweaty friends who like to do sports together and hang out shirtless on beaches in Miami. Let's just imagine that these two are actually lovers and make the bold move to come out, though. It would be difficult for them to admit, but they would be applauded for it, and "straight" men everywhere might see that it's not so bad to switch to the other side. Hell if top actors and athletes can do it, it must not be that taboo. At first it would be a big scandal, but then everyone would say how brave they are to admit it.
This will never happen because it would jeopardize McConaughey's career playing the hot sporty guy in every crappy romantic comedy. He's even signed on to do a new one with Kate Hudson. They're going to play a divorced couple looking for treasure in "Fool's Gold." Sounds fabulous:
The film centres on married couple whose eight-year search for treasure leaves them broke and out of gas. As soon as they divorce, the couple finds a missing clue that could lead them to the booty.
In related news, Jake Gyllenhaal has been confirmed to play the role of Lance Armstrong in an upcoming biopic about the seven-time Tour de France winner's life. Matt Damon was originally slated for the role:
Jake Gyllenhaal has taken over the role of cyclist Lance Armstrong in a new movie about the Tour de France champ's life, according to reports. Matt Damon was thought to be first choice to play the seven-time winner on the big screen.
Gyllenhaal has taken over the role, and recent cycling training he has been doing with the sportsman is actually practice for the grueling role, according to Moviehole.net. The pair was recently spotted hanging out at the French event and have also been seen pedaling in the Hollywood hills with another fitness fanatic star, Matthew McConaughey.
Moviehole claims Damon pulled out of the film because of his busy schedule.
I wonder how Gyllenhaal landed that role.
Here are Lance and Matt on the beach. Thanks to DListed for these pictures.
Jake Gyllenhaal
|
Lance Armstrong
|
Matthew McConaughey
|
Photos
|
Sexy
Matthew McConaughey parties it up for 4th of July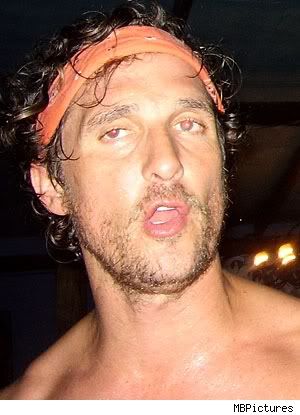 Matthew McConaughey was photographed drunk, high, or a bit of both on the fourth of July weekend in Costa Rica. This sort of contradicts a British report that showed Matt with a fat stomach and said he held an Independence Day party at his Malibu mansion. Both might be true and Matt may have been in Costa Rica on the weekend and back in time to throw the party on Tuesday. He doesn't look fat, though:
Matthew McConaughey celebrated his independence from former girlfriend Penelope Cruz with a three-day bender in Costa Rica over the Fourth of July weekend...
A barefoot, shirtless, and sweaty Matthew got his groove on by drinking, dancing, writhing on the floor and even shushing one of his fellow vacationers.
We all know he loves to party and as long as he's not pulling down Christmas trees or assaulting anyone it seems quite harmless.
Matt's hangover must not have lasted long. He was biking in the Malibu hills with Lance Armstrong and Jake Gyllenhaal on Wednesday, July 5th.
Here is Matt on the weekend in question and riding his bike a few days later with Lance and Jake. [via]
Drunk
|
Fitness
|
Jake Gyllenhaal
|
Matthew McConaughey
|
Photos
Jake Gyllenhaal and Ryan Phillippe work out - ow!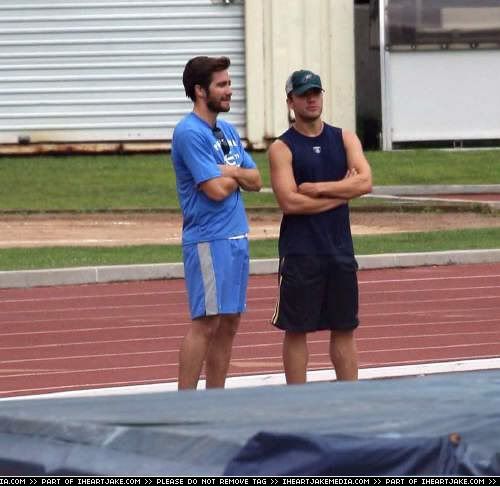 Jake Gyllenhaal and his costar weak Heath Ledger won the MTV Movie award for "Best Kiss" for their on-screen guy on guy snog in "Brokeback Mountain." Gyllenhaal joked during his acceptance speech that he told Ledger at the time that if they didn't win the award it wouldn't have been worth it. Gyllenhaal was a good sport and attended the ceremony, while Ledger stayed at home cowering from the paparrazi.
Gyllenhaal was recently linked with Natalie Portman after he was said to be dating an Olympic snowboarder. We just don't see it happening - either one.
Ryan Phillippe and his powerful sperm are going to star in the Iraq War drama "Stop-Loss" headed by "Boys Don't Cry" director Kimberly Pierce. Phillippe will play a soldier who refuses to return to Iraq after being called back to battle unfairly. This is a big opportunity for Phillippe and should help his faltering Hollywood career.
We needed a filmsy excuse to publish these pictures of Jake Gyllenhaal and Ryan Phillippe working out with the same trainer. If only they were high resolution and we could zoom in the pics of Phillippe wiping his sweaty face with the bottom of his shirt.
(We are totally ripping off The Bastardly's favorite expression in that headline.)
Pictures [via]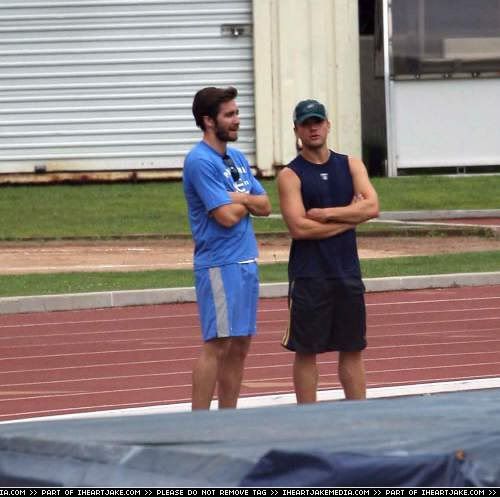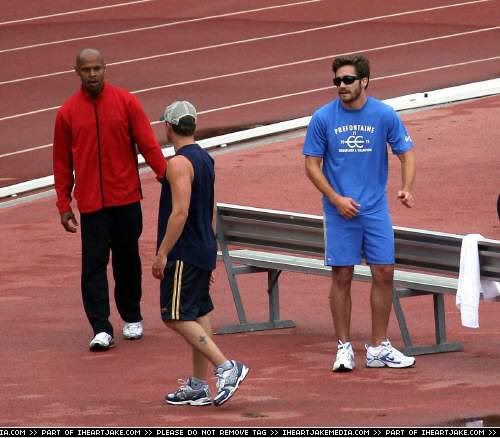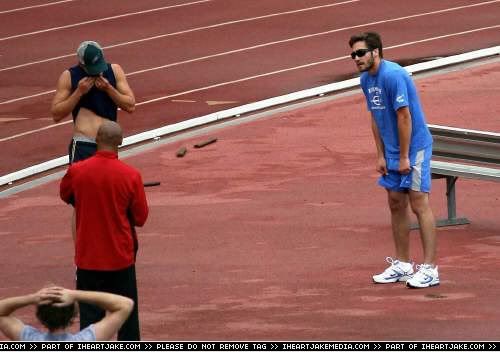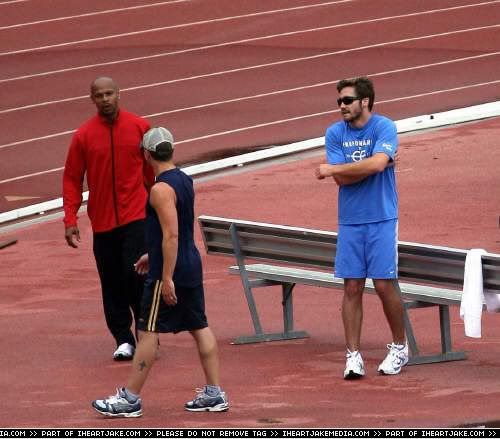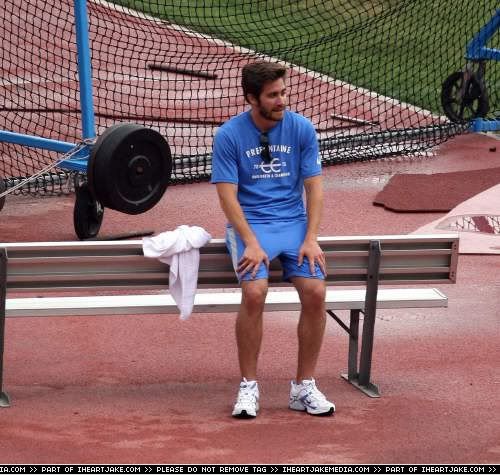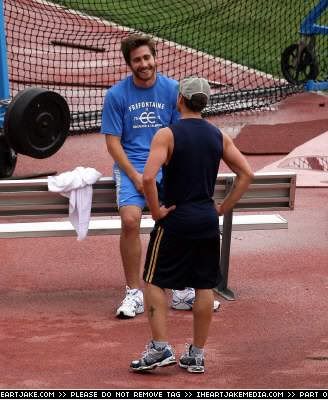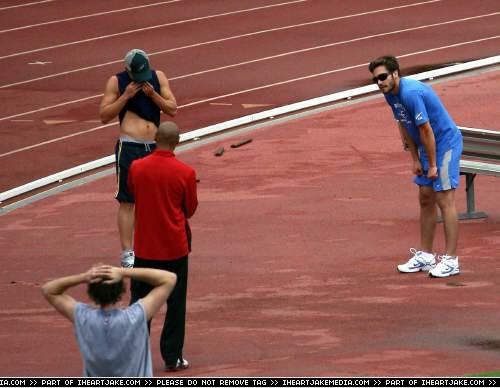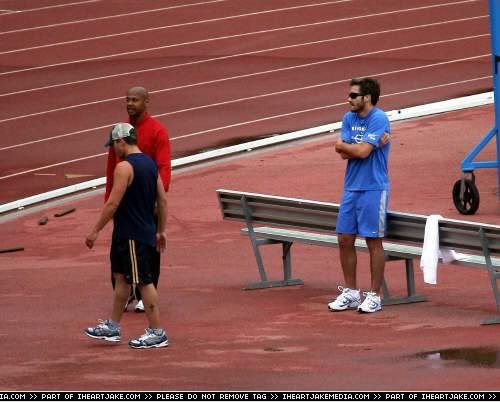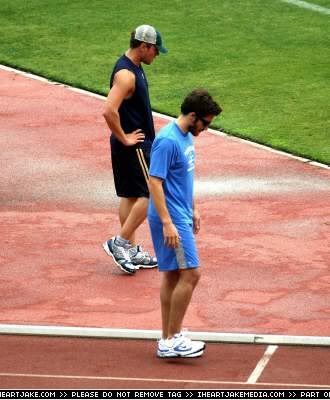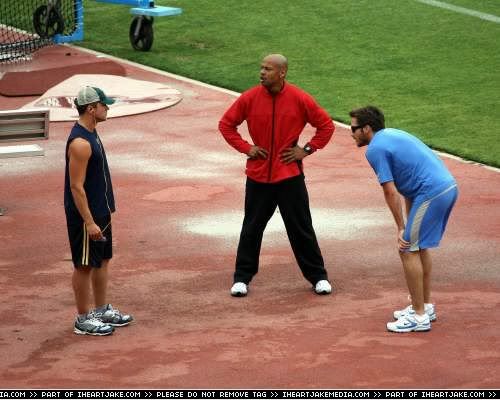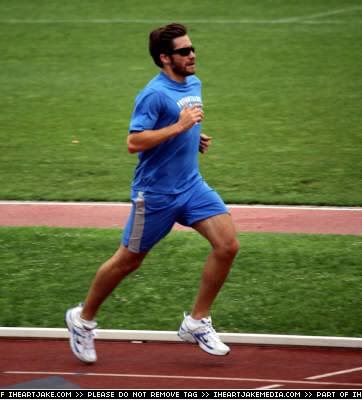 Posted to
Fitness
|
Jake Gyllenhaal
|
Ryan Phillippe
Jake Gyllenhaal gets sweaty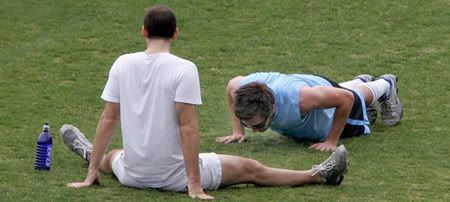 Jake Gyllenhaal was found working out with his friend and co-star in the "Day After Tomorrow," actor Austin Nichols. His outdoor workout involved jogging, sprints, push-ups, pull-ups and situps. The two were not shy about running and doing floor exercises together.
Obviously Gyllenhaal is not thinking of getting back together with Kirsten Dunst for the sake of their dogs.
Pictures [via]
Nine more pictures after the jump.
Continue reading "Jake Gyllenhaal gets sweaty" »
Posted to
Jake Gyllenhaal
|
Photos
Kirsten and Jake to get back together for the sake of their dogs?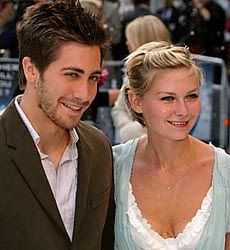 We think Jake's publicist leaked this story, but a friend of Jake Gyllenhaal and Kirsten Dunst says that joint ownership of two dogs they purchased during their relationship has caused them
to consider reuniting
:
"They still see a lot of each other because of the dogs," a pal of Jake's explains.
"Maybe because of that, they haven't really moved on from each other so it's got to the point where they both feel maybe they should be together.
"They enjoy the same things and are under the same pressures from their work so they might just make it work after all."
This is a pretty speculative quote and the "pal" doesn't sound so sure about it. It's cute that Kristin and Jake both feel responsible for the pooches. Unlike Sienna Miller, they both must love their pets and take the time needed to care for them. Hillary Swank and Chad Lowe were said to have reunited because of their pets, but their relationship does not seem to have lasted judging from pictures of Swank hiding while out with another man. We don't think two dogs are enough to bring Kirsten and Jake back together, either.
Here are pictures of Jake and Kristen taken recently. They both seem to run into friends while out.
Pictures [via] and [via]
Jake Gyllenhaal
|
Kirsten Dunst
|
Pets
|
Reconciliations
"How to accept an Oscar" starring Tom Hanks
The Academy of Motion Picture Arts and Sciences has produced and distributed an eight-minute how-to video for Oscar nominees. Ratings have declined over the years, and they want to maintain the ceremony's momentum and not lose bored viewers:
Every year, the Academy begs Oscar winners - mostly in vain - not to spend their allotted minute thanking their armies of anonymous agents, lawyers and accountants, or hugging and kissing so many people on their way to the stage that they run out of time to say anything.
This year, though, it has a new gimmick: an eight-minute instructional video, narrated by two-time Best Actor winner Tom Hanks, which it has distributed to each of the 150-odd nominees. A relaxed and wry-looking Hanks guides nominees through the art of handling that speech-making moment "with wit, flair, creativity - or at least with brevity".
Entitled An Insider's Guide: What Nominees Need To Know, the video includes clips of Oscar moments that stuck in the memory - such as Jack Palance doing one-arm push-ups, or Roberto Benigni gliding over the tops of everyone's chairs en route to the stage - and ones that decidedly did not - such as the interminable thank-yous delivered by the crew from Lord of the Rings two years ago, which was about as interesting as a reading from the New Zealand telephone directory. Another bad example was Gwyneth Paltrow's tsunami of tears.
They basically want people to keep it short, avoid lists, and be funny and interesting.
The most awkward Oscar acceptance I remember was Zellweger's 2003 Best Actress speech. She came off as insecure as she thanked everyone, including the lackeys at her agency, for their help. This year, The Academy hopes to placate over-eager winners with a special section of their website where they can post thank you messages.
Here are presenters Jake Gyllenhaal and J.Lo preparing for tonight. Three more after the jump.
Pictures [via]
Continue reading ""How to accept an Oscar" starring Tom Hanks" »
Posted to
Jake Gyllenhaal
|
Jennifer Lopez
|
Oscars
|
Photos
|
Television