Dave Navarro and Jenna Jameson really are hitting it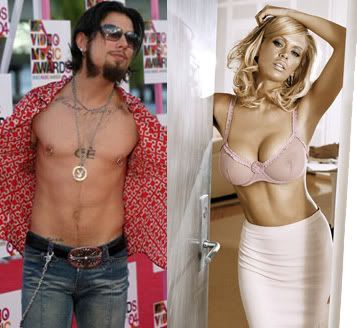 Reader Angelika alerted me to a post on PerezHilton's site that claimed that Dave Navarro was putting the blocks to America's favorite former porn star Jenna Jameson. I said I'd wait until the story got picked up by other news outlets, but it's true and I shouldn't have waited.
TMZ reports that they contacted Jenna's publicist and she confirmed their relationship:

As Star first reported, TMZ has confirmed with legendary adult film star Jenna Jameson's publicist that she has split from her husband and is, in fact, dating Dave..
I must say this is a nice score for Dave. It would be tough for Dave to find anyone to replace firecracker Carmen, but from what I've seen, ahem, I mean "heard" Jenna is up to the task.
Yeah, I can't wait until these two go out in public and are photographed together. No wonder Jenna's husband is abusing strippers. He's pissed that she left him!
Carmen won't be happy to hear about Dave's latest hookup, but rumor has it that Carmen and Dave were split for months before they announced their divorce.
Posted to
Dave Navarro
|
Hookups
|
Jenna Jameson