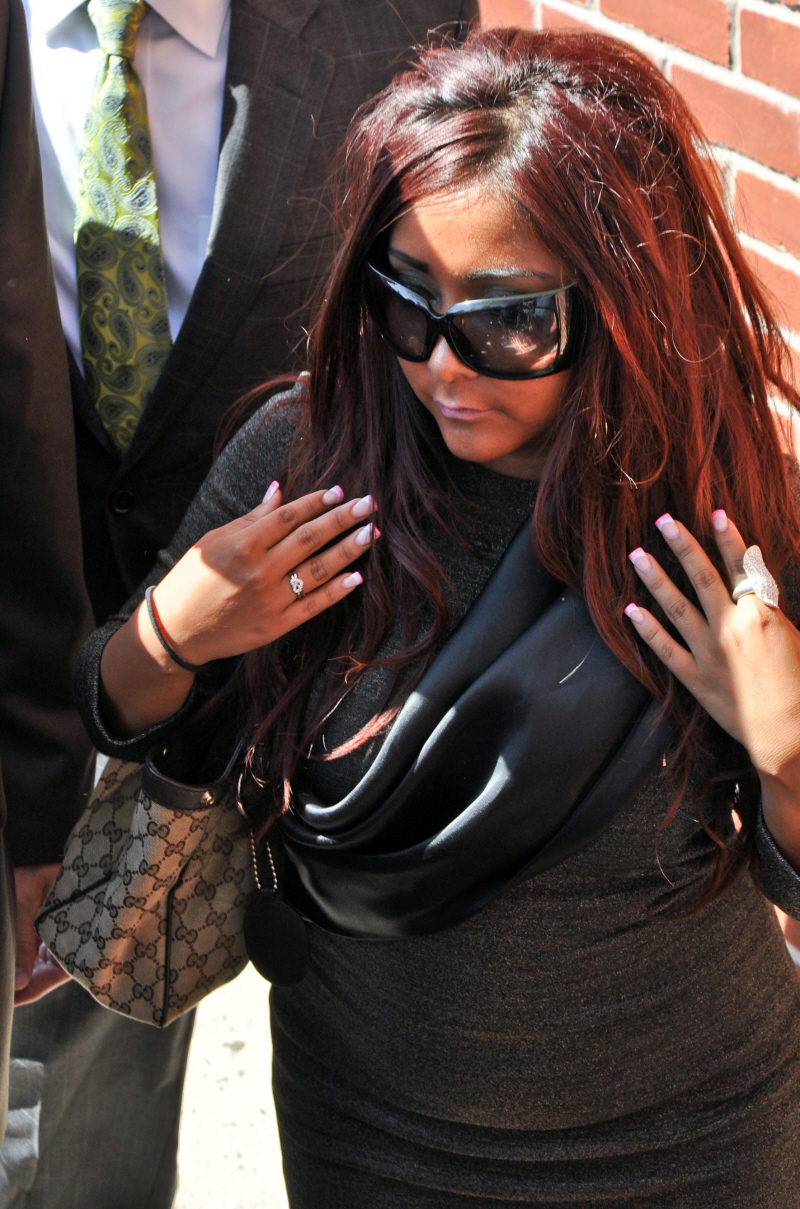 Last night, I saw the news that Snookie had gotten sentenced to a small fine and some community service all for being a drunken embarrassment on the beach a few months ago. I didn't think that much of it, because unlike so many people, I don't find Snooki to be ironically cool, or interesting in a train-wreck way. In my opinion, she's just a strange little orange potato that everybody should ignore. She wants attention, and she feels validated when we give it to her, so don't give it to her. Anyway, much like Snooki's arresting officers, the judge who handed down her sentence didn't think much of this Snookie creature either:
Being annoying comes with a price. Jersey Shore star Nicole "Snooki" Polizzi was fined $500 and ordered to perform community service after pleading guilty on Wednesday to disturbing New Jersey beachgoers, according to an AP report.

She was also given a lecture by presiding Judge Damian G. Murray, who called the reality star, 22, a "Lindsay Lohan wannabe."

"Going through life rude, profane, obnoxious and self-indulgent – that's not the way you want to live your life," the judge told her during the sentencing. "Hopefully this incident will impress upon you that there are consequences to your actions."

For her part, Polizzi apologized to the police and everyone in Seaside Heights, N.J., who were bothered after she stumbled around the beach, swearing, after a day of drinking. The Jersey Shore star also said that her behavior was not scripted even though cameras for the MTV show were rolling at the time.

Judge Murray credited Polizzi one day of community service after she spent time caring for abused animals last Sunday at a zoo.

Snooki was arrested on July 30 for being intoxicated in public. After the incident, she said the arrest made her "feel like a criminal" and reevaluate her drinking habits.
[From People]
A "Lindsay Lohan wannabe." I think that's on-target, actually. The judge isn't saying that Snooki is like Lindsay, the judge is saying that Snooki wishes she was as big of a f-cking balls-out delusional train-wreck as Lindsay, and that's pretty accurate. Snooki does wish she was like that. The orange potato has a dream, and that dream is to one day have all of her court hearings on a TMZ live stream.
Anyway, you know that Dina Lohan wasn't going to let them slide. Dina issued a statement to TMZ: "The family is very disappointed that a judge would say that in a court of law." Mother Crackhead, MY FAMILY is very disappointed that your family is full of violent, delusional crackheads who clip babies in their Maseratis, hijack cars full of passengers to take them on a coked-out adventure on the freeway, start lifelong vendettas against ice cream cake manufacturers, write "F-CK U" on their fingernails for the judge's benefit, throw violent temper tantrums when they don't get their way, and lie at every turn. Oh, and Lindsay's lawyer Stephanie Ovadia also said, regarding the Snooki stuff, "The comments were very unprofessional." Unprofessional? Bitch, do you even know who your client is?
Header: Snooki at her sentencing on Sept. 8, 2010, in Florida. Credit: WENN.