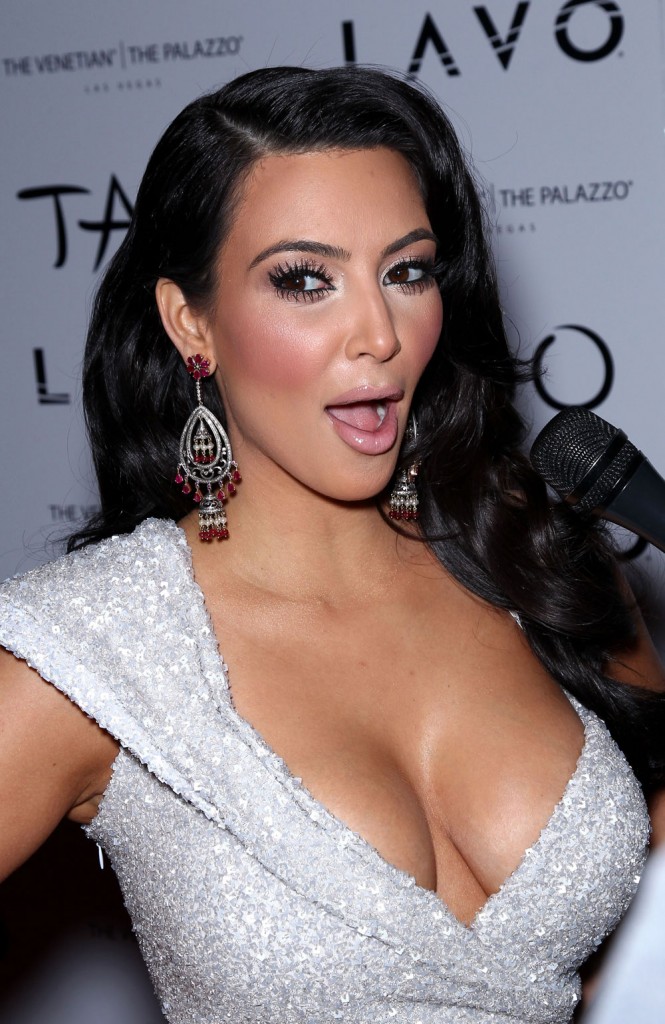 I'm usually pretty good at remembering stories about celebrities, like I can recall related stories about them that pertain to whatever bad behavior they're engaged in. In Kim Kardashian's case I completely forgot that she was launching a music career, because I actively ignore her, especially when it comes to her business ventures. She will slap her name on just about anything. (Bitch even went to the opening of a toilet.)
Anyway Kim played her first single at a club on New Year's, (video above) where she surely received a hefty appearance fee for bringing out her plastic boobs, ass, and clown face while promoting her music. The song sounded like just about every other overproduced dance track released by a reality star over the past few years. (i.e. anything that Heidi Montag, Kim Zolciak or Countess LuAnn has done.) Kardashian worked with The Dream so her song was well mixed at least. I think Paris Hilton's music was better, but that's not saying much.
When Kaiser first reported about Kim's music "career" she wondered whether Kim would f*ck for tracks. Kanye West, Kim's rumored hookup, is in her video and might even be helping with her music, so I think we have our answer.
Here's the report from Popeater:
The track, written by accomplished songwriter The-Dream, is reportedly titled 'Turn It Up,' and features a bass-heavy beat perfect for the dance floor. Before playing the newly released tune for the crowd, she offered a brief intro.

"Hi you guys, I didn't mean to, but I did this song with The-Dream, and it's really fun," she said. "I hope you guys like it!"

Kim recently shot a video for the song last week in Los Angeles, possibly with her new cornrows hairstyle. Famed director Hype Williams manned the camera while Kanye West made a cameo in the visuals. There's no word yet on whether West will solely serve as Kardashian's co-star in the video or if he'll supply a verse on the song as well.

Kim revealed her New Year resolution early in December when Us Weekly reported that during an appearance on 'The Rachael Ray Show,' Kardashian told Ray that her 30th year is the right time for her to embrace the single life.

"I've made a promise to myself and I'm really trying hard to stick to it, but I'm such a hopeless romantic that it's hard," she tells Ray. "I want to try to be single my whole year of being 30."
[From Popeater]
If Kim plans to be single all year, it's probably part of her career plan. Like she's going to make as much money as she can possibly squeeze out of various projects and then plans to get married, have a kid and her own reality show in 2012, all the while working out coverage deals with various media agencies for her major life events. You know, Kim may have learned this from Paris, but she really makes Paris seem quaint in comparison. Kim is like Paris on steroids, Botox and overflowing silicone.
Photos are from New Year's Eve outside of Lavo nightclub. Credit: WENN.com