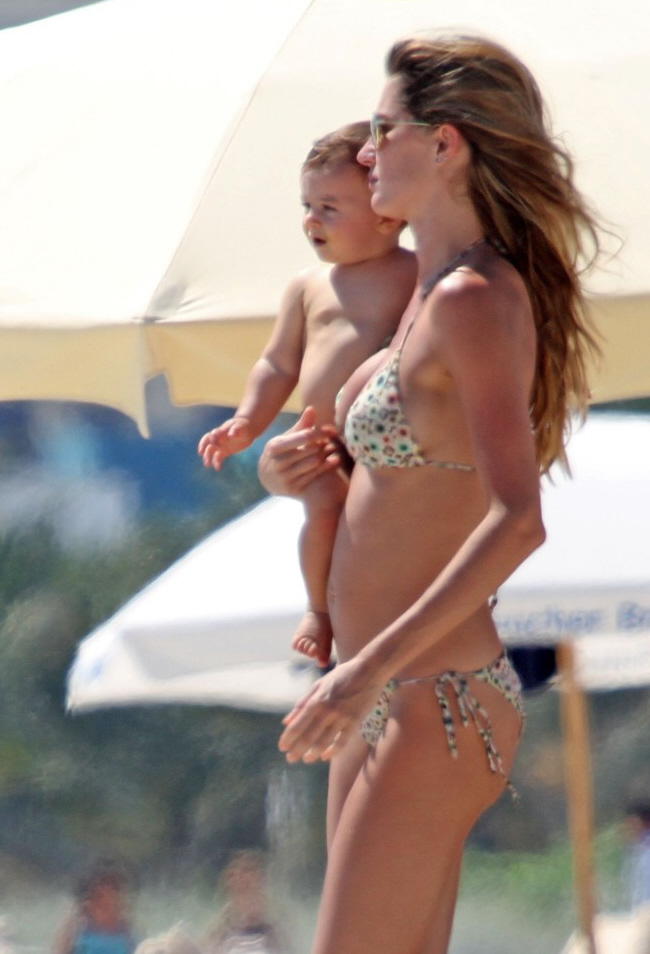 "Mother Superior" Gisele Bundchen's sanctimony is well known. She's said that breastfeeding should be a worldwide law, she's bragged about giving birth at home without medication and she's said that women who gain weight while they're pregnant treat their bodies like "garbage disposals." Like supermodel Miranda Kerr before her, Bundchen has an organic skincare line and has made some ignorant comments about it. Gisele recently drew the ire of dermatologists, doctors and melanoma sufferers by calling sunscreen poison. She claimed she never wears it and only goes out in the sun before 8:00 am. There are plenty of candid bikini photos of this woman that suggest otherwise.
Don't hate her because she's beautiful. Rather, people attack Gisele Bundchen, 30, for the controversial things she says.

The supermodel's latest gaffe: claiming she doesn't use sun tan lotions because all of the chemicals they contain.

"I cannot put this poison on my skin," Bundchen — who has appeared in ad campaigns for Nivea Sun products — said at the launch of her own organic skin care range, according to the UK's Daily Mail. "I do not use anything synthetic."

Instead, the leggy beauty says she protects herself from sun damage by only exposing herself to rays before 8 A.M.

However, cancer experts have been quick to question Bundchen's expertise on the matter.

"Sunscreen prevents damage to the skin and is of fundamental importance for the prevention of cancer," said Dolival Loao, head of dermatology at Brazil's National Cancer Institute. "This is not any poison, when a public person makes a statement like this, it creates confusion."
[From US Weekly]
I don't know why I'm bothering, but I'll concede that some commercial sunscreen contains ingredients that can be considered harmful and even toxic. However, when pitted against the very real dangers of sun exposure, the risk from synthetic ingredients in sunscreen is minor. Plus there are very safe, organic, effective sunscreens with all natural ingredients for people who are concerned about chemicals in the products they put on their skin. (Here's a list of safe and effective sunscreens from the Environmental Working Group. Their Skin Deep cosmetic safety website has more on the importance of sunscreen.)
Here's are photos of Gisele at the beach this October, obviously after 8:00 am, with her son Benjamin, who is naked apart from a baseball cap. I guess we can assume she didn't put any sunscreen on her baby, who she claims has been potty trained since he was six months old. This woman who lets her baby go out at the beach naked without sunscreen thinks it should be a crime to feed babies formula. Dumb and self righteous don't even begin to describe her.
Update: Gisele has tried to clarify her statement. She calls this a "misunderstanding" and says "I do use sunblock but also I try my best not to be exposed to the sun when it is too strong… I definitely know the importance of using sunscreen and I try to look for more natural options."
Photo credit: BauerGriffin