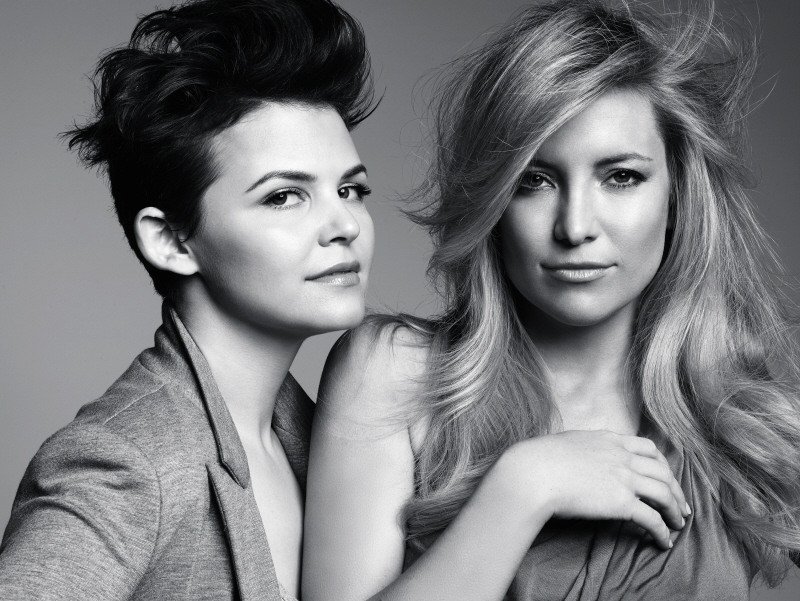 Several months ago, Ginnifer Goodwin gave an interview where she described being on a diet since the age of 11. She was talking about body image and that kind of stuff, and she confessed that she was and is a Weight Watchers girl. She still counts points and does portion control. People got a little crazy with the quotes and began suggesting that Ginnifer had a horrible self-image and that it's a bad signal to send to young girls, etc. Ginnifer defended herself at the time, and she spoke about it again in her Marie Claire cover story (joint with Kate Hudson). You can read the full Marie Claire piece here, and here are some quotes:
Ginnifer on her childhood weight: "I am genetically predisposed to be a bigger girl than I am. If I didn't live in Hollywood, I would be. I have very real hips and a real Southern woman's ass," she says, munching on the slivers of turkey bacon that accompany her egg-white omelet. Her parents enrolled her in Weight Watchers, which meant she ran laps around the local mall and counted point values for everything she ate. Goodwin is still a devotee of the program, and with the help of her iPhone, she's "apping points all day."

Ginnifer on the criticism she received: Given her "awesome eating habits," she was stunned when a recent magazine profile of her — and her commitment to Weight Watchers — inspired criticism that she had serious body issues. "I could not believe the twisting of that story," she says, her thin voice rising. "I've never had body issues, and I've never had an eating disorder. Most of the people I know are on the program for health reasons. And yes, some of them are slim women who want to stay slim."

Planning a family with fiancé Joey Kern: "I'm so ready. I want a life full of little Joeys," she enthuses, oblivious to that heavy helping of schmaltz. (Hudson, on the other hand, playfully rolls her eyes as she hoovers through a bowl of berries.) "I'm only holding off until after my wedding for vanity purposes. I just want to be able to fit into whatever dress I pick out."

Kate Hudson on her pregnancy weight gains: "Let me tell you something… It's an emotional roller coaster, having to lose weight. I gained so much — I was 185 pounds at the end. You actually experience how much energy is stored in that and how much emotion you actually hold in that mass. It is emotional, no matter how determined you are. It takes work to bounce back so quickly." Not this time around. Thanks to ferocious morning sickness, plus a decidedly figure-conscious mind-set, she's gained just 11 pounds so far. "I was so sick the first trimester that every time I tried to read, I couldn't concentrate. So I started brainlessly watching TV" — reality shows like Real Housewives, The Bachelor, and that paean to extreme weight loss, The Biggest Loser — "in the fetal position on my couch. It was brutal," she says, shaking her head. "I only just started getting a bigger appetite. I'm eating," she adds reassuringly, dismantling all those would-be Is Kate Starving Herself? headlines, "but I like healthy foods in this one."
[From Marie Claire]
I like that Ginnifer talks about her weight and her diet program so openly. I'd much prefer her kind of openness and honesty than whatever Jennifer Lawrence was trying to sell us yesterday. Do I think Ginnifer has some kind of body image "issue"? Eh. I think she's working in an industry where even the "quirky" supporting character actresses have to be a size zero. The "issue" is the industry, not Ginnifer.
Re: the "real Southern woman's ass" comment. Eh. I'm a Southern lady, and my ass is big. I always blame my Indian genes though.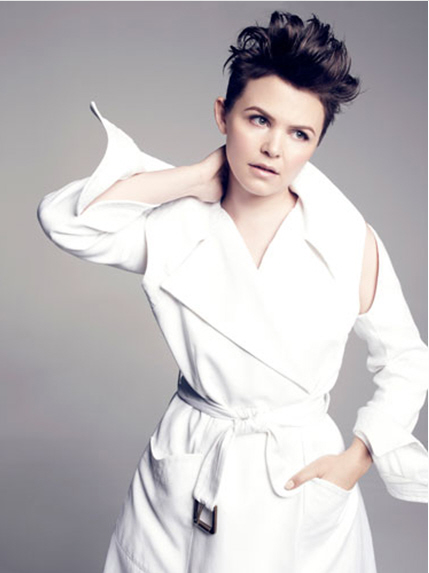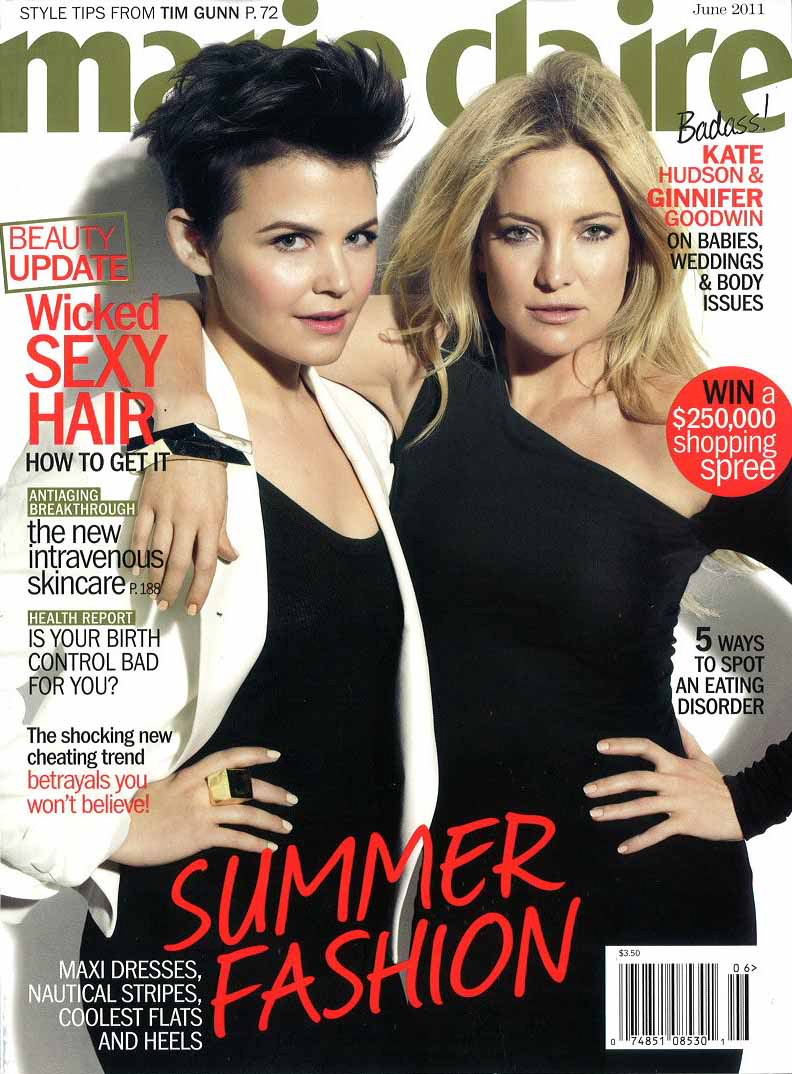 Photos courtesy of Marie Claire.